Join us and show #feministsolidarity for LGBTQI communities around the world
This May 17 on International Day Against Homophobia, Transphobia and Biphobia, we're asking FRIDA supporters all over the world to share why they think it's important to stand with the LGBTQI community. Join us! #feministsolidarity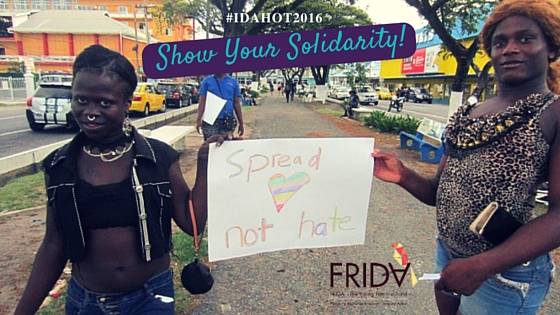 The rights of LGBTQI (Lesbian, Gay, Bisexual, Trans*, Queer, and Intersex) communities to freely express themselves and live quality and violence free lives is an inseparable value of feminism.
Heteronormativity – the way in  which people pass judgement on appropriate behaviour for men and women – legitimises gender and sexual discrimination and is one of the most powerful restrictions on women and LGBTQI people's sexualities, bodies, dignity, and expression.
On May 17, the International Day Against Homophobia, Transphobia and Biphobia, we are publicly proclaiming that the right of LGBTQI communities to freely express themselves and live a quality, violence free life is an inseparable value of feminism. We are asking you to stand with us and reaffirm our commitment and celebrate gender and sexual diversity within the feminist movement and trans, bisexual and intersex inclusion.
Click here to tell us why you're standing with the LBTQI community. Or tell us on Twitter! We'll be sharing all everyone's responses throughout the day on FRIDA's Twitter and Facebook pages.
Same-sex relations between adults, and identities and expressions that are non-conforming to traditional gender norms remain criminalized in more than 70 countries. They stand opposed to principles non-discrimination and fuel hatred and violence—in effect giving homophobia, transphobia and biphobia state-sponsored approval.
Groups working all over the world need your messages of support as they continue their challenging and, often, risky work. They need to know that you are standing with them. At the end of the day, we will gather all the messages we receive and share them with all of our grantee partners who are working on these issues from Indonesia to Chile to Serbia and beyond.
Send us your message of solidarity or tell us on Twitter why you stand with the LGBTQI community!
Recognising the importance of this struggle as part of the young feminist movement, we are also excited to announce the publication of our second impact report Shaking the Ground Coloring the Sky. This exclusive report looks at the challenges, strategies and impact of FRIDA's LBTQI grantee partners and explores their work on LBTQI rights, trans* rights and gender and sexual diversity.
Finally, this week FRIDA grantee partner Transvoice is working with The Fearless Collective to create an incredible public mural in Bogor, West Java that will show what it means to be fearless in a country plagued with discrimination. This artivism workshop is the first in a series of public art workshops, which The Fearless Collective will be doing along with FRIDA grantee partners around the world. Click here to learn more about the collaboration #FearlesslyFRIDA.
FRIDA believes that International Days like #IDAHOT2016 are exciting opportunities for women's and feminist groups to celebrate trans and intersex inclusion, and gender and sexual diversity within the feminist movement. Ask others to show their solidarity today by sharing this moment on Twitter or posting about it on Faceook.