Latin America & Caribbean region
Génesis Ramírez is a 19-year-old student, feminist activist,  trans-feminist and animal rights advocate from Quito, Ecuador. She is a member of the collective 'Marcha de las Putas Ecuador', in which diverse genders participate reclaiming aesthetic freedom and gender diversity, as a trans-feminist issue. As the feminist youth coordinator of the collective,  Génesis participates in the training process or 'Liceo Feminista', which is under construction and has launched 'PUTALLERES' cycles. Through conferences, film forums, panels and discussions, they work on specific feminist issues linked to abortion, sexual work, sexual rights and health rights, gender and public space, street harassment, sexual violence and gender violence, feminicide, masculinities, feminist politic subjectivity, trans-feminism, biotechnology management and feminist economy, among other issues. As a young feminist, Génesis believes that talking about gender is talking about cross-cutting themes. "I firmly believe that generational dynamic must become part of the interpretative framework of the relations between feminism and youth, as a search of positive relationships, of alliances; subjectivity to subjectivity with other women and other femininities and sex/gender diversities in order to create spaces of action and dissemination," she says.
Germana Montalvo is a 24-year-old activist, feminist and artist from Bolivia, who believes in the power and strength of collective work and networks and loves working with young women and with any other individual who is willing to work towards making a revolution. Germana was part of spaces that, she says, have developed her, personally and politically, such as RedLAC, a young feminist network that has allowed her to grow, like other local young networks and collectives who are companions of struggle. She also had the chance of being a part of the HIVOS team in the regional office of South America, where she learned about working with networks and co-creating with different social civil organizations of the region. She is passionate about undertaking new projects and is currently a part of a feminist ARTivism collective "because I consider art as a tool to question, propose and build."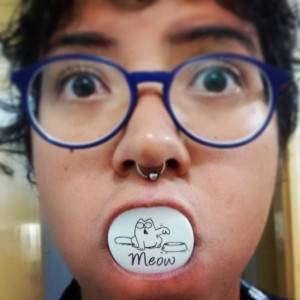 Alexandra Martins Costa is 31 and lives in Salvador de Bahia but is originally from Brasilia State. She is a 'portunhol' speaker (a mixture of Portuguese and Spanish: a language she learned on the streets among other Latin-American feminist activists). Alexandra's activism began when she started being connected with NGOs and lesbian feminist groups in Brasilia. In addition, she participated in independent and self-organised communication groups and initiatives. Her feminist career path dialogues with feminist groups that use art and culture. She graduated in Journalism and has a Postgraduate degree in Visual Arts. Currently, Alexandra has collaborated in the 'Feminaria Musical' studies groups: a group of the musical school of the Universidade Federal da Bahia which encompasses a line of research on gender, culture and art of the Interdisciplinary Women Studies (NEIM/UFBA).
Ariana is 31 and lives in Brazil. Currently, she lives in São Paulo, but has previously lived in
Amazonas State and Paraná State for a short period. She graduated in International Relations and Foreigner Trade at the Universidade de Riberão Preto (UNAERP) and in 2015, she graduated in History – Latin America at the Universidad Federal de la Integración Latinoamericana (UNILA). Ariana says she has always considered herself as a feminist because of the education she received from her mum, but it grew and became more fierce, along with many other women, in the beginning of 2011 when she started participating actively in the activities of the Women's Council of Foz do Iguaçu. She has supported the gender and sexual diversity group of Maldita Geni, participated in the black women feminist front of UNILA and was a part of the Black women march 2015. Ariana also helped out with the development of an extension project called 'Oficina Papo Serio' that discusses beauty, gender, race and sexual diversity standards in public schools. "I like to think feminism from a black woman's perspective, so I am interested in black, intersectional, and community feminism," she says.
Tracie Paola Méndez Saravia is a Guatemalan activist, who has been an active participant in the defence of human rights since she was a child, with a special focus on children, adolescents and youth. She is member of the Women departmental Commission CODEMUJER and the Children and Youth Protection Municipal Network of Jalapa. She is also part of the coordination of the OSAR youth movement and the National Network of the Adolescents. Tracie has a degree in law and social sciences, specialising in gender, rights of indigenous peoples, sexual and reproductive rights, children and youth. She is currently completing her Masters. "I live in a country and community where violence against women is naturalized, so it is imperative to be a feminist, committed to my community and country for change this," she says.
Lois Edith Gonzaléz is a 20-year-old young feminist activist from Nicaragua. She is proud to have received feminist education from an early age and join women's movements. She is committed to the defence of the human rights of all individuals. Currently, Lois has collaborated with Católicas por el Derecho a Decidir – Nicaragua and has carried out consultancy jobs with a gender perspective directed to youth at a national and regional level. Since 2011, she has been directly involved in proposal writing, evaluation and resource management. She recently graduated in Law at the Universidad Centroamérica and now has new goals for the future. She wishes to continue specialising and strengthening her knowledge to deconstruct what she has learned and what has been instituted by a patriarchal and chauvinist system as well as to achieve women's access to justice and, most importantly, to achieve the long-awaited dream of having an equal society that we are daily struggling for.
Judith Abarca is a 25-year-old lesbian feminist activist from Managua, Nicaragua. In the last three years, she has worked as a consultant in organizations and in the field of communications and media, on the promotion of women's and children's rights as well as population at social risk. More recently, she has participated in political militancy on the feminist movement in Nicaragua. Currently, Judith is doing her Master's in Gender Perspective and Development and is interested in doing a feminist research on the contribution of de-colonial feminism. "I firmly consider that the feminist movement is the only social force in Latin America and worldwide which is able to sketch the outlines of a new world free of discrimination and inequalities," she says and adds that to address this, we must aim to be have creative, subversive and innovative activisms that challenge capitalist and heteropatriarchal systems. Judith strongly believes in mutual collaboration as the solution to breakdown of a system that demands competitiveness among women and is deeply interested to contribute towards the development of collective processes of feminist activists of her region, from her own constructive and critical vision.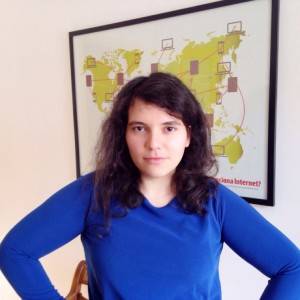 Danae Tapia was raised in a working class neighbourhood of the south of Santiago de Chile. She has identified herself as a feminist since her university days, where she collaborated with several feminist and LGBT collectives. She graduated in social communication at the Universidad de Chile and completed her Master's in administration at the Bristol University, England. Currently, Danae is a writer and a researcher and is working as a project director at Derechos Digitales, a regional organization that aims at advocating for human rights online. "I am interested in the narrative analysis of oppressions to transform it to direct actions, the intersection between art and politics, the defence of workers rights and the use of technology for the destruction of patriarchy," Danae adds.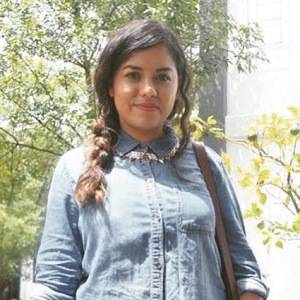 Berenice Agabo is a 28-year-old Mexican. She joined the feminist movement when she was at university, particularly working on the study of feminism in the topics of women worker's rights and gender-based violence. During her university studies, she was a part of the student movement for the defence of a public, free and inclusive education. She has recently become a member of a feminist collective that works on developing convergent educational spaces directed mainly to young feminists. Berenice has also participated and coordinated training spaces on feminist theory, gender theory and social movements. Additionally, together with other colleagues from the collective, they launched campaigns for women' human rights, for the decriminalization of abortion and for the elimination of violence against women and feminicides. "It is a pleasure to collaborate with FRIDA, and a great opportunity to work with young feminist from several parts of the world from whom I am confident I will learn a lot," she says.
Natalí Hernández Arias began her activism in sexual and reproductive rights in 2003 in Puebla, although she is originally from Veracruz State, Mexico. Since then, she has worked as a facilitator in multiple workshops and talks and collaborated with different collectives and projects on young people, women and indigenous groups. She coordinated the advocacy component of the Red DDeser jóvenes; that bring together young activists from 12 states of Mexico for accessing legal and safe abortion and the Ddeser network in Puebla.  Natalí is also associated with El Taller Centro of sensibilisation and education Humana A.C. a lesbian feminist organisation, with whom they have launched four generations of what they call 'La escuelita feminista'. Currently, she works as the director of the Centro de Análisis Formación e Iniciativa Social A.C. She writes for Ladobe la columna El feminismo si muerde, but mostly works as a feminist full time. Despite being a psychologist, Natalí says she is a little neurotic! "I like dancing, I am a coffee addict and I believe that orgasms should be part of the basic basket. I like walking, defending joy and organising anger," she says.
Ambar Nicté is 18 and lives in Tegucigalpa, Honduras, although she is originally from the north coast of the country. Ambar lived close to the sea and was born in a region where women's condition was, and continues to be, dangerous in every way, "an irreversible vulnerability" as some would put it. From an early age, she was always a part of small feminist cycles such as Casa Chamana in San Pedro Sula, or the CEMH in Tegucigalpa, but she did not identify herself as a feminist until she was 12 years old, on the Coup d'état of 2009. Then a small women's group, some of whom were members of Ambar's family, founded Las Feministas en Resistencia that protested on the streets and observed strikes during a period when women's rights were not only met disrespect but they were also almost non existent. Once women got out of their houses, they ended up in the hands of militaries. Since then, she has worked in diverse feminist groups, torture preventive and rehabilitation centres, as an assistant and a volunteer, to improve her country as well as women's conditions that is getting worse every day.
Ana María is a 29-year-old young feminist from Costa Rica. She graduated in sociology and is currently pursuing a Bachelor degree in Non-formal Education and a Postgraduate degree in Feminist gender studies co-managed by CEIICH-UNAM and Fundación Guatemala. She is a part of the feminist collective La Tule which, through art and reflection, carries out urban perform interventions and aims to visibilize "As a collective we evolve in the analysis of our objectives searching to self-organised education and articulated processes with other young feminist organisations," she says. Ana considers herself to be lucky enough to have collaborated in national and regional meeting of the Red de Mujeres Rurales, a women fighter's organisation, who defend their rights with picks, shovels and words. Her main areas of work have been education (teaching and community groups and organisations), food sovereignty and the contribution of women to food, as well as issues of solidarity economy and small-scale production networks.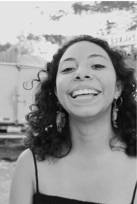 Jenny Domínguez is 28 and lives in a small country of Central-American, El Salvador. She works as a sociologist in the women's human rights area. Jenny's interests have always been linked to feminist activism from questioning misogynist practices to violence against women in the society. Since 2011, she has participated in Salvadorian feminist women spaces, carrying out protest actions against violence against women by public state agents, lesbian-phobia, positioning of autonomous feminism, etc. Since she was a student, Jenny took part in different Centro American researches on women's human rights in several areas, sexual and reproductive rights, environmental issues, violence against women, public policies, economic independence, mainstreaming perspective, among others. Currently, she is pursuing a Postgraduate degree on gender and feminist studies at the UNAM. "I consider that in the violent context I live in, young feminist women contribute to develop peace relationships, mostly, sisterhood relationships through generation of healthy, empathetic and non-dependable ties. I think this is one of the most important points that the feminist movement should prioritise," she says.
Mariana Chang Roja is 26 years old and lives in Lima, Peru. She has a Bachelors degree in social science, with a specialisation in Archaeology, from the Universidad Nacional Mayor of San Marcos, and will soon graduate in Education. She works on social projects and as a consultant on education and gender issues. "I live my feminism from pleasure, constant reflection and creativity," Mariana says and identifies as a feminist lesbian. For the past few years, she has been actively involved with different collectives and articulated with women and feminist networks in her country. Currently, she promotes reflective, action and feminist training spaces, mainly in community environments and with young women, from an intersectional, de-colonial and critical perspective. Mariana envisions contributing to strengthening horizontal and inclusive feminist movements, addressing the empowerment of young feminist initiatives. She is also deeply interested in arts as a tool of social change. Mariana plays batukada, likes walking, travelling and enjoys being by herself.
Ledys is a digital activist at SumOfUs.org who was born in Bogotá, Colombia. She studied International Relations at the University of Edinburgh, in Scotland and has a Master's in International Critique Theory at the University of Exeter in England. Ledys is a radical activist, passionate and entirely dedicated to social justice and the struggle for a just world, mostly for women from the Global South.  She has contributed to the public and free education movement, migratory reform and has founded collectives for women of colour in the UK to contribute to an inclusive society for migrant women and women of colour. Additionally, she coordinated international volunteers in a youth collective in Hebron, Palestine. She founded the first Latin American activist school, a collective of digital activist that use popular education to train more activist throughout the region. Currently, she lives in Bogotá where she works with different feminist groups against police violence, trans women's rights, sex workers rights and legalization of abortion in Colombia. She likes to knit, draw, practise yoga and cycle her bicycle, Paloma, in her free time.
Colectiva Rabiosa, with the representation of Florencia Maffeo. Founded in 2014, located in the province of Buenos Aires, the Colectiva Feminista Rabiosa is a group of young lesbian and bisexual feminists working to empower young women, promote sexual rights, and promote a life free of violence for all. They operate from the feminist premise that the personal is political. Their main objectives, as a group, are to give visibility to the feminist struggle, to accompany women seeking abortions and women survivors of violence, and to advance public policies related to sexual rights, with a focus on the right to abortion. As a collective, they collaborate with other groups to attain legal abortion in Argentina.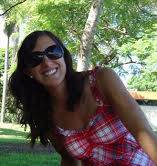 Lucia Martelotte is a 31-year-old feminist activist who lived for several years in Spain, where she studied Sociology, Political Science and obtained her Master's degree in Democracy and Good Governance. In 2010, she moved to Buenos Aires and since 2011, she has been a part of the Equipo Latinoamericano de Justicia y Género (ELA), an NGO that works on women's rights. Lucia has accompanied the organization and been involved in the strengthening process of women's groups in Colombia and Argentina. She works as a consultant of the gender affair division of CEPAL providing online courses. Currently, she is pursuing a doctorate in Political Science, doing research on women's political participation in Latin America and trying to recuperate the setbacks and life experiences of women politicians. Care policies and the elimination of violence against women in all forms are two other centrals issue that Lucia has worked on and deeply committed to.​
Grantmaking advisors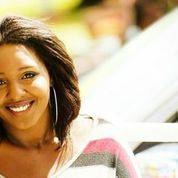 Ro-Ann Mohammed is a 22-year-old feminist and LGBTI activist. Born and raised in Trinidad and Tobago, Ro-Ann moved to Barbados when she was 18 to attend the University of the West Indies at Cave Hill, where she studied Psychology and eventually co-founded the organization Barbados – Gays, Lesbians and All-Sexuals against Discrimination (B-GLAD), currently the sole youth and women led LGBTI organization in the country. In addition to co-directing B-GLAD, Ro-Ann dedicates her time to working with NGOs and initiatives geared towards the advancement of women and LGBTI people in Trinidad and Tobago. Believing in the intersectionality between the two, Ro-Ann thinks that a feminist voice is critically necessary in the LGBTI movement; this drives her passion to end the underrepresentation of LBT women in LGBT spaces. Dedicated to the advancement of marginalized and stigmatized people, Ro-Ann is currently the facility manager of a local reintegration institute for ex-prisoners, ex-juvenile delinquents and other socially displaced individuals.
María Eugenia Olmos is a 33-year-old feminist who lives in the city of Córdoba, Argentina. María studied International Relations and specialized in management development. Her work has always focused on civil society and she is currently a PhD doctorate in gender studies at the National University of Córdoba. For over 7 years, María has worked for the promotion and protection of human rights of women in relation to sexual and reproductive rights, especially access to safe and legal abortion in Argentina as a member of Catholics for a Free Choice Argentina and the National Campaign for the Right to Legal, Safe and Free Abortion. From there, her activism is related to resource discovery, development and project management, as well as in advocacy to advance the recognition of our rights to political, social and cultural level.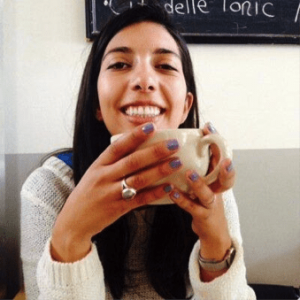 María Paula Castañeda is a women's human rights defender and a feminist. She is 29 years old and was born in Bogotá, Colombia, but grew up primarily in the United States. During the past 4.5 years, María has worked with feminist human rights organizations in Mexico City, mainly on the topics of access to justice for women. She has a degree in comparative literature in French, Spanish and English from Trinity University and an MA in International Relations with a minor in Peace and Security Studies at the Institute of International Relations of Barcelona. She is currently working as a consultant on gender issues, human rights, and justice and advising civil society organizations. María is the founder of Diario Igualdad, a new digital platform of social and personal reflections with a gender perspective. She is particularly interested in finding out how to spread feminist messages to a wider group of people.
Leticia Alves is 26-years-old and right now living in Mexico (and Brazil). "I say that because since I came to Mexico, I feel I still dwell, through emotion and militancy, in my social and political context of origin," Leticia explains. "Therefore, feminism, from the Latin American context (and discoveries arising from my experiences between Brazil-Mexico) is my newest passion." Leticia has come to Mexico to obtain the International Diploma in The Challenges of Feminism in Latin America at the National Autonomous University of Mexico (UNAM), and to understand the dynamics of distance and closeness (partnerships) among feminists in Brazil and other Latin American countries. "Earlier in Brazil, my way of experiencing feminism was practically through militancy in the feminist movement in Rio de Janeiro." In this period, Leticia participated in political articulations of youth, feminist and social movements and NGOs. Her experience in these areas solidified her identity not only as a feminist, but also as a young women. "For me, feminism brought a whole new way of seeing the world through the perspective of gender, class, race, age and sexual orientation. The intense socio-political mobilization that Brazil experienced last year is a context that served as an axis of influence and helped my political orientation, my identities. There are several subjective changes that are occurring in our society and among the youths who live there," says Leticia.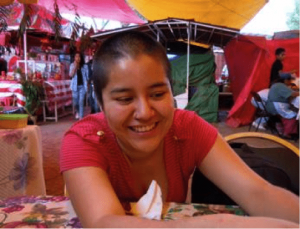 Luisa Herrera Velázquez is 26 years old and lives in Mexico City, although she is originally from the state of Puebla. Luisa studied Political Communication at the Faculty of Political and Social Sciences at the National Autonomous University of Mexico (UNAM). Five years ago, Luisa co-founded  IMPETU, where she develops projects for youth from their perspective as well as projects for young women from a feminist perspective. "I identify as a feminist [and] I specifically agree with the theory and practice of current Latin American and decolonial lesbofeminism, so I identify as a lesbian feminist," Luisa says.
Luisa is a host on Youth Zone, a radio program where she interviews organizations focusing on young women, "because even within youth studies or "movements", as we know, young women are invisible." Luisa is also member of La Crítica and Djovenes and coordinates a training program for young reporters; their texts are published on these platforms. A little over a year ago, Luisa began accompanying women to abortion clinics. "I am an intense cyber-activist and I participate in various group," Luisa adds.
Ayesha is completing her doctoral research in climate change and agriculture at the University of the West Indies, Jamaica. The unique challenge faced by women due to climate change has led to her calls for gendered policy and programmatic interventions. Ayesha's experience as a young girl growing up in rural Jamaica has made her particularly keen on developing solutions to address the plight of girls and women. Ayeesha has served as a Resident Advisor on the Mary Seacole Hall, an all-female hall at the University of the West Indies where she helped to develop and execute leadership programmes for the over 200 residents. At the national level she has continued her advocacy for girls and women as a member of the steering committee for the National Plan for the Eradication of Gender-Based Violence and as an affiliate of the 51% Coalition. Ayesha has also worked with primary and secondary schools across Jamaica to develop mentorship and leadership programmes for vulnerable girls. She is also a member of the Sustainable Solutions Development Youth Network and Commonwealth Youth Climate Change Network.