Middle East & North Africa region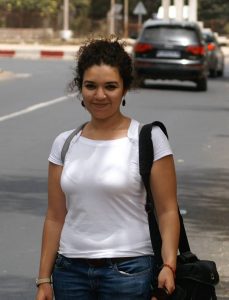 Kenza Yousfi is a feminist ethnographer, writer, and researcher. Her engagement has been with topics around gendered political economies, issues of political violence, subjectivities in border zones and within movements of migration, escape, and liberation movements. Her feminist project aims to project politics of hope and reinvigorate meanings of the political outside of institutional movements and groups and show the possibilities between intellectual conversations and praxis. Kenza's prominent occupation is being in the field. She has done extended fieldwork in Mauritania, Senegal, Morocco, and Algeria and is currently researching political violence and marginalization among Moroccan youth. She has published her creative writing in different outlets. You can read them all here.
Laila Alodaat is a human rights lawyer from Syria. She has an LLM in Human Rights, Conflict and Justice from the School of Oriental and African Studies in London. She has specialised in international law of armed conflicts with an extensive knowledge of the Middle East and of human rights of women. She has also worked as a trainer for Minority Rights Group International where she conducted training in international human rights law, minority rights and advocacy and lobbying skills targeting minority communities, grassroots organizations and activists in Iraq and Pakistan. Before she moved to London, Laila has volunteered in the Syrian Arab Red Crescent for over 10 years and has been a member of the IHL steering committee and the Youth Management Committee as well as a first aid and IHL trainer. She is currently the Crisis Response programme manager at theWomen's International League for Peace and Freedom (WILPF) and a volunteer board member of Badael, a grassroots organization that aims to promote non- violence in Syria.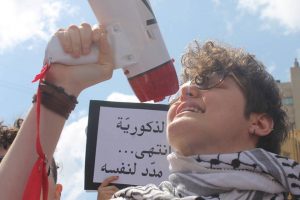 Leen Hashem is a young, queer feminist living in Beirut, Lebanon. She holds a BA in Media Studies from the Lebanese University, and an MA in Gender Studies from SOAS, University of London after being awarded Chevening scholarship. Since 2009, Leen has been part of different leftist, secularist, queer and feminist groups in Lebanon. She co-founded "Kherrberr" feminist media monitor, and acted as a co-editor for "Bekhsoos", the first queer Arab feminist e-zine. Leen was also a founding member of "Salwa" anti-sexual harassment campaign in 2010. Since 2005, she has worked as a researcher, translator, editor, communication officer, project manager and policy advisor at different NGOs and projects including the former feminist collective "Nasawiya" and Greenpeace. In addition, she has been a regular freelance contributor to the weekly youth supplement issued by As-Safir daily newspaper on issues of gender, sexuality and rights. Leen enjoys reading, writing, travelling and watching movies. Leen says she strives to live every day by the feminist pillar that is "the personal is political".
Ghadir Shafie is a Palestinian living in Israel, a second generation of the indigenous people who, after the Palestinian Nakba and the establishment of the state of Israel in 1948, received Israeli citizenship, albeit a second class citizenship. Ghadir identifies as a Palestinian queer feminist activist, and is currently serving as a co-director at Aswat -Palestinian Gay Women. Palestinian queer women fight a triple oppression – as Palestinians, an indigenous minority in Israel suffering systematic discrimination in policies and practices; as women in the context of conflict and the geopolitical challenges facing our feminist movements; and as queers, facing homophobia and Pinkwashing. Ghadir believes in the intersectionality of our struggle, visibilizing this intersectionality to others by uniting the feminist, queer and Palestinian liberation movements in a monumental struggle for justice and freedom to all Palestinians.
Past Advisors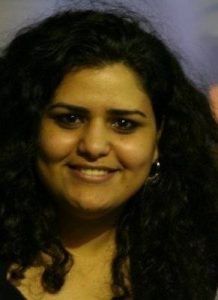 Maissan Hassan is a young, feminist activist from Egypt. Maissan studied sociology and film at the American University in Cairo. She is a co-founder of Nazra for Feminist Studies where she works on issues of gender, sexuality and art. Currently, she is the research officer at the Women and Memory Forum  (WMF), a nongovernmental research centre in Egypt that focuses on gender issues in Arab cultural history. Maisan's main interests include research and documentation on gender, sexuality and bodily issues and rights. In her own words, "For me, it is essential to work towards integrating research efforts with feminist activism with various tools such as oral history and performing art."
Ghiwa Sayegh is a young, feminist researcher, writer, and translator based in Beirut, Lebanon. She is currently completing an M.A. in English Literature, and her work focuses on feminist and minority literatures, post-colonialism, and history from the peripheries. She plans on pursuing her PhD in cultural history and politics. Ghiwa has been a member of Nasawiya for the past five years; she is an activist in the fields of women, sexual, and bodily rights. She is currently working with the Gender and Sexuality Resource Center, which mobilizes resources and research on gender and sexuality in the MENA region. Ghiwa is obsessed with theories of the body, pain, and pleasure. She is a poet and playwright, and is fluent in Arabic, English, French, and Spanish.
Chantal Partamian was born in 1984 in Beirut, Lebanon. She currently works in film production and has directed a few short films and documentaries, which have been shown at different projections and events in France.  Most of her work is done with digital video, super 8 mm and 16mm. Chantal is also a founding member of two amazing organisations Meem and Nasawiya  both in Lebanon. In her own words: "I consider myself a feminist because I believe in equal opportunities and rights. Gender equality is essential for me and I believe in autonomy and body integrity."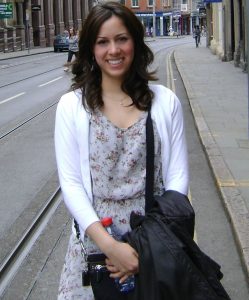 May Abu Jaber is a Jordanian-Venezuelan feminist activist, writer, researcher and technical expert on women's rights. Having a Bachelor in Gender Studies and Human Rights from Carleton University in Ottawa, May pursued her studies with an MA in Gender Studies at the University of Oxford where her primary focus of research included gendered terrorism, sisterarchy, race relations, and human rights in relation to economic empowerment, freedom from violence, imperialism and militarism. May has published some of her work in The Multimedia Encyclopedia of Women in Today's World and Al Raida Journal for Women's Studies, and is currently working at the Association for Women's Rights in Development (AWID) as their Thematic Programs Assistant. She has also contributed as a consultant and researcher to various gender programs carried out globally. May also runs her own event planning business based in Toronto, which allows her to travel and meet inspiring people all over the world.