Sub-Saharan Africa region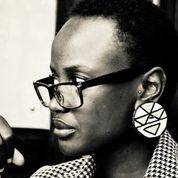 Tatenda Muranda is a Pan-Africanist and a self-identified suit in a feminist activist. She is a co-founder of HOLAAfrica! and has worked with a number of human rights organizations, including the Human Rights Advocacy Centre in Ghana and the Commission for Gender Equality in Johannesburg, South Africa. Her interests lie in human rights (particularly women's access to socio-economic rights), development finance and social entrepreneurship. She currently lives in Johannesburg, South Africa, where where she works at the Initiative for Strategic Litigation in Africa and is an active member of the Mahogany Educational Trust where she coordinates the mentorship program.
Roseline has over eight years of experience working with youths and women in rural communities of the North West region of Cameroon. She is passionate about the socio economic empowerment of women, especially the girl child at grassroots level and the education of children. She worked as Finance Manager for a local NGO in Cameroon, for 6 years, where she implemented successful income generating activities for women, especially in the area of micro credit. Currently she works for Swiss Charity Nouvelle Planète Coordination Office in Cameroon on educational and environmental projects for children and women. Since 2012, she volunteers as the North West Regional President of 150 groups' of women with a global enrolment of over 5000 members. She serves as honorary board member, for "Association Enfance Cameroon", a franco-cameroonian project in favor of disadvantaged children of Cameroon. Trained in International Elderly women's policy by the United Nations, Roseline is also an Alumna of the United Nations Alliance Of Civilizations – Education First Summer School 2015. Roseline holds a Master Degree in Marketing and Finance from the Catholic University of Central Africa.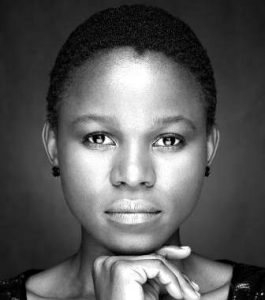 Lame Charmaine Olebile, formerly the coordinator of Pan Africa ILGA, the African chapter of the International Lesbian, Gay, Bisexual, Trans and Intersex Association is a young Pan Africanist feminist professional passionate about social justice. Her working experience includes coordinating the Lesbians, Gays and Bisexuals of Botswana, LEGABIBO, leading a strategic litigation and advocacy project where LEGABIBO challenged the government of Botswana's refusal to formerly recognize them. Olebile also worked at the Durban Lesbian and Gay Community and Health Centre as the research and mainstreaming officer. Prior to that she was an advocacy officer and researcher with the LEGABIBO and conducted advocacy projects locally, internationally and at the United Nations for the same organization. She led a research project on Increasing the Visibility of Lesbian, Bisexual and other Women who have sex with women in Botswana as part of a group of Southern African organizations working on issues that affect lesbian women. Olebile completed her studies in Politics and Administration at the University of Botswana and is currently pursuing a Master of Arts in International Politics. Her main interests in social justice are issues of sexuality, gender and security. And further, working with governments and other decision-making structures to achieve a substantial transformation.
Brenda Wambui is a young Kenyan woman interested in creating positive social change through digital media, women empowerment and entrepreneurship. She is the co-founder and CEO of Brainstorm Africa, an online media organisation whose mission is to address the need for critical thought in Kenya, and the rest of Africa. It aims to be at the helm of Africa's ideological change movement and to provide critical information, as well as the necessary context, needed to propel the continent out of poverty (mental and economic), and into middle income status. Brenda graduated from Strathmore University with a Bachelor of Commerce (Hons) Degree in Marketing, and is an ACCA certified accountant. She published Kenya's first in-depth research on social media, and has worked on Uhuru Kenyatta's presidential campaign as well as a social enterprise startup in India, Milaap.org, as the social media manager, after which she went into freelance digital strategy consultancy. She is an active alumnus of several youth organizations, such as AIESEC and Junior Achievement, and is a member of the Thousand Network (formerly known as the Sandbox Network). She is also a 2015 Acumen East Africa Fellow, and the Nairobi hub ambassador for The Feast.
Nyota is a passionate women's rights activist and has dedicated her life to social justice, conflict transformation and peace building. She is currently the Fundraising and Communication Manager at Fonds pour les femmes Congolese (FFC), where she does fundraising, translations, facilitates communication renovated FFC's website and documents and coordinates public outreach for the organization. Nyota began her social justice work as a translator/interpreter at the World Social Forum in Nairobi, Kenya in 2007. In 2009 she began working with International Emergency and Development Aid (IEDA) in Goma, Democratic Republic of Congo as well as Norwegian Church Aid, supporting the organizations' peace-building work in conflict-ridden eastern Congo. She later returned to Kenya where she worked at FEMNET, a pan African-women led Communication and Development network, and at Urgent Action Fund- Africa's grant making program, which responds to urgent needs of women human right defenders.  Nyota has a degree in Business Finance and Accounting. She is a bilingual (English/French) translator and a passionate women's rights and social justice activist.
Past advisors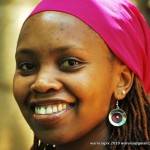 Purity Kagwiria is a young feminist activist based in Nairobi, Kenya. As an active member of the feminist/women rights movement in Kenya, she is committed to analysing private and personal spaces and developing strategies that lead to the emancipation of women. Currently, Purity works with Akili Dada as the Program Coordinator/Head of the Kenya Office. Akili Dada is a leadership incubator for young women working to meet the urgent need for a new generation of effective African leaders. Akili Dada provides promising young women from underprivileged backgrounds with access to high-quality education, personalized mentoring, and rigorous leadership development. Education and creating spaces for young women's participation inspires Purity's activism and she is passionate about mobilizing resources for young women's activism, documenting oral herstories, photography, art, reading and cooking.
Rama Salla Dieng is currently a Research Fellow at United Nations African Institute for Economic Development and Planning (UN-IDEP).  She is also a 2013/2014 Chevening Scholar who graduated with an MSc Research in International Development from SOAS, University of London, specializing in African Economic Development and Gender. Between 2010 and 2013, Rama was a Research Assistant at the Policy Research Division of UN-IDEP. In 2009, she joined the Socio-Economic Development Unit of the UNDP Country office of Mauritius and Seychelles for six months in 2009 as part of an internship. The same year, she was selected as a Moremi Initiative for Women's Leadership in Africa Fellow as one of the 25 most promising young African Women committed to bring change in their communities. Rama also holds a MA in International Cooperation and Development/Risks Management in Developing Countries from the Bordeaux Institute of Political Studies, a Maîtrisein Political Science from Montesquieu University and a Bachelor in Social and Economic Administration and Management from the University Aix-Marseille 2.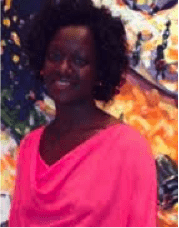 Kyambadde Robinah Salinge is a young feminist born and raised in Uganda. She holds a Masters Degree in International Relations and Diplomacy from Mount Kenya University and a Bachelor of Arts Degree in Social Sciences from Kyambogo University Uganda. She is the head of the girls' programme as well as the M&E officer at YWCA Rwanda.  Robinah has extensive knowledge in gender, advocacy, fundraising, financial education, young women empowerment and sexual reproductive health and rights. She has participated in the 59th Commission on the Status of Women in New York in 2015, providing valuable insight in the Gender is my Agenda consultative meeting (GIMAC) in 2015 in Ethiopia,  the Beijing +20 review meeting in 2014 in Ethiopia, the African Union 22nd and 24th heads of government summit in Ethiopia, international training institute on sexual reproductive health and rights and HIV in Arusha Tanzania in 2014 and the international conference on AIDS and STI's in Africa in 2013 in Cape Town South Africa. She has liaised with policy makers, civil society organisations in East Africa and engaged men and women in contributing to women empowerment. She enjoys reading and possesses solid interpersonal and exceptional communication skills.