Sign-up for our Guests on the Wire 2-part Series on Security & Self-care
**Deadline for registration is December 14th**
The YFA Program at AWID and FRIDA | The Young Feminist Fund is excited to be co-hosting a 2-part 'Guests on the Wire' series discussing issues of security and self-care
The 2-part 'Guests on the Wire' series will be composed of 2 separate sessions, one on security and another on self-care. Each session will be 2 hours long.
In each session, we will touch on the following:
Security: Digital and beyond: The digital world is increasingly reflecting threats that activists have been facing offline. At a time when digital and 'live' realities and spaces are meshing together, the impacts and threats facing activists both online and offline are also advancing in ways that are interlinked. In this session, you'll hear from speakers who will highlight how security in offline and online spaces overlap and threaten young feminist activists. Speakers will also highlight ways and tactics, resources and tools that young feminists can use to protect themselves or at the very least avoid the most common security pitfalls.
On Wellness: Self-care and beyond: Around the world, countries are going through economic, political, and social turmoil that are increasing the pressure and urgency on social justice activists to act quicker, better, and strategically. This increased toll is not isolated from the compounding pressures that movements face by state and non-state actors whose agendas are to silence and fragment social justice work. In this session, you'll hear from speakers who will address the importance of prioritizing self-care and healing as part of social justice agendas and healthy movement building. We will also attempt to make links between individual self-care and its impact on the movements that we are a part of.
DATE AND TIME
PART 1: SECURITY: DIGITAL AND BEYOND
Tuesday, December 17th, 2014 from 11am  to 1pm EST
PART 2: ON WELLNESS: SELF-CARE AND BEYOND
Wednesday, December 18th, 2014 from 11am to 1pm EST
For conversion of this time, to other time zones, please visit Time and Date.
LANGUAGE Both sessions will be held in English ONLY.
SPEAKERS
Part 1: Security: Natasha Msonza and Kate Koerger
Natasha Msonza is a communication strategist with a background in media, information management and human development. She is also a digital security trainer and privacy advocate who is passionate about all things tech and open source. She is the Operations Manager at Her Zimbabwe, an organisation that seeks to advance women's thought leadership and bring important commentary to women's issues.
Kate Kroeger joined Urgent Action Fund for Women's Human Rights as Executive Director in 2012, fulfilling a lifelong dream of pursuing her feminist activism at an organization dedicated to supporting women's human rights defenders around the world. Kate is a seasoned advocate, grantmaker and strategist, bringing two decades of experience with grassroots human rights work and social justice philanthropy to her leadership of UAF.
Part 2: Self-care: Rebekka Leitlein and Annie Wilkinson
Rebekka Leitlein is a queer feminist grassroots activist that loves to create, explore and play with alternative pleasure knowledge. She is a part of the Radical Queer Affinity Collective, which used to run a community space for women and trans people in Budapest and is currently confronted with structural, material, and emotional transformation. Due to this, as well as other experiences, these days Rebekka's activism focuses on the topics of collective transformation, failure, burnout, rituals and non-violent communication within the DIY grassroots framework of mutual feminist care.
Annie Wilkinson provides training and technical support to human rights groups worldwide on digital security and conducting evidence-based human rights research, documentation, and advocacy, most recently with LGBTI groups in Sub-Saharan Africa. Since 2005, she has been actively dedicated to human rights work, conducting direct service, advocacy, and research in the service of human rights, with a focus on the rights of women and gender and sexual minorities internationally. Her experience includes research and advocacy with grassroots women's rights groups in Uganda, supporting development initiatives in Tanzania, several years mobilizing resources for women's rights internationally at the Global Fund for Women, and researching human rights violations among the LGBTI community in Ecuador. In the San Francisco Bay Area, where she now calls home, she has also supported survivors of sexual violence as well as local and national military counter-recruitment initiatives.
FORMAT
In the 2-hour long discussions, a panel of speakers will present their experience and thoughts, after which there will be a Q&A where participants can direct any questions to the speakers. The remaining time will be used for a collective discussion prompted by questions posed by the facilitators. Participants will be encouraged to share their experiences, and the questions they have grappled with in relation to the topics at hand.
PARTICIPATION
These sessions are intended for young feminist activists and allies who are interested in having an introductory discussion on issues relevant to digital security and self-care. Direct experience with the areas of digital security and self-care are not required. If you're interested in these subjects, please join us!
If you are not a member of the Young Feminist Wire, please sign up HERE before registering using the form below.
To subscribe to the FRIDA | Young Feminist Fund newsletter, please visit their website
REGISTRATION
You can register for one session or both by filling out the form on YFA website. Please contact us with any questions or comments you may have at info@youngfeministfund.org
Deadline for registration is December 14th. 
Please note that we have limited spaces and registration will be held on a First Come First Serve basis.
By Tatenda Muranda, FRIDA Advisor, HOLAAfrica! co-founder and feminist activist
Post-colonial Africa has become an exciting space for LGBT activism because of the vast possibilities for change. Within the African regional human rights system there is no explicit recognition of the right to non-discrimination on the basis of sexual orientation but this has not stopped African LGBT movements from making headway in a number of important areas. Take for example the victory of Ugandan civil society against the Anti-Homosexuality Act (which was declared unconstitutional) and the recent success of LGBT organizations in Botswana in fighting for their rights to organize around Queer issues.
Furthermore the African Commission on Human and Peoples' Rights has passed a resolution that condemns all acts of violence and abuse inflicted upon a person based on their real or imputed sexual orientation or gender.  Despite these achievements LGBT individuals within Africa still face challenges when it comes to issues of access to healthcare, especially issues of visibility and viability within the HIV/AIDS pandemic. Read More
We love this sweet submission for our Photo of the Month: A member of Collective Vivre Ma Vie holds a hand-made sign with their logo and FRIDA's logo, plus the joined hands that "signify our joint efforts to address challenges faced by girls."
Collective Vivre Ma Vie is based in Burkina Faso. They are a group of young women and girls working to end forced marriage by talking with community leaders and parents, supporting one another to complete their education, reaching out to girls in domestic work, and more.  You can also hear an audio story produced by one of their members in French here!
By Sarah Soysa, FRIDA Advisor
For a week in October, I became the first-ever curator for #4FRIDA, a new guest curator project inspired by @sweden and @PeopleOfCanada. Looking at the FRIDA principles and objectives with both excitement and nervousness, I started my research to collect videos, blogs, news and articles on such diverse topics as gender, feminism, women, sexual and reproductive health and rights, child rights, young people and socioeconomic and political issues in the world to publish during my #4FRIDA week.
It was indeed a smooth process because FRIDA staff members made me feel very comfortable and updated with the whole procedure, and they also introduced me to a new app called Buffer. Buffer makes your life easier! Through Buffer I could schedule all my tweets and Facebook posts accordingly to get them automatically posted each day at different times! Every morning I would wake up with excitement, schedule my posts for FRIDA's social media channels, using the #4FRIDA hashtag, and also check the analytics of posts from previous days, which was really a fun learning experience for me.
The posts added a fresh change to FRIDA's social media and it made FRIDA's followers curious and eager to experience the #4FRIDA project as well. During my period as #4FRIDA curator, I covered diverse topics that always had my interest and made me passionate to share my views on, such as domestic violence, culture and rethinking rights, rape and victim blaming, sexism, funding and resources for girls, gender, grant and training opportunities, sex worker rights, feminism, activism, abortion rights, sexual exploitation, inclusion of indigenous people in Sustainable Development Goals, Comprehensive Sexuality Education, HIV and stigma, child marriage, body image acceptance, menstruation and many other Sexual and Reproductive Health and Rights issues. It was exciting to see the number of comments, shares, likes, favourites and retweets on these posts and to see such interaction taking place. Certain posts got more visibility and interest than others, such as gender and feminism related posts, which made me realize the expectation and interest of most of our fans and followers.
Through the #4FRIDA project, the numbers of FRIDA's followers increased, and FRIDA also got a lot of attention through my personal social media channels, where I posted about my new role as the guest curator. Many activists, philanthropists, social workers and young advocates were interested to know what FRIDA does and learn about my role as an advisor. FRIDA's work is generously appreciated by a large number of people and #4FRIDA increased the support for FRIDA | The Young Feminist Fund even more. It is definitely a great start and a much needed change on social media channels, adding perceptions, interests and passion of advisors, funders and other stakeholders of FRIDA, and creating a diverse flavoursome experience for both us at FRIDA and FRIDA's social media followers. Indeed, the project is a great way to show that the feminist movement is not just one homogenous voice, but actually a lively and active conversation of many different voices.  #4FRIDA emphasized and proved FRIDA's core values –  flexibility, resources, inclusivity, diversity and action – to the world once again with its innovative and one-of-a-kind initiatives this year.
Stay tuned for the next #4FRIDA!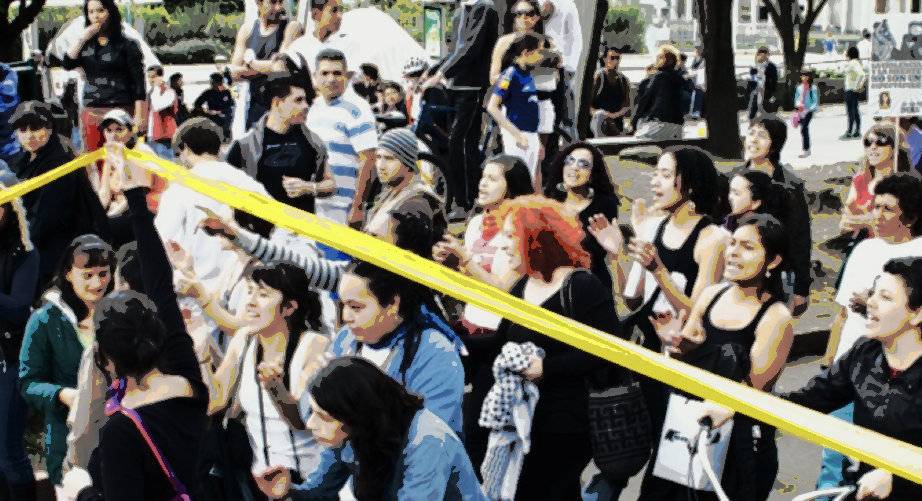 By Devi Leiper O'Malley and Ruby Johnson, FRIDA Co-Coordinators
This October, the Nobel Peace Prize was awarded to Malala Yousafzai. Malala's fierce commitment to education for girls everywhere demonstrates the courage and incredible contributions of girls and young women in fighting for justice and the human rights. She is extraordinary no doubt, and deserves the world's congratulations.  But there's a larger problem afoot worth acknowledging, which happens whenever we single out a young woman and make a star of her, and not her political claim. The predominant trend in mainstream culture to create cults of personality casts a veil over the hard work of collective organizers, and fails to tell the important story of how social change actually occurs.
Individual hero worship has been a hot topic over the past few weeks, whether discussing Emma Watson or Beyoncé. But the conversation on the dangers of idolization in human rights work has been long standing, flaring up recently with the falls from grace of figures like Somaly Mam and Greg Mortensen or the lack of attention given other child activists like Nabila Rehman. Our critique is not focused on these individuals themselves, but the system that creates the pedestal.
We want to counter the system by placing greater focus on groups of young women, girls, and trans*youth who tirelessly bring about change in their communities. Following in the footsteps of the 1000 Women for the Nobel Peace Prize, lets recognize the collective work of many, whether through community radio in Nepal (Radio Udayapur) or newspapers in Afghanistan (Ruidad Weekly), or working with indigenous girls in Nicaragua (Grupo de Mujeres Xitlali) or female school children in Burkina Faso (Collectif Vivre Ma Vie).
Led by people under 35, many of the groups are already mentoring the next generation to ensure sustainable change like the girl mentoring program of Womantra in Trinidad in Tobago and the girl groups of Helping Hand and CSDC in Georgia. Similar to the co-director model we use at FRIDA | The Young Feminist Fund, we also see many groups resisting the tradition to create top-down hierarchies in their organizations, opting for more flat structures and refusing to name one individual as the CEO.
These groups' commitment to collective approaches is critical as longitudinal studies have shown: "Countries with the strongest feminist movements tend, other things being equal, to have more comprehensive policies on violence against women than those with weaker or non-existent movements. This plays a more important role than left-wing parties, numbers of women legislators, or even national wealth."
And yet, the feminist movement continues to be underfunded, despite the growing popularity of "investing in women and girls." As the Association for Women's Rights in Development has shown, women's rights organizations continue to remain small – often not by choice – but due to the challenge of raising financial resources to power their work. The needs of grassroots and community-based organizations are overshadowed by initiatives focused on individual entrepreneurship and micro-credit that often fail to address structural inequalities.
To be sure, the movement is made up of extraordinary individuals. Indeed, it is through their personal stories that we can relate to their experiences, be empathetic to their situation, and be moved to support them. But until the narrative situates these individuals in context of organizations, movements and their cause, we'll continue to move at a slow pace. No better person understands this than Malala herself, "The thing is, they can kill me. They can only kill Malala. But it does not mean that they can kill my cause."
—-
A similar piece on the "dangers of turning social innovators into celebrities" has recently been written by Kriss Deiglmeier of the Tides Foundation. Read it here.