This blog has been penned by Gopika Bashi, one of our advisors from the Asia Pacific region. To read more about FRIDA's advisory committee, click here.
As feminists, our most basic task is  to fight patriarchy. And we do that by weeding it out at its roots. We call out misogyny, chip away at limiting ideologies, practices and deeply embedded traditions. This is, and has been, our task. But what does feminism mean for a group of young women trained in self-defense, in a small suburb of the northern Indian city of Lucknow? How does the practice of self-defense dismantle patriarchal machinery? This is what I had in mind in the days leading up to my visit to Red Brigade Lucknow, one of FRIDA's grantee partners in Asia. And I wasn't really sure what to expect.
Once I arrived in Madiyaon, a small suburb almost on the outskirts of the main city, I sat on some steps outside the local Ramlila ground (named after the battle between good and evil from the ancient Hindu epic, Ramayana), waiting for one of the girls to come pick me up. Looking around, it was quite obvious that this was not an easy environment to even be in, let alone work from. As the afternoon sun shone down on me, I could pick up the distinctive odour of locally made alcohol from the shops with men lined up outside of them.
I entered the tiny building with bright red walls, and a board that said 'Red Brigade Lucknow', tucked away at a corner of an open ground. The walls were adorned with pictures of their founder, Usha Vishwakarma, receiving awards from various celebrities and being honoured by politicians. One of the photos was of the group's appearance on the Indian version of Who Wants to Be a Millionaire?, hosted by one of Hindi cinema's superstars, Mr. Amitabh Bachchan. As I cooled down with some water, the girls scrambled together, not really knowing what to expect either.  
I looked around at the circle of young women around me. I had met some of them some years earlier. I was told later that more than 70% of these girls had survived sexual violence, in most cases by someone from within their household. A young group founded by survivors of sexual violence, they basically train young girls and women in self defense and martial arts to fight sexual violence and harassment in public spaces and homes. Around fifteen of us were together for the next two days as we collectively reflected, discussed and planned ahead. We dreamed together for the kind of world world we wanted to live in. So many of these dreams were similar. We all merely wanted to lead a life free from violence.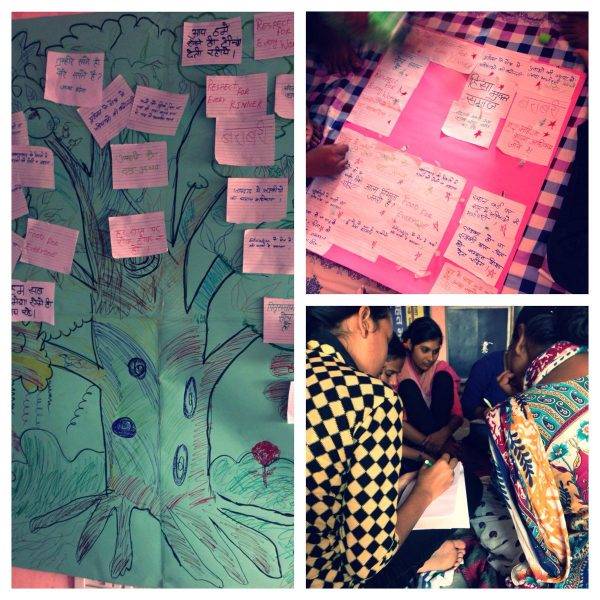 The space created because of Red Brigade meant a great deal to these girls and young women who claimed this space as their own, and who had come here simply in search of a refuge from experiences of everyday violence. During the two days,  we articulated and reminded ourselves that this was a space for girls to come, dance, sing, laugh and to shed all invisible armours that they must put on outside those walls. And while we collectively planned our growth as a young feminist, we acknowledged how needed this safe space was and how much it lacks in many young girls' lives.
On my last day, as the muezzin called out his evening prayers, the founding group sat with me on the roof discussing some practical questions at a critical time of leadership transition in the group. How should decisions be made collectively? Who should be taking financial decisions?  What is the group's vision for the next 5 years, as members grow older? As we talked about all this and laid out plans on a white flipchart, I looked out at Madiyaon. The Ramlila ground had been taken over to celebrate a religious festival, under the patronage of the local politicians.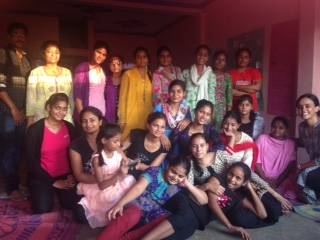 As I rode back home, the same question I started with sprung back to me. What does feminism mean for a group of young women in this small suburb? I realised that it probably only looks a bit different, but feels exactly the same: speaking truth to power. And a place that allows young women to do that, in a society hell bent to silence them and punish them for expressing any desire, is worth keeping alive in the years to come.
All pictures © Gopika Bashi and Red Brigade Lucknow, India
The recently concluded AWID Forum in Bahia, Brazil was a critical space not only for members of the FRIDA community but feminists, human rights defenders and activists alike to gather in the same place and discuss, dialogue and ideate on how we can collectively build a feminist future for our world.
An international forum of such large scale–over 1800 attendees from over 150 countries–the Forum was a key space for feminist activists to share innovation and energy from all corners of the world. And it was also a much needed, safe space to connect, understand the issues affecting young feminists across boundaries, gain exposure for their important work and play an active role in cross-movement building.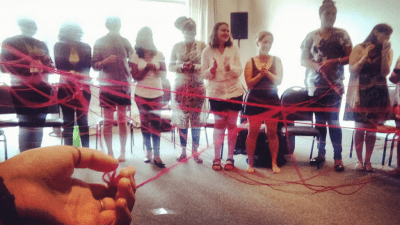 FRIDA was happy and proud to support as many as 35 young feminist activists from different parts of the world. These included grantee partners, staff members, consultants and board members. We also held our global grantee convening ahead of the Forum to connect with some of our grantee partners and learn more about the work they do, the challenges they face and the different ways in which we can help build their capacities and knowledge.
Both the Forum and the Global Convening served as a key space where young feminists shared organizing actions, deepened their understanding of how change happens in their diverse focus areas, and networked beyond their borders, harnessing their collective power.
We share below some quotes, pictures and experiences of FRIDA attendees. Relive the memorable experience through their words and pictures!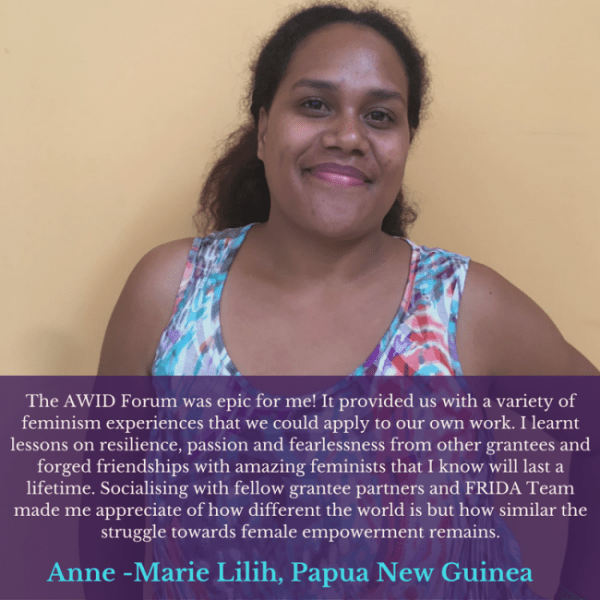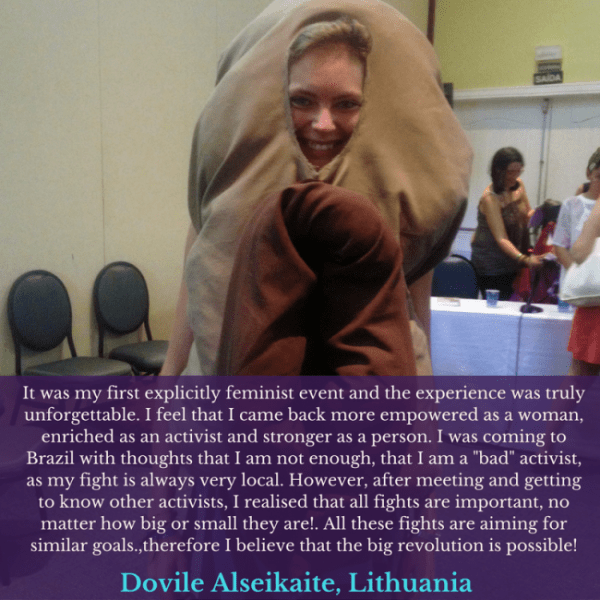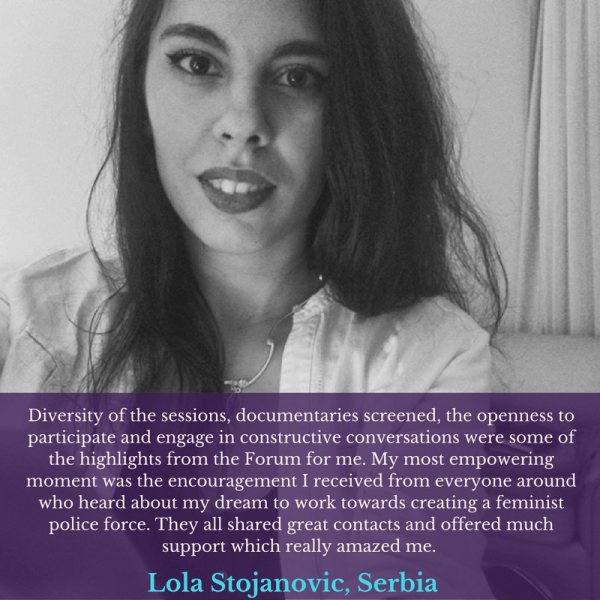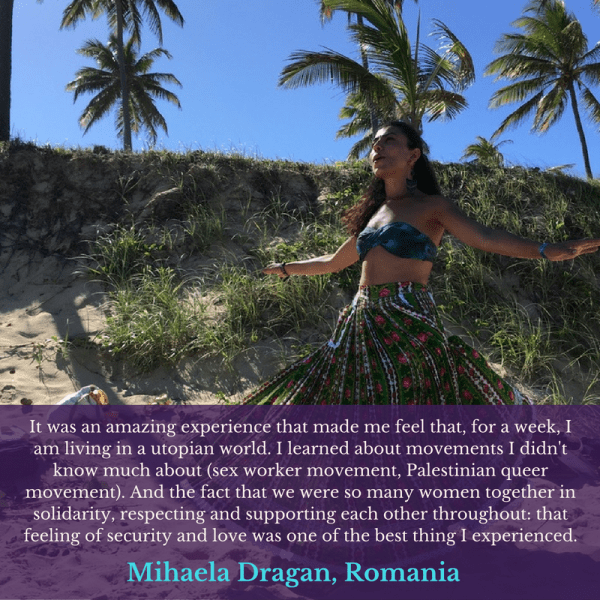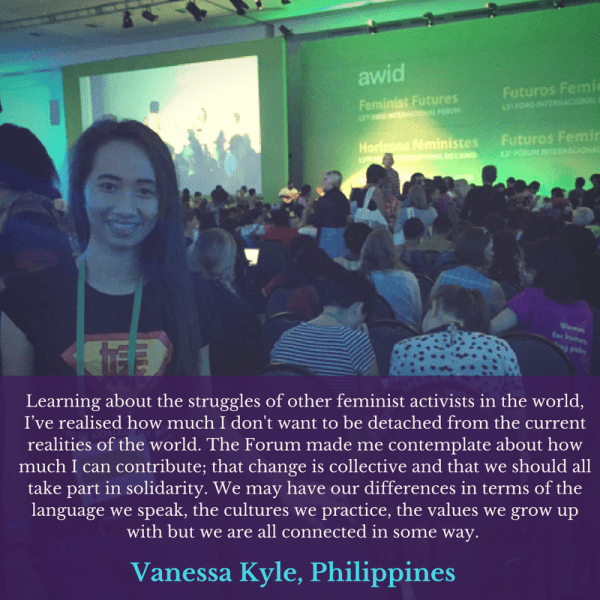 ---
The following article has been penned by all team members of FRIDA with special guidance and support by María Díaz Ezquerro
Caring for myself is not self-indulgence, it is self-preservation, and that is an act of political warfare.

– Audre Lorde
As you know, FRIDA team members (staff, consultants and interns) work from all around the world. And in order to ensure that we support each other in this journey, we value the critical importance of taking time out for ourselves and prioritising personal needs from time to time. FRIDA considers self-care as a feminist political strategy to ensure the feminist movement sustainability and our personal resilience. We recognize the different physical, digital and psychological security challenges that young feminist activists face because of who they are and/or the work they do.
We acknowledge that young feminist activists work in very pressure environments, bear witness to violations and violence, and often face health problems derived from burnout, exhaustion and stress of our work and activism. We recognize the possibility of being exploited by working in pressure environments, especially when, as young feminists, we are both grateful and passionate about our contributions to the young feminist movement. 
Since FRIDA's community is spread all across the globe, we are usually working 24 hours every day, given that someone or the other is online in their respective time zones. In such a scenario, it becomes very important to ensure that every team member maintains her/her work/life balance, and is strongly supported by every other team member. Since FRIDA staff works remotely, we have also put together some working principles to follow and observe, that can help us maintain the work life balance well. In addition, some of the tools, protocols and practises we follow while working remotely can be viewed here.
What does Individual & Collective Self Care Look Like?
One of the first things to recognize is the importance of "self" in the idea of self care. It cannot work unless we, ourselves, make a conscious effort to work towards it. Individual self care can only lead to collective self care. So, unless we care for ourselves, we will not be able to care for and prioritise the needs of our colleagues and peers. It is also important to remember that it can be a difficult and, often, disappointing act to follow and can take a significant amount of time to incorporate individual self-care and wellbeing practices in our daily routines.
The best way to deal with this difficulty/disappointment is by looking at self-care not as yet another added task on your to-do list, but to look it from a broader perspective. Whether or not we are working, we ought to be prioritising our needs and desires over everything else. Just like our feminism, it is an everyday and living practise that we are constantly learning and unlearning; not just a work ethic to follow.
There are so many ways that one can practise self care in our everyday lives: by paying attention to the way we look, dress, eat, sleep, enjoy, recreate etc.; reconsider our personal practices; relooking the prevailing culture at key spaces: the organizational space, the activist space and how we choose to participate in them; being consistent in our struggles and always learning to pause and reflect on what we have managed to achieve and what remains to be done. These are all acts of self-care processes that bind our life, workplace and the larger movements. It's also crucial to note that there is no right or correct manner to practice self-care. We all define our own individual ways of doing it.
Here are some good tangible examples of individual self care, that FRIDA members have modelled:
Limit work hours to 8 per day, and sign out of all chat modes after work hours
Dedicate an entire hour for lunch break and avoid rushing with it while still working
Put the right amount of tasks on your plate; do not overwhelm or underwhelm yourself
Go for a run or walk during the day- get up to move- so that you aren't sitting in front a screen the entire day
Make sure you are hydrated, nourished and well-rested before you start each day
Include one self-care goal per week in your weekly goals; update your calendar with it so others can get inspired and replicate in their daily schedules
When traveling, budget in time to recover from jet lag and rest after your trip
Use allocated holiday leave to take a proper break from work and not check emails during vacation days and holidays (use and practise vacation responder)
Practise Reiki, Yoga and other body-mind exercises
Play board games–scrabble, chess, ludo–to keep your mind sharp, focussed and engaged when not thinking of work
Spend quality time with your loved ones. Remind yourself of their beautiful presence and support in your life.
Here are some good tangible examples of collective self care, that FRIDA members have modelled:
Be aware of any sensitive issues or subjects that may need a trigger warning
Be aware of any major issues happening in the personal lives of your colleagues that may require their attention or may impact their lives or work
Respect when colleagues tell you they need to be offline
Learn to say no and empower others to flag unreasonable expectations and timelines
Communicate clearly about any unresolved issues with an individual team member
Limit channels of communication for work; do not use FB chats and Whatsapp for ongoing work conversations
Spend 10 minutes at the beginning of a call catching up on life and personal updates with the team member you are speaking to
Have a team meeting or check ins to chat about non work related issues occasionally
Do not work on weekends and ensure no one else does by not emailing other team members during that time. If it is urgent, use Boomerang or save the email as a draft before sending it out on Monday
Taking care of yourself is not selfish. Start today!
At the end of 2010, after several meetings organized and supported by the Association of Women's Rights in Development, the Central American Women's Fund, and the Global Fund for Women, Amina Doherty was hired as FRIDA's founding Coordinator.
It is with this date in mind that we are celebrating our fifth birthday!
"She couldn't keep her colors inside the lines so she drew new ones"
By the end of 2015, FRIDA will have awarded almost $800,000 to over 70 groups of young feminists in over 60 countries.  We remain the only youth-led fund in the world dedicated exclusively to mobilizing and providing diverse resources for young feminists. It's also the only youth-led fund that has a participatory grantmaking model that ensures young feminist activists who apply for grants decide together who will receive funding – the first application of this model in a global context.
In partnership with The Fearless Collective, we travelled the world asking the young feminist community: "What is FRIDA?" Who are we? What do we do? Why do we need to do what we are doing? We share with you some responses, stories and inspiring words. Check out this short video that captures FRIDA's spirit in all its beauty. We thank The Fearless Collective Team for capturing FRIDA's essence so beautifully. And we look forward to many more years of supporting and strengthening young feminist activism together! #FRIDAFlies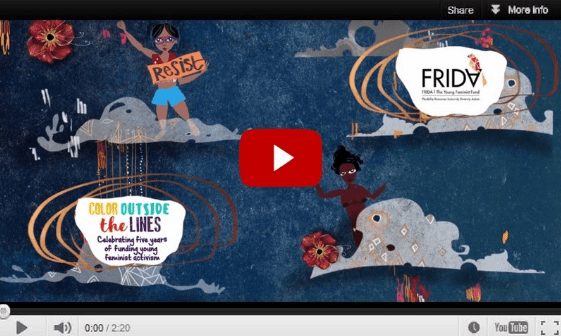 Through every grant cycle and year we spend with our grantee partners, we have the honor of seeing the incredible passion, creativity, and dedication of young feminist activists who are both holding and breaking ground around the most pressing issues of our time. From sexual violence to racial inequality, identity politics to access to safe abortion, young feminist activists are using tried and tested strategies, as well as new technologies, art, and organizing techniques. We'll be using the theme of "Coloring Outside the Lines" to illustrate the amazing impact of the young feminist movement.
Like our grantmaking model, we want our birthday celebrations to be as participatory as it can be. We're excited to use this opportunity to appreciate everyone who helped bring FRIDA to where it is today, celebrate with them on what young feminists have been able to achieve, and engage them in taking FRIDA to where it wants to go in the future. Click here to learn more about our FearlesslyFRIDA campaign that seeks to use art and activism to highlight the work and voice of youngfem groups.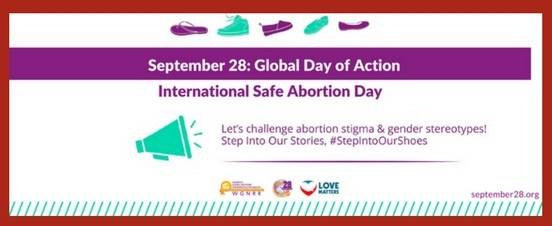 Around the world, young women are disproportionately affected by a patriarchal system which shames, stigmatizes and in many cases makes illegal access to abortion services.
This lack of access to safe, legal, and secure abortions affects young women's opportunities in education, employment, family relations and their futures. It reflects a significant and persistent infringement on their fundamental human rights.
In response to this, today for the Global Day of Action for Access to Safe Abortion, we're sharing the incredible work being done by young feminist activists all over the world. These activists are organizing, taking action and challenging laws, traditions and authority figures who prevent them from accessing their right to safe, legal and secure abortion.
Access to abortion affects everyone. It empowers women to make decisions about their sexual and reproductive rights. It allows people to live with control over their own bodies and futures.
Click here and share with us: why do you support safe access to abortion? 
People's reasons for supporting access to abortion are all different. For some it's personal. Others it's political.
Below are the voices of our community – sharing why they stand in solidarity and are taking action for safe access to abortion services all over the world.