Last month FRIDA nominated several of its grantee partners to take part at the 'Emerging Leaders Youth Summit' in Oslo. One of our grantee partners from Jamaica was selected to attend. Here are her reflections: 
The Emerging Leaders Youth Summit is a new youth initiative started by the International Planned Parenthood Federation (IPPF), in an effort to involve young people in human rights activism as well as begin the chain of sustainable development for the future and Sexual and Reproductive Health and Rights globally. The summit was held in Oslo, Norway from September 27th-28th and included forty (40) participants from all over the world and many different arenas. Individuals from the arts, young politicians, actors, disabled community and gender specific agencies were all present at the forum and provided a wealth of knowledge and experience to discussions. The conference was diverse as it had presentations and discussions and well as opportunities for us to unwind and really get to know each other.
For an organization that has a key objective focused on Sexual and Reproductive Health and Rights, this conference could not be more relevant or important. The conference was an eye opener to Jamaica's status and how developed we are in terms of the information and action being done on the issue of Sexual and Reproductive Health and Rights. I came back with not information to share but a drive to continue doing the work that I have been doing because I know that I will not be alone in this fight for equity and rights. From this conference we were able to come up with key areas, that as young people we believed needed more attention. These areas included Culture, communities, media, health, sexuality education just to name a few. Not surprisingly, Jamaica fell into most of the categories that needed improvement and attention.
In taking it a little closer to home, Day 2 of the conference focused on the regions of the world and the issues that were common to all the countries within the region. We were placed into groups and were asked to develop from the previous day's discussion, three areas, that as a region we will invest in and try to improve together. Access to Sexuality education was one of the main issues that were common to all countries within the Latin America and the Caribbean Region. However, being the only Caribbean person, I spoke not only on behalf of Jamaica but also on behalf of the Caribbean. Building a greater sense of community within the region was also of major concern and effort is now being made to be more inclusive in the activities that would be held in each region, so that we could offer support by any means necessary and have not only a physical space but also a virtual one to discuss and share ideas.
I'm Glad I'm A Girl has taken back from Oslo, key areas of concern such as culture and informal education which was not previously been given much attention and we are now in the process of modifying our mentorship plan so that we address the issues surrounding a country's culture and how that prohibits or allows growth through Sexual and Reproductive Health and Rights. We are a youth-led organization on a mission and I am continuing this race by hosting a forum to celebrate the International Day of the Girl Child on October 11, 2012 that would seek to build on the discussion held in Oslo as well as develop a resolution moving forward for young Jamaican girls. In an effort to become more inclusive as a country, all the key players involved in advocacy have been invited to participate in our day-long event and share what they know so that we can work together.
In evaluating the conference, I would say that I am very honoured and appreciative for even being selected to attend and share my opinions and experiences and recommendations. The conference, though short was one that was filled with intense dialogue that will manifest into global movements. Decisions made on key areas of focus were done in a democratic way and all individuals present were given the opportunity to share. There is however room for improvement as we grow this initiative over the years. I do believe that we could include more individuals, especially from places such as the Caribbean, which is oftentimes misrepresented. I do also think that more information should have been given about our capacity to now act as emerging leaders within the IPPF and what that would mean for the next three years.
My participation in this event enhanced the work of my organization as it reinforced the fact that what is being done by the I'm Glad I'm A Girl Foundation is not only relevant in Jamaica but all over the world. Through the knowledge gained and by targeting on the change makers of tomorrow, I do believe that we will be able to create and mould young people who will become more vigilant about their rights as well as willing to do whatever it takes to see these changes come to fruition.
My most rewarding moment was being selected to represent the Emerging Leaders at the Global IPPF Meeting in South Africa this
November. I was humbled by this selection as I went to this conference not with an agenda to only raise awareness for my organization but to come up with a global movement that would target those less fortunate. To be selected means that others saw this passion and embraced it. My most challenging moment was to stand in front of the contingent and express my passion into a one minute speech telling them why I think that I should represent them in South Africa. Thankfully, it turned out well.
At the networking dinner on the night of Day 1, it was almost impossible to leave the conference without expanding networks and connecting people who would have been able to help you on your journey. This was beautiful as it gave us the chance to unwind and really get to know each other as well as to advocate about what it is that we really love. In introducing yourself and throughout the duration of the conference you were given the opportunity to raise awareness about your organization. Most individuals drew on experiences that they had from working with their organizations when explaining a point, thus reinforcing what it is that they do.
Overall, this experience enforced my dream of being able to genuinely offer help and support to those around me and I am grateful for this once in a lifetime experience. I do believe that with the selection of young people that was present, changes will be made and movements started. I anticipate what the future holds in this regard and I know that we will become the generation of youth to be remembered.
By Shanique Campbell
Chief Coordinator.
Cross-Posted from the 'I'm Glad I'm A Girl' Blog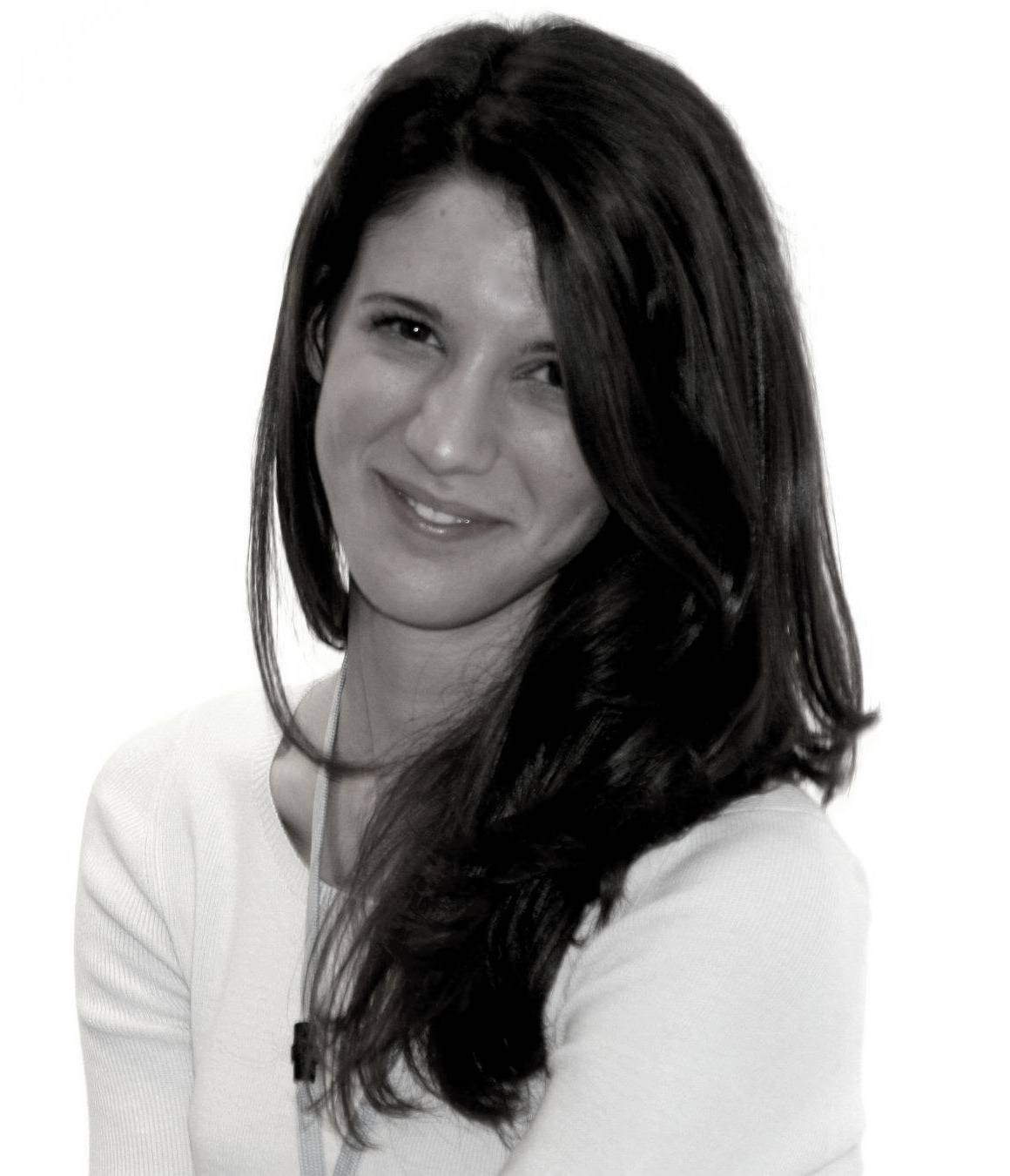 I have been around for a while now, so it was about time I introduced myself. My name is Elena, I'm 21 years old, I was born in Cyprus and I joined FRIDA this past summer as the social media and communications intern. For the past three years I have been living in Scotland where I study International Relations and Social Anthropology at the University of St Andrews. I love travelling, Virginia Woolf, and Bob Dylan, and I'm happiest when I'm by the seaside. But I suppose the most defining thing about me- despite the fact that I am almost 6" tall- is that I happen to be a feminist.
People often act surprised when I say I'm a feminist. More often than not, they'll laugh it off, sometimes they might challenge me on the redundancy/'necessity' of feminism, they might say it is dated, that it is no longer relevant.  The truth is, I am young and I cannot even imagine myself being anything other than a feminist. And I am a feminist because I cannot be a bystander.
I coordinate my university's feminist group. It's a diverse group of young people across the gender spectrum. We run training workshops, organise art exhibitions, film festivals, formal lectures with guest speakers, and casual debates over a pint. Twice a year we join other feminist groups to campaign for equal rights in Edinburgh and London, and we even publish an academic journal. Each of us is a feminist for a different reason. All together we have something to say in this campus life of ours, the one filled with deadline agony, in constant anticipation of the 'real world' we have yet to know.
Here at FRIDA I found a vibrant community of the most inspiring young women. I could not be more grateful to all of them. They give me hope and strength every day when I see the great work they are doing for each other and for their communities. They are fearless and passionate, determined and powerful. To me, FRIDA affirms the words of Margaret Mead: "never doubt that a small group of thoughtful committed citizens can change the world. Indeed, it is the only thing that ever has".
Three Fun Facts About Me: 
1. I tick all the 'holy trinity' boxes: I'm young, I'm passionate and I'm a feminist.
2. This summer I worked part-time in Brussels for a think tank called 'Think Young,' which lobbies for greater youth inclusion in EU institutions.
3. I'm fluent in English and Greek and I speak good French.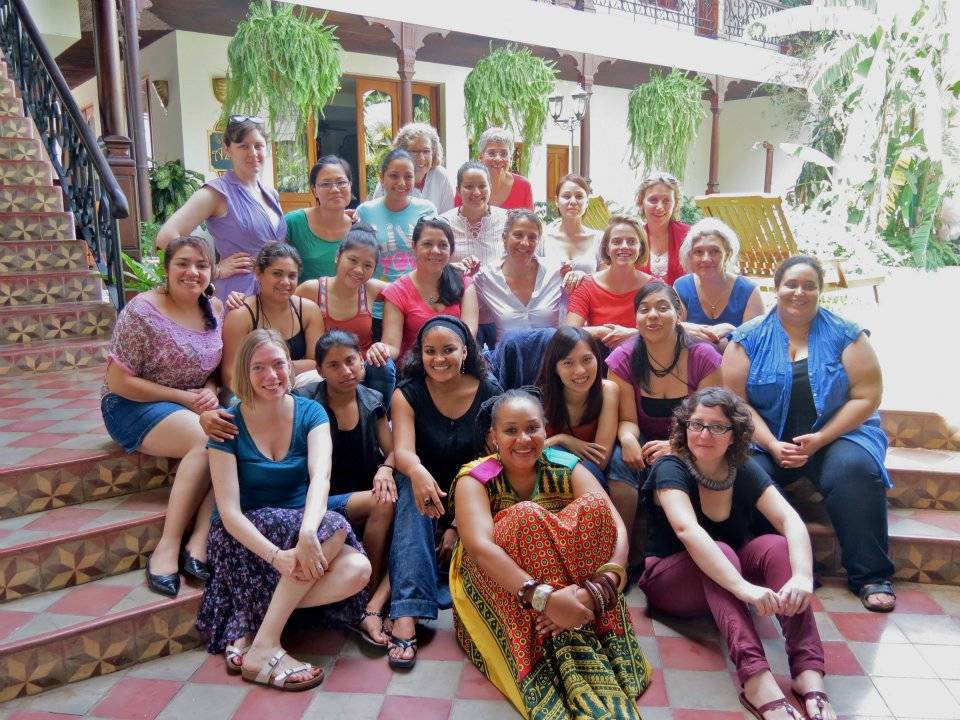 The Community of Practices (CoP) set up in 2011 by Mama Cash and the Fondo Centroamericano de Mujeres (FCAM), is a learning space for women's funds from around the world that are supporting young women and girls. The main purpose of the CoP is to increase awareness of the importance of funding young women and girls and to create new models for supporting their activism.
Last week, FRIDA Coordinator Amina Doherty and Advisors Betsy Hoody and Perla Vazquez participated in the second ever CoP meeting in Granada, Nicaragua.
Betsy, shared:
"One of my favorite parts of the Community of Practices (CoP) meeting was the way in which young women activists were integrated into the process of learning and sharing.  The CoP included the participation of young women activists from Nicaragua, El Salvador, Chile, Guatemala, Hong Kong, and Ukraine. Their experiences provided invaluable perspectives about how young feminists are organizing and how women's funds can better support their activities."
On the first day of the Community of Practices meeting, young women participated in a separate community-building day, which was organized by young women from the Central American Women's Fund staff. During the day, weshared about the challenges young women face in the areas of health, education, and economics in our home countries. We also created an "art gallery" that displayed how our organizations address these challenges. Through exercises led by some of the young women participants, we explored the nuances of collaboration and team-building across organizations, countries, and languages. We ended the day by brainstorming how women's funds and other allies can better support young feminist activists in their work.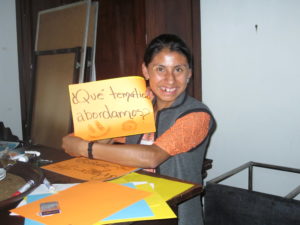 The ideas generated on this first day were brought into the CoP discussions over the next two days. Young women shared their experiences applying to women's funds and learned about how FRIDA, FCAM, and the Ukrainian Women's Fund engage young women in their grantmaking processes. Young women also reviewed the application and reporting forms for all the women's funds present and suggested ways to make the forms more accessible for young women. Activists and funders worked side-by-side generating ideas for capacity building and communication with young feminist activists.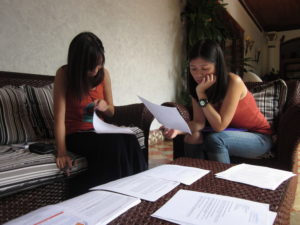 For me, the CoP reinforced the importance of both "young-women-only" spaces and multi-generational learning. The first day provided young women with a comfortable environment to talk about their experiences and begin thinking about funder-grantee dynamics in a young feminist context. The following days contained a myriad of cross-generational learning. For example, one young woman shared that it was the first time she had really thought about how funds operate and why that can impact young women's access to resources. Women's funds took scrupulous notes about how to improve their applications forms and listened to suggestions about how to best engage with young women. Overall, we learned side-by-side and, as the name suggests, in a community that valued the experiences and expertise of all ages."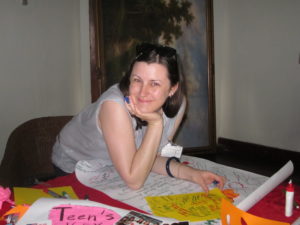 To read Perla's reflections in Spanish please check out: http://youngfeministfund.org/es/2012/08/comunidad-de-aprendizaje-¿como-apoyar-mas-a-las-mujeres-jovenes/
To view photos from the CoP 2012 and to follow a compendium of tweets from the meeting do check us out on facebook and on Storify
If you would like to know more about the Community of Practices (CoP), please do download our Summary Document
~ By Amina Doherty
 "You give what you've got to give…Ubuntu, music, community…resources. As foundations, grantmakers, and as people…as people…We must do things because they are important…because they matter." ~ Justice Albie Sachs
These, the powerful words of South Africa's Justice Albie Sachs[1] in the closing plenary of the European Foundation Centre's (EFC) 23rd Annual General Assembly and Conference in Belfast two weeks ago. The theme of this year's conference: "Peace for Social Justice: A Role for Foundations."
This was the first time I had ever attended an EFC Conference and truth be told I was a little nervous and not entirely sure what to expect. Given FRIDA's relatively new presence in the world of grantmaking and philanthropy together with our comparatively small grantmking budget, I did find myself wondering – Would I have a place? How could I contribute? What would I learn?
What I discovered quickly is that not only did FRIDA have a place but that we also had a role to play in sharing our experiences and contributing to the learning of other larger foundations. I learned that in spite of years of experience and wealth of resources, many trusts and foundations do need space to come together and learn from and with each other.
Inspired in large part by the words of Justice Sachs who implored all of us present to recognize the value we bring individually to the table regardless of size or experience, I was happy to share some key insights and experiences from FRIDA as a Fund led for and by young women, with our unique approach to social-justice grantmaking. There were many questions: what do you mean by a participatory approach? Practically how does that work? Do the young people involved actually engage? What are you learning? I was happy to answer many of those questions and share the ways that we are also learning to be more effective and to think more strategically about our approach.
Another key point of learning I took from the conference, and certainly from the closing plenary was a greater sense that FRIDA's role as a Fund must continue to be about building and strengthening relationships with and between 'people'. In this work we often hear about 'donors' and 'grantees' and sometimes forget that in spite of our different roles we are all 'people' committed to improving our communities and lives. Sometimes we become stuck in the 'language' of grantmaking and philanthropy (we begin to see ourselves only as 'givers' and 'receivers') that we lose sight of why we are actually in this work. I was glad to share the ways that FRIDA acknowledges existing power dynamics and continues to push to be a fund that is led by its constituency for its constituency. I shared that we may not have it 'right' yet but by encouraging participation at all levels and by being open to on-going engagement about how to make our grantmaking better – we are committed to being less about what we say we will do and what we actually do.
"We cannot (and will not) look like everybody else…We must be confident in who we are and what we can contribute." ~ Justice Albie Sachs
I left the EFC Conference reaffirmed that the issue here was not about years of grantmaking experience, or the size of our fund (and yes these things are certainly relevant) but what ultimately is most important was that we see the significant value of FRIDA's role to mobilize support for our constituency – for young feminists doing truly important social justice work globally. Whether it is young feminist activists on the ground coordinating programs or young feminists within grantmaking institutions mobilizing more resources, offering support, fostering spaces for learning and engagement….we all have a role to play and that is…the spirit of what Nelson Mandela, Archbishop Desmond Tutu and Peace Activist Leymah Gbowee call 'Ubuntu.'[2] Ubuntu is an African philosophy that provides an understanding of the human being in relation with the world. It involves having a spirit of caring and community, harmony and hospitality, respect and responsiveness with others.[3] That is the spirit of FRIDA.
Attending the EFC conference this year was a great experience not only because it provided me with an opportunity to listen, learn and engage with trusts and foundations committed to supporting social justice work across Europe, but it also emphasized the spirit of Ubuntu by re-directing me to FRIDA's core values:
Flexibility…Resources…Inclusion…Diversity…Action
Key Highlights from the EFC Conference:
Launch of the newest GrantCraft Guide "Funding for Inclusion: Women and Girls in the Equation." Jointly commissioned with Mama Cash, the guide presents practical experiences and lessons from 15 European foundations committed to funding women and girls'. The guide can be downloaded free of charge from www.grantcraft.org.
The EFC session also called "Funding for Inclusion" was moderated by Jo Andrews from the Ariadne Network in conversation with Kathleen Cravero-Kristoffersson (President of the Oak Foundation) and Adrian Arena (Director of the International Human Rights Program at the Oak Foundation).  Both Kathleen and Adrian shared their experiences and commitment to providing on-going support for women's rights work globally with their "just do it!" philosophy. Following the plenary, I participated by hosting a roundtable discussion on strategies for integrating gender and youth perspectives in foundation programs together with Antonella Ricci from the Compagnia di San Paolo in Italy. For more on the session do check out the GrantCraft Blog.
*Special thanks to the European Trusts and Foundations that contributed to the EFC Scholarship Programme for supporting FRIDA's participation at this year's conference.
---
[1] Justice Sachs has dedicated his life working for human rights and was a key figure in bringing democracy to South Africa. Since his retirement from the Constitutional Court, Justice Sachs has travelled around the world sharing the South African experience in healing divided societies.
[2] To understand the South African philosophy of 'ubuntu' is to understand one's place in the world as part of something….as part of something bigger than just oneself…As part of community. Ubuntu broadly refers to a way of caring for other's and is steeped heavily in a spirit of generosity and altruism. According to Archbishop Desmond Tutu's definition: "Ubuntu speaks to the very essence of being human." As a philosophy, he says, "Ubuntu speaks to the fact that we do not exist as human beings in isolation. It speaks to our interconnectedness." Similarly, Liberian peace activist Leymah Gbowee in her own definition of the principles of Ubuntu says: "I am what I am because of who we all are."
[3] Mangaliso, M.P. (2001) Building competitive advantage from Ubuntu: Management lessons from South Africa, Academy of Management Executive, 15( 3): 23-33.
FRIDA Grantee Florence Khaxas (Young Feminists Movement Namibia) was recently featured in one of Namibia's national newspapers. Here she shares her thoughts on love, life and the rights of young LBTIQ women in Namibia. 
When Harry meets Sally it's simple. He tells her he likes her and they go to the movies, or on a date where they can stare lovingly into each others eyes and hold hands. Even a certain amountof PDA (Public Displays of Affection) is allowed, and people tend to ignore them or envy them. But when Harry meets Harry, or Sally meets Sally, especially in Namibia-it's whole other story, and it's not as straightforward as it would be for Harry and Sally.
For years, if not decades unions and relationships in the Lesbian, Gay, Bisexual, Transgender and Intersex (LGBTI) communities have always come under attack and presented as unnatural and weird. Everything from culture to religion is used to justify acts of hate and violence that are often carried out against women and men that identify themselves outside the male/female dichotomy. Last year, the first ever newly crowned  Mr Gay Namibia Wendelinus Hamutenya was assaulted and injured in a homophobic attack. Numerous other such incidences go unreported because many women and men are living in fear of their alternate sexual identities being discovered.  Many of Namibia's leaders in the past have come out and spoken against same sex unions, with Elijah Ngurare recently comparing it to Satanism at a public platform. Not many people understand or can empathise with what it is like to be young, gay and Namibian, but maybe that's what needs to be done to get more people to understand why the rights of lesbian, gay and transgender Namibians are important.
A different world
"When you are a lesbian in Namibia and your girlfriend beats you up or assaults you, you keep quiet. It's hard for you to go to the police because they might laugh at you. The same happens when lesbian women are victims of corrective rapes-you can't report it to the authorities. Whatever it is that's already hard for women in Namibia is doubly difficult for lesbian women."  Says Florence /Khaxas, director of the Young Feminists Movement of Namibia, or Y-Fem.  Corrective rapes in Namibia happen when men, either as individuals or in groups attack and rape lesbian women with the aim of 'correcting' them, or setting them 'straight'. In many passing conversations, men have been heard saying that all lesbians need is a 'good man' to bring them back to their senses. Florence will be the first to tell you that no man, no matter how good, can 'set her straight'. "My being a lesbian has nothing to do with men-but has everything to do with me being Florence. I adore men, I have wonderful cousins and friends that are men, but I love women. People tend to think that being a Lesbian only revolves around sex-but it's bigger and more than that. And my identity as a lesbian feminist makes my lesbianism a political statement. " You then find that there is a high incidence of alcohol abuse amongst the LGBTI community in Namibia, because you find people decide to drown their frustrations in alcohol. It's hard being a lesbian in Namibia."
In the book Tommy Boys, Lesbian Men and Ancestral Wives, lesbian and former director of the rainbow project Madeline Isaacs writes; 'Sexual contact between males is criminalized in Namibia under the common law offences of 'sodomy' and 'unnatural sexual offences'.  Historically, sodomy was used to describe acts such as mutual masturbation, oral and anal sex between people and sex with animals, now only refers to anal sex between men. Unnatural offences however refer to mutual masturbation and sexual satisfaction between the legs of another person to name a few. This also only applies to men. These sexual acts are legal between a man and a woman and even between two women.'
President Barack Obama recently became the first US president ever to back the right of gay and lesbian couples to marry. This announcement made headlines and obviously had the support of the LGBTI community all over the world, and in Namibia. But Obama's statement does very little to change the situation of lesbian, trans and gay people in Namibia. The constitution of Namibia itself protects the rights of ALL Namibians in Article 10, where it says 'No persons may be discriminated against on the grounds of sex, race, colour, ethnic origin, religion, creed or social or economic status.' But in the same breath transgender men and women have a hard time getting jobs they like because employers might have certain prejudices towards people with LGBTI identities. "
What's changed
So what's changed? Very little really. Fifty, maybe more years ago, relationships between black and white people in apartheid era South West Africa were criminalized. Racial differences between people were given centre stage and it was decided that any unions between people from different races was seen as unnatural and inappropriate. This is still the case today for LGBTI people in Namibia-their relationships are still not seen as legitimate, and the idea of a man falling in love with another man is still seen, by and large-as unnatural. As much as there is still much that needs fixing, Florence says that Social Networks have helped a lot, and that life for lesbians in big towns and cities such as Windhoek is not as bad is it is for women and girls in rural parts of Namibia.
"It's easier to be 'out' in Windhoek, than it is in the rural areas because there are people to speak to and a community to belong to here. In the city no one really cares if you're gay or not, but in rural settings women are victims of abuse and often have no recourse.  This makes rural lesbian women even more vulnerable to all kinds of maltreatment which is in turn justified by culture or religion."
"From 2000 things changed in the LGBTI community, and have become less closeted. I came out in about 2006 and still then people were very closeted. But through FB people came out and more connections are made online. People have realized that we can't sit in frustrated silence, and we have tools such as Facebook at our disposal now. More people are coming out and making connections now."
What now?
It's been twenty plus years and while South Africa has made big strides on the continent to recognize the status of lesbian, gay, bisexual and intersex people in their country. Marriage between same sex people in South Africa is legal, as it is in many other countries in Europe and some states in America despite these legal and constitutional protections, LGBTI people still experience a lot of abuse and discrimination. Will Namibia ever get to the space and place where lesbians and gay people can attain their full citizenship? "Maybe one day, but not anytime soon. Culture controls too much, and so does religion. There are many barriers to break through before we get there-but it happened in other countries and it can happen in Namibia too.