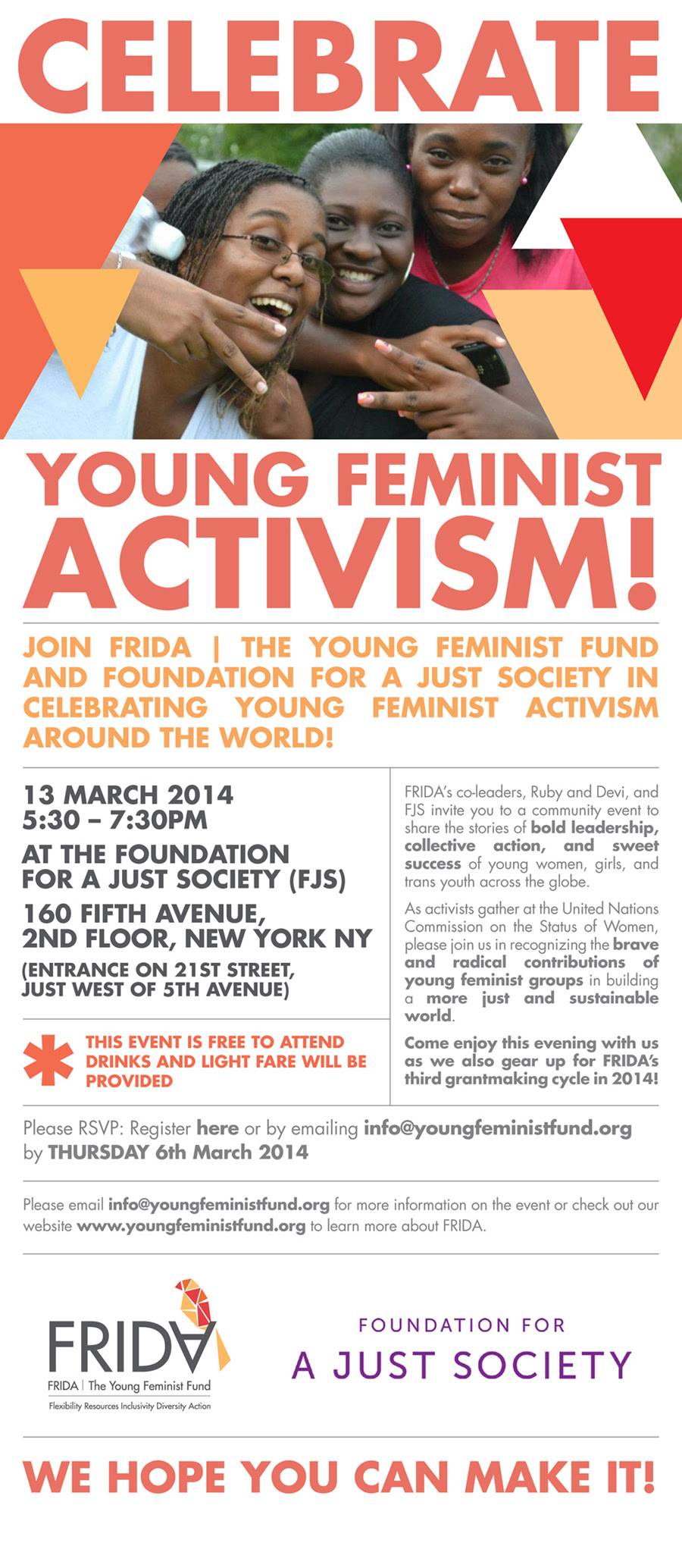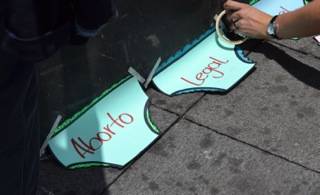 Founded in 2008, Salud Mujeres provides free and timely information to Ecuadorian women on how to safely terminate a pregnancy using medication to prevent unnecessary deaths of women resulting from unsafe, clandestine abortions. Their hotline enabling women to make informed decisions about their lives and bodies is the first one of its kind in Latin America. In November 2013, Salud Mujeres joined the ranks of FRIDA grantees with a new project, an "artistic traveling caravan" to spread information and raise awareness on safe abortion through theatrical performances, movie screenings, and other forms of information dissemination in five cities across Ecuador.
We asked Anais Cordova-Páez, member of Colectiva Salud Mujeres, about their work, motivation, challenges, and feminism.

STATEMENT Against Criminalizing Clients of Sex Workers
The European Parliament's Committee on Gender Rights and Women's Equality, FEMM, has approved a report that recommends criminalizing clients of sex workers as a way to "reduce prostitution and trafficking". This recommendation will be up for a vote in the European Parliament on 27 February 2014. Sex workers are speaking out against it, and calling on allies in the women's movement (and others) to support them and speak out against the criminalisation of their clients.
As feminist women's funds, we write to show we support women's rights and women's agency to make choices about their lives. We believe that adult women (richer and poorer, documented and undocumented, educated and uneducated) can assess the livelihood opportunities available to them and choose to do sex work (or not). And we support them in that choice, and in their organizing for safer and decent living and working conditions.
Sex workers have taught us that criminalisation always works against the enjoyment of their human rights. It drives them underground, jeopardizing their safety and their access to health, education and housing. And it always hits those who are already marginalised – street sex workers, migrants, those from non-privileged ethnic or cultural groups – the most. Along the same lines, which clients are most likely to be "caught in the act" by the police and punished? Those approaching sex workers on the street or in other public places who are likely to belong to the same already marginalised groups, rather than those hiring the services of independent sex workers through the internet or from 5 stars hotels.
Consensual adult sex work is not trafficking. It is a choice people make, while trafficking is a human rights violation. Sex workers have unique access to the spaces where victims of trafficking for sexual exploitation are, and are extremely knowledgeable about the contexts and issues at stake. They can be and are allies in the fight against trafficking. Anti-trafficking initiatives that ignore what sex workers are saying about themselves – that they are not victims, but workers whose rights should be respected – miss this opportunity and end up being less effective.
To stop trafficking (not only for sexual but also for other labour exploitation more broadly), States must confront the criminal networks responsible for it and expose their links to corporations, security forces and public officers that grant them protection and benefit from their activities. Criminalising the clients of sex workers might work as a smoke screen but it will not serve this end. And it will have serious consequences not only for already marginalised sex workers and clients but also for victims of trafficking who will continue to suffer without States tackling those people who are responsible for, and benefiting from, their plight.
We support the right of sex workers to safe and decent conditions of work, without any form of criminalisation, and demand effective measures against all forms of trafficking that do not infringe the human rights of those engaged in consensual adult sex work (clients and sex workers alike).
Signed by: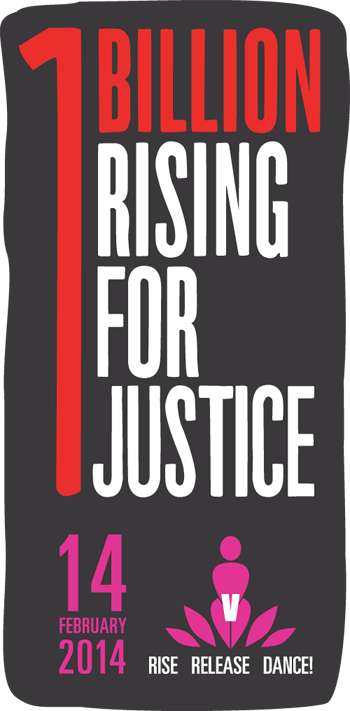 Last year on February 14, women and men around the world "shook the earth through dance to end violence against women and girls." One Billion Rising began in 2012 as part of the V-Day movement initiated by Eve Ensler, author of The Vagina Monologues, and has grown strong ever since. But it hasn't grown without criticism. Probably the most vocal and cited critic of the movement last year was Natalie Gyte in her 'Why I Won't Support One Billion Rising'. Reactions around the world have been mixed; some agree with Gyte's criticism, others don't, yet others ask more questions.
There are many issues to discuss, starting with: Is asking people to dance enough? Gyte claims that "[i]n asking women to dance in order to overcome violence and rape, focus is displaced and root causes are overlooked;" but Natasha Jackson argues: "The goal of this campaign, like most campaigns, appears  to be chiefly about raising awareness, gaining support from those who have influence, and finding creative ways to be visible and impactful. [...] Social change comes about through the understanding of and an appreciation for a multi-faceted approach."
Much has been said and argued, but the questions remain: Is this is an appropriate and effective way of raising awareness about gender-based violence? What's the impact of One Billion Rising events? Have you taken part in any of them? Where do you stand? Share your thoughts!
And for those of you interested in learning more about last year's events, feminist activism and using art to raise awareness, enjoy the very first Dare to Use the F-Word podcast co-produced by the Barnard Center for Research on Women and Barnard College Communications:
Posted by Barbora Němcová
In November 2013, FRIDA was able to award 4 additional grants to the organizations that received the second highest number votes from our Grant Cycle 2013. We are happy to introduce our new grantees, the young feminist groups from Nepal, Burkina Faso, Egypt and Ecuador!
Women's Empowerment and Resource Center – Radio Udayapur, Nepal
Founded in 2009, Radio Udayapur is a community radio station run by girls and women based in  Udayapur, Eastern Nepal. With a 200,000-listener base from among semi-urban and indigenous communities of Danuwar, Chaudhary and Hilly/Terai Dalits, we use media as an important instrument in ending patriarchy. Our new project – Un-Veiling – is a response to a very urgent issue: child marriage. If nothing is done, an estimated 140 million girls will become young brides by 2020. Through Un-Veiling, a pilot yearlong mass-engagement and sensitization effort using media activism among local communities, we aim to create change in the society and end child marriage.
Collectif Vivre Ma Vie, Burkina Faso
Founded in 2012, we are a group of 47 young feminists driven by the desire for change and freedom. We want to give young women and girls the voice and opportunities they need to fight for their rights, particularly the right to have full control over their lives and bodies. As such, we stand against forced marriage, a serious problem in our community that puts many young women and girls in danger. By educating men and women, young and old, political leaders and other community members on girls' and women's rights, we work to end forced marriage and to ensure that girls and women can fully exercise their rights.
Ganubia Hora, Egypt
Founded in 2012, we focus on ensuring that women are part of the democratic transition processes happening in Egypt. We utilize interactive theatrical performances and storytelling workshops to address the issues faced by women in our region, such as gender-based violence, harassment, female genital mutilation, and child marriage. We also focus on training of trainees so that we can encourage discussion and political empowerment of women, provide the support women in our region need on all levels, and ensure that women are an inseparable part of all changes currently happening in our society.
Salud Mujeres, Ecuador
Founded in 2008, Salud Mujeres provides free and timely information on how to safely terminate a pregnancy using medication (Misoprostol) to prevent unnecessary deaths of young women resulting from unsafe, clandestine abortions. By sharing strategic knowledge with other women, we ensure that they can exercise autonomous well-informed decisions. In collaboration with other women's groups, we work to decentralize information on abortion and raise awareness about the need to decriminalize abortion. As part of our advocacy work, we are starting an "artistic traveling caravan," a new project to provide information and raise awareness on safe abortion across Ecuador. Incorporating theatrical performances, movie screenings, and other forms of information dissemination, we aim to reach at least 500 young people in 5 cities across Ecuador.