We need you, as a friend of FRIDA, to activate your networks, spread the word and help raise a critical $20,000 for young feminist leaders so they can use it to change the world!
Over the last 5 years, we've witnessed an incredible bloom of co-creation, collaboration, creativity and colour in young feminist organizing. We've seen young feminists working on the most pressing issues, changing laws on workplace and political discrimination, campaigning to end street harassment, and ending the silence on abortion and sexual health. We need your help to double the number of grants we give out this year.
Starting on International Friendship Day on July 31st and running to International Youth Day on August 12th, FRIDA | The Young Feminist Fund is running a two week campaign that we're calling "Feminist Friendship Fortnight." We're asking our supporters to show the strength of the feminist activist network and stand with young feminists as they colour outside the lines.
Every day, FRIDA grantees are rising up and joining together. They are taking action in their communities, recognizing power inequalities and questioning authority. Will you join them in making this important work possible?
We'll give you all the resources (think emails, photos, art, and tweets!) that you need to spread the word about FRIDA to your networks, friends, colleagues, family members, and online followers. Together we'll set a fundraising goal and (if you like) we'll profile you on our website and social media as a key part of the FRIDA community.
To take part, you'll need to:
Have a short phone call with the FRIDA team in July to get resources and tips, work with us to outline your plan for the two weeks and set a fundraising target.
Set up a simple fundraising page on Generocity.com – we'll provide you with all the information you need to register, set up your page and start your appeal.
Send out at least 1 email, tweet or Facebook post every day during "Feminist Friendship Fortnight" to let your friends, family and networks know what you're doing and ask them to support you. You can write your own or use the ones we send you.
Do one bold, brave, colorful thing to spread the word about young feminist activism. It could be hanging a poster in a public place, making an announcement to your class / office / church or community about amazing young feminist activists, connecting with a local feminist group or introducing someone new to this incredible movement. Share a photo with us so we can amplify your awesome activism!
Share your bio and photo with us so we can profile your great work on FRIDA's website!
Will you be part of our Feminist Friendship Fortnight Fundraising Drive? To get involved, or for more information, send us an email at advocacy@youngfeministfund.org  and we will get in touch with loads more details.
It's going to be an exciting time as the whole global FRIDA community coming together to make this a reality. There are a lot of ways to be a feminist activist- and this is one! We'd love for you to be a part of it!
It's begun: #ColoringOutsideTheLines and creating art that is both fierce and fearless! #FearlesslyFRIDA began its global art tour with Transvoice, a young feminist group based out of Bogor in West Java whose mission is to empower the transwoman community by raising awareness about their rights. The Fearless Collective and Transvoice began with a workshop to get to know each, their art and their activism. Three days, countless permission and one rain storm later – they started painting and sharing their art on the streets of Bogor! Now their incredible public art and posters are all over the city sharing their message of fearlessness and pride.
Catch all the action by following this photo essay below:
It's been such an incredible week with Transvoice and The Fearless Collective and it's only the beginning of our beautiful and colourful partnership.Watch this space for more amazing young feminist art – colouring outside the lines and drawing new ones to create a more just and equal world! For more pictures and detailed storytelling behind the Indonesia chapter of #FearlesslyFRIDA, follow this link.
© All pictures have been collated from those shared by members of The Fearless Collective, Transvoice and Fabrice Bourgelle. 
Click here to read more about the global art tour.
Click here to read more about the FearlesslyFRIDA partnership and how you can be a part of it by sending your posters showing how you #coloroutsidethelines 
Share this on Facebook! | Tweet this! | Make a donation!
This May 17 on International Day Against Homophobia, Transphobia and Biphobia, we're asking FRIDA supporters all over the world to share why they think it's important to stand with the LGBTQI community. Join us! #feministsolidarity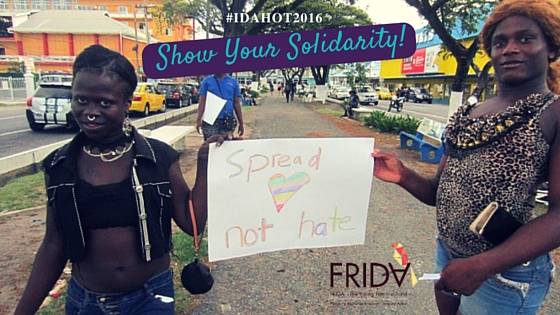 The rights of LGBTQI (Lesbian, Gay, Bisexual, Trans*, Queer, and Intersex) communities to freely express themselves and live quality and violence free lives is an inseparable value of feminism.
Heteronormativity – the way in  which people pass judgement on appropriate behaviour for men and women – legitimises gender and sexual discrimination and is one of the most powerful restrictions on women and LGBTQI people's sexualities, bodies, dignity, and expression.
On May 17, the International Day Against Homophobia, Transphobia and Biphobia, we are publicly proclaiming that the right of LGBTQI communities to freely express themselves and live a quality, violence free life is an inseparable value of feminism. We are asking you to stand with us and reaffirm our commitment and celebrate gender and sexual diversity within the feminist movement and trans, bisexual and intersex inclusion.
Click here to tell us why you're standing with the LBTQI community. Or tell us on Twitter! We'll be sharing all everyone's responses throughout the day on FRIDA's Twitter and Facebook pages.
Same-sex relations between adults, and identities and expressions that are non-conforming to traditional gender norms remain criminalized in more than 70 countries. They stand opposed to principles non-discrimination and fuel hatred and violence—in effect giving homophobia, transphobia and biphobia state-sponsored approval.
Groups working all over the world need your messages of support as they continue their challenging and, often, risky work. They need to know that you are standing with them. At the end of the day, we will gather all the messages we receive and share them with all of our grantee partners who are working on these issues from Indonesia to Chile to Serbia and beyond.
Send us your message of solidarity or tell us on Twitter why you stand with the LGBTQI community!
Recognising the importance of this struggle as part of the young feminist movement, we are also excited to announce the publication of our second impact report Shaking the Ground Coloring the Sky. This exclusive report looks at the challenges, strategies and impact of FRIDA's LBTQI grantee partners and explores their work on LBTQI rights, trans* rights and gender and sexual diversity.
Finally, this week FRIDA grantee partner Transvoice is working with The Fearless Collective to create an incredible public mural in Bogor, West Java that will show what it means to be fearless in a country plagued with discrimination. This artivism workshop is the first in a series of public art workshops, which The Fearless Collective will be doing along with FRIDA grantee partners around the world. Click here to learn more about the collaboration #FearlesslyFRIDA.
FRIDA believes that International Days like #IDAHOT2016 are exciting opportunities for women's and feminist groups to celebrate trans and intersex inclusion, and gender and sexual diversity within the feminist movement. Ask others to show their solidarity today by sharing this moment on Twitter or posting about it on Faceook.
FRIDA supported Juliet Katongole, the Executive Director of Crested Crane Lighters, to attend the 60th Commission for the Status of Women in New York City last month. Juliet joined an expert panel to discuss the best policies to strengthen the human rights of sex workers. Crested Crane Lighters is a young feminist group that aims to protect and advance the rights of women sex workers and their children in Uganda. They do this by advocating for the adoption of international human rights policies in national legislation and by working to document and report violence experienced by young sex workers. Crested Crane Lighters is one of our grantee partners from the Sub Saharan Africa region. We caught up with with Juliet about her experience at the international forum. Here are some excerpts:
What were your key learnings or takeaways from the session?
Since it was my first experience being a panelist at an international forum, I gained more confidence by presenting my work and meeting and networking with other people globally, talking about the human rights of sex workers. My takeaway from the session was to look more at the un-answered questions from people who do not support sex workers' rights and see how we can bring them on board and work amicably with them.
Why is it important for a group like Crested Crane Lighters to be heard at the CSW?         
It is important for us to be heard because most people don't know the human rights violations that happen every single day in the lives of sex workers in Uganda. It is also important because it helps create more visibility for Crested Crane Lighters as a grassroots organization.
What was your biggest challenge?        
The weather that wasn't friendly to me! But apart from that, I attended some more sessions that I thought were friendly and open to the rights of sex workers but on reaching [them], I found that they were not. This is a challenge for the larger sex workers movement.
What was your biggest accomplishment?        
My biggest accomplishment was [presenting] my work and experience at the expert panel and [talking] about the best policies that can support the human rights of sex workers. In addition, attending the UN Women meeting to challenge the Swedish model was another significant accomplishment, where they wanted to push forward a policy that criminalises sex work. As sex workers and advocates for the rights of sex workers, we attended the meeting and opposed it, making everyone understand and realise that we cannot operate when our clients are criminalized. We advocated for decriminalization as the best policy for sex workers.
Massive thank you to Open Society Foundations for supporting us and making this possible!
Click here to catch up on the live tweets and discussions of the panel discussion on storify.
Click here to learn more about FRIDA's presence at the 60th CSW.
Click here to read the 2016 Young Feminist Caucus Statement.
Berta Cáceres' assassination reminds us of the systemic violence targeting women who dare to challenge patriarchy and capitalism. Ayesha Constable writes.
On March 3, Berta Cáceres, Honduran environmental activist and indigenous leader of the Lenca people, and co-founder and coordinator of the Council of Popular and Indigenous Organizations of Honduras, was killed by masked men who broke into her home. Her killing has sparked international outcry from environmentalists, human rights activists and ecofeminist groups who are calling for an end to savage the attacks on activists. The most recent tragedy has also brought into sharp focus the global nature of the crisis regarding the violence targeting environmentalists. The matter has become a human rights issue and the Human Rights Watch World Report of 2013 explained that activists vocal in opposing mining and energy operations that they say threaten the environment and will displace tribal communities from their land continued to face attack in 2012.
International watchdog group Global Witness in its 2013 report Deadly Environments named Honduras as the second deadliest country in the world for environmentalists. Between 2010 and 2014, 101 activists were murdered in Honduras, the highest rate per capita of any country surveyed in a report by Global Witness, earning it the 'deadliest place for environmentalists' title in 2014. Global Witness figures, released following Berta's killing, show that at least 109 people were killed in Honduras between 2010 and 2015, for taking a stand against destructive dam, mining, logging and agriculture projects.
Since the 2009 coup, Honduras has witnessed an explosive growth in environmentally destructive megaprojects that would displace indigenous communities. Almost 30 per cent of the country's land was earmarked for mining concessions, creating a demand for cheap energy to power future mining operations. To meet this need, the government approved hundreds of dam projects around the country, privatizing rivers, land, and uprooting communities. As far back as 2014, Oliver Courtney, senior campaigner at Global Witness described the rising activist deaths "as a symptom of our global environmental crisis."
Women are increasingly the targets of these attacks. According to the Urgent Action Fund for Women's Human Rights, 12 female environmental leaders were killed in Latin America alone by 2014. The issue has garnered increased interest among civil society groups as well as academics with McKinney and Fulkerson (2015) arguing that women and the environment represent twin dimensions of exploitation that suffer from the current capitalist regime and patriarchal structures of domination therein.
Berta Cáceres rallied the indigenous Lenca people of Honduras and waged a grassroots campaign that successfully pressured the world's largest dam builder to pull out of the Agua Zarca Dam. They argued that the dam would cut off the supply of water, food and medicine for hundreds of Lenca people and violate their right to sustainably manage and live off their land. In 2014 Berta told BBC reporters that she had received numerous death threats because of her opposition to a dam that would force her community off their ancestral land. She claimed she has been forced to live a "fugitive existence"
In 2015, she was awarded the Goldman Environmental Prize – a prestigious award recognizing grassroots environmental activists from around the world. Former winners of the prize, in a joint statement issued following her killing, lamented the constant threats with which Berta lived. Former winners of the prize have stated that: "Berta was surrounded by threats and bullets, and at times, cars waiting for her in the road with armed men. But she continued to fight for human rights and the environment–women violated by their partners, children with malnutrition, and of course, the problems many of us worked on with her, unsustainable mining and hydroelectric dams."
Billy Kyte, a campaigner at Global Witness had lamented in 2015, "In Honduras and across the world, environmental defenders are being shot dead in broad daylight, kidnapped, threatened, or tried as terrorists for standing in the way of so-called 'development'." In 2014 Global Witness said it is calling on governments "to monitor, investigate and punish these crimes, and for Honduras to address abuses in the upcoming review of its human rights record at the UN Human Rights Council".  And despite those calls, Berta was murdered.
Grahame Russell of Rights Action claims that Berta was killed by corporations and investors who conceive of the world – its forests and earth, its natural resources, its rivers, waters and air, its people and all life forms – as exploitable and discardable objects, and then steal, kill and destroy mightily to make their millions and billions. The politics and economics of the situation is rooted firmly in capitalism and patriarchy and as such women and other vulnerable groups will continue to suffer.
In 2014, Cáceres told Thomson Reuters Foundation that "as women we are exposed to violence from businesses, governments and repressive institutions – but also to patriarchal violence. It is three times worse for an indigenous woman. The media criminalises us too. They try to take away our credibility, (they) say we're armed groups, that we attack private investments, which we don't exist, we're from dysfunctional families, we're bitches and corrupt." She told Grist that the level of aggression with which she had been met was greater because "We are women who are reclaiming our right to the sovereignty of our bodies and thoughts and political beliefs, to our cultural and spiritual rights — of course the aggression is much greater."
The Women's Earth & Climate Action Network posit that indigenous women and women from low-income communities and developing countries bear a heavier burden from the impacts of environmental changes such as climate change because they are more reliant upon natural resources for their survival and/or live in areas that have poor infrastructure, which makes their communities particularly vulnerable. Female activists have argued that they have less support than those working on women's rights in general, such as sexual and reproductive rights.
Berta was a mother, a sister, a daughter. She was selfless in her determination to defend the rights of her people and the land that was of significant cultural and spiritual value. Many are calling for an independent investigation through the Inter-American Commission on Human Rights. Beyond that there remains a lot of work to do to stem the tide of attack on activists. Activists are relying on the international community to lobby their governments against supporting projects like that for which Berta was killed.
Jagoda Munic, chairperson of Friends of the Earth International (FoEI) affirm there is no environmental justice without an end to all forms of violence against women and to the exploitation of women's reproductive and productive work. We cannot remain silent as men and women are killed for trying to protect the air, water and land on which their lives depend. We cannot sit idly by and wait for the next person to take action. We each have a role to play because ultimately 'we each are the leaders we have been waiting on'.
In 2014 Cáceres voiced her commitment to the process, her commitment to staying and defending the land- "I want to live and enjoy my life but I can't do it because I feel the responsibility that this is a collective process and collective responsibility". She paid the ultimate price for her commitment to her people and their land- her life.
Ayesha Constable is one of FRIDA's advisors from the Latin American and the Caribbean region. Read more about our LAC advisors here.
Click here to read FRIDA's statement on the assassination of Berta Cáceres and click here to read more statements and calls to action.