In November 2013, FRIDA was able to award 4 additional grants to the organizations that received the second highest number votes from our Grant Cycle 2013. We are happy to introduce our new grantees, the young feminist groups from Nepal, Burkina Faso, Egypt and Ecuador!
Women's Empowerment and Resource Center – Radio Udayapur, Nepal
Founded in 2009, Radio Udayapur is a community radio station run by girls and women based in  Udayapur, Eastern Nepal. With a 200,000-listener base from among semi-urban and indigenous communities of Danuwar, Chaudhary and Hilly/Terai Dalits, we use media as an important instrument in ending patriarchy. Our new project – Un-Veiling – is a response to a very urgent issue: child marriage. If nothing is done, an estimated 140 million girls will become young brides by 2020. Through Un-Veiling, a pilot yearlong mass-engagement and sensitization effort using media activism among local communities, we aim to create change in the society and end child marriage.
Collectif Vivre Ma Vie, Burkina Faso
Founded in 2012, we are a group of 47 young feminists driven by the desire for change and freedom. We want to give young women and girls the voice and opportunities they need to fight for their rights, particularly the right to have full control over their lives and bodies. As such, we stand against forced marriage, a serious problem in our community that puts many young women and girls in danger. By educating men and women, young and old, political leaders and other community members on girls' and women's rights, we work to end forced marriage and to ensure that girls and women can fully exercise their rights.
Ganubia Hora, Egypt
Founded in 2012, we focus on ensuring that women are part of the democratic transition processes happening in Egypt. We utilize interactive theatrical performances and storytelling workshops to address the issues faced by women in our region, such as gender-based violence, harassment, female genital mutilation, and child marriage. We also focus on training of trainees so that we can encourage discussion and political empowerment of women, provide the support women in our region need on all levels, and ensure that women are an inseparable part of all changes currently happening in our society.
Salud Mujeres, Ecuador
Founded in 2008, Salud Mujeres provides free and timely information on how to safely terminate a pregnancy using medication (Misoprostol) to prevent unnecessary deaths of young women resulting from unsafe, clandestine abortions. By sharing strategic knowledge with other women, we ensure that they can exercise autonomous well-informed decisions. In collaboration with other women's groups, we work to decentralize information on abortion and raise awareness about the need to decriminalize abortion. As part of our advocacy work, we are starting an "artistic traveling caravan," a new project to provide information and raise awareness on safe abortion across Ecuador. Incorporating theatrical performances, movie screenings, and other forms of information dissemination, we aim to reach at least 500 young people in 5 cities across Ecuador.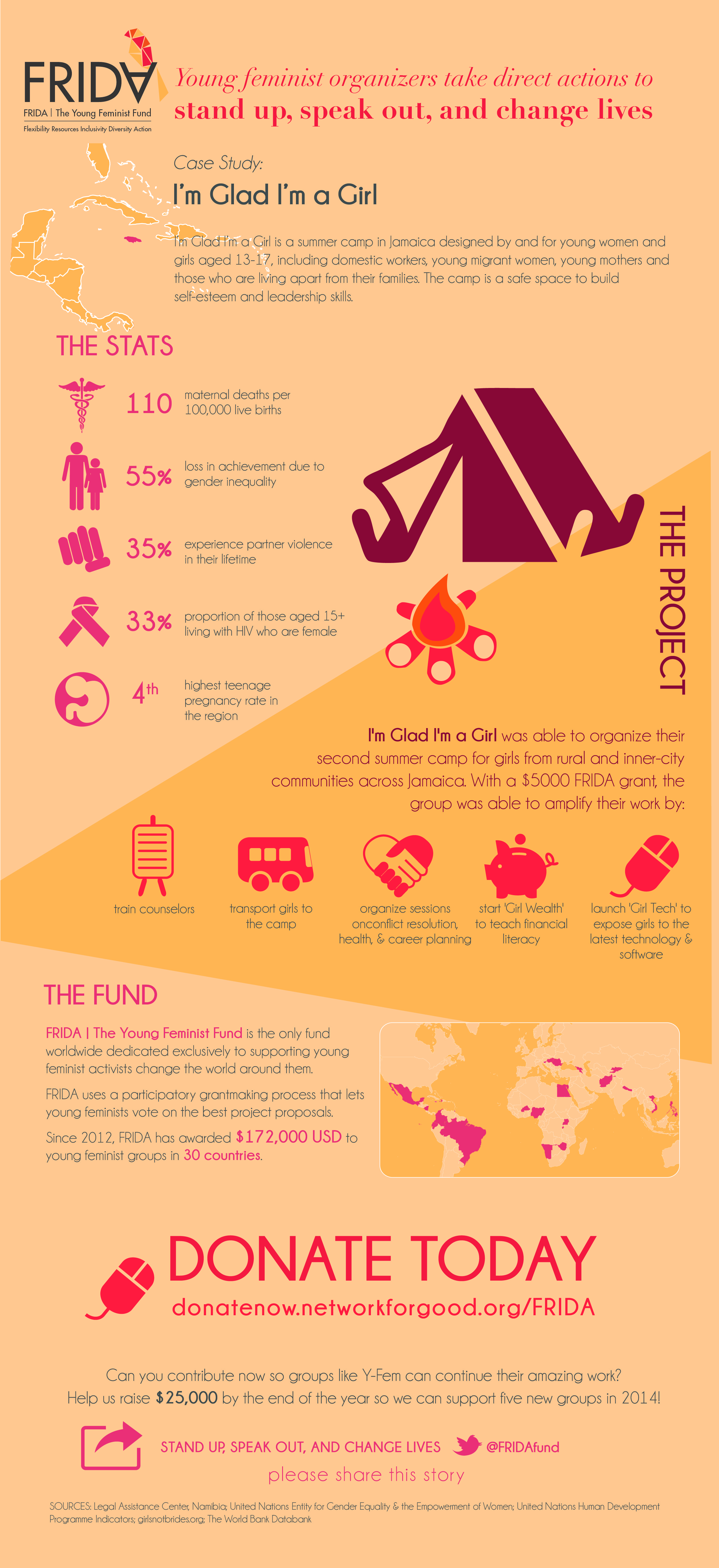 Jovana Djordjevic
Please welcome Jovana Djordjevic as our new Organizational Assistant!
By Barbora Němcová/FRIDA
One, two, three… Imagine a world in which every third woman you meet on your way to work, in the store or at school have or will experience physical and/or sexual violence by her partner or sexual violence by a non-partner. One, two, three… Actually, don't try to imagine that. You don't have to. According to the latest statistics, every third woman worldwide will experience that kind of violence.
Today – 25 November – is the International Day to End Violence against Women. It also marks the beginning of the 16 Days of Activism against Gender Violence. From 25 November to 10 December, people around the world come together to say no to violence against women and girls.
This matters. Violence against women can damage the health and well-being not only of women, but also their children. Violence against women destroys societies. Violence against women turns women into statistics. One, two, three… Let's all say no. Not just today, or for the next 16 days. Let's stand up to violence every day until we live in a world where when you count to three, no horror stories follow.
That is why we at FRIDA together with our grantees stand up to violence against women throughout the world all year long. Thank you to all the women who have each other's back, thank you to all FRIDA grantees!
For  more information on violence against women and health, see WHO.