Bandana Danuwar is the station manager at Radio Udayapur, a community radio station run by girls and women based in Udayapur, Eastern Nepal. Radio Udayapur became a FRIDA Grantee Partner in 2013 with a new project – Un-Veiling – aimed at ending child marriage. Bandana joined Radio Udayapur five years ago and she found the time in her very busy schedule to tell us more about the program and work the Radio Udayapur team does. 
Can you tell us a little about yourself and your role at the radio?
I first joined the team just to speak on the radio, but when I became part of it my thought totally changed and I started to think about the radio and the issue of community. Later, the radio operating organization, Women's Empowerment and Resource Centre made me the leader of Radio Udayapur. My current roles in the radio include station management, program quality control, coordination and collaboration, planning and implementation, and reporting and evaluation.  Read More
FRIDA is recruiting passionate and committed young feminist activists to join its International Advisory Committee!
Founded in 2010, FRIDA is the only youth-led fund focused exclusively on supporting global young feminist activism to advance social justice movements and agendas. We believe in the collective power, expertise, and innovation of young feminist organizers to address root causes and structures of inequality in order to create lasting change in their communities.
FRIDA's Advisory Committee plays a leadership role by providing advice and ideas in particular linked to FRIDA's grant making, capacity development for grantees, regional outreach and resource mobilization. It is understood that this role will be flexible, but would be expected to be for a term of 6-12 months depending on shared needs. FRIDA Advisors are responsible for supporting the Co-Coordinators in the development and operations of the Fund. Please read the Terms of Reference and Application form for full details of responsibilities. Check out the bios of our current Advisors and Staff members to learn more about who you could be working with.
Searching for specific regional expertise
As FRIDA approaches its third grantmaking cycle this May-August 2014, we are especially seeking young feminist activists to support the review of proposals from groups in specific regions of the world. We are specifically seeking advisors from the following regions:
2 advisors from Asia and the Pacific – specifically South Asia and the Pacific Islands
1 advisor from Central and Eastern Europe and Commonwealth of Independent States
2 advisors from Sub-Saharan Africa – specifically Western and Southern Africa
2 advisors from Latin America and the Caribbean – specifically South and Central America
At least one of the advisors above must be a French language speaker
Selection Criteria for Advisory Committee Members
Aged under 30 years at the time of application
Three or more years demonstrated commitment to advancing women's rights, equality and non-discrimination and feminist movement building;
Three or more years involvement with young women's organizations/initiatives working for women's rights, including time in a leadership role at a local, national, regional or global level;
Regional representation, thematic expertise and knowledge of specific constituencies;
Skills in such areas as communications, capacity-building, or monitoring and evaluation;
EITHER fundraising experience, such as applying for or receiving monetary grants from a grant-maker or donor OR at least two years working in a grant-making or funding institution (experience grant-making to young women's groups and/or start-up, small or community-based groups highly desirable)
Basic spoken and written English language skill
Desired: spoken and written language skills in any of the following: French, Spanish, Russian, and/or Arabic
Please submit completed applications to info@youngfeministfund.org as soon as possible and before 9 May 2014.
Download FRIDA Advisors Terms of Reference
Download FRIDA New Advisor Application
FRIDA would like to improve and build upon our communications strategy and visual identity, and we are calling all young feminists from around the world to dedicate some of your precious spare time to our growing organization. Please contact us directly if you are excited and available to be part of the FRIDA team.
We need help in these areas:
UX/Web Design
Review current, public-facing website to conduct an assessment of our gaps and strengths. Suggest edits and additions to our redesigned website. Potential for coordination with our Graphic Design volunteer/s to expand FRIDA's graphic and visual identity.

Design / Layout
Information / Messaging
Features / Bones of website
  Graphic Design
Utilize existing visual identity (color palette, images, themes, etc.) to achieve a clear, consistent, compelling face of our nonprofit. Design and make available to FRIDA's team a large quantity of flexible files and/or general materials to be used in a variety of communication and promotional contexts (on a variety of OS's). Possibly coordinate with our UX/Web Designer/s to iterate on FRIDA's overall web design.

Example use cases: Events (hosted by FRIDA or with FRIDA as attendee among many), research publications (print/online), thank you cards (print/online), email campaigns, business cards, online profiles, stickers, website, social media, etc.
Reimagine core components of FRIDA's visual identity through playing with graphics' size, placement, structure, visual relationship with other components, space, medium, etc.
Video production
Produce short videos for use in FRIDA's 2014 fundraising and communication campaigns.  Any level of video production expertise is welcome – from awesome computer animation, to hand-drawn DIY materials, or traditional point-and-shoot footage edited together! Producing new material is a must for our growing organization! Help us create unique, compelling, short videos to ensure our Mission, Theory of Change, Partners, and Needs are clearly communicated in our upcoming projects. Work closely with our core FRIDA team and possibly with additional musical volunteers to create something wonderful for a small yet transnational feminist nonprofit.

Multiple and complex international, grassroots feminist perspectives
Storytelling – focus on FRIDA's story, location within nonprofit sphere, organizational history and trajectory
Translation
Translate existing visual and audio materials accurately into Arabic, (+Hindi, Russian, Mandarin, Spanish, French, Portuguese) to clearly and concisely foster an understanding for FRIDA's mission, story, methodology, processes, call to action, partners, etc.

What: Public website, internal documents/communications, promotional material, etc.
For whom: Individual donors, Organizational donors, grantee partners, fundraising partners, allies, etc.
Music
Contribute original, creative work to FRIDA's video campaign/s with music from different genres. Gain exposure while working closely with our small, core team and possibly with our Video Production Volunteer.

Submit new, independent music or work with our team to discover what works best for any upcoming project that promote female and/or trans*gender artists.
Infographic Artist
Clearly communicate FRIDA's history, mission, methodology, and impact into at least one (or more) core infograhics to be used as a resource primarily for fundraising and social media campaigns during a key growth year for a small yet transnational feminist nonprofit.
If you feel like you could have some free time to share your creativity and ideas and learn about amazing feminist initiatives worldwide consider offering your services pro-bono with FRIDA, please send us your short bio at info@youngfeministfund.org. We are excited to work with you, share our knowledge and learn from yours.
Location: Remote (Work from home).
Time: Flexible (your suggestion regarding how much time you are able to dedicate per week, per month, or per project).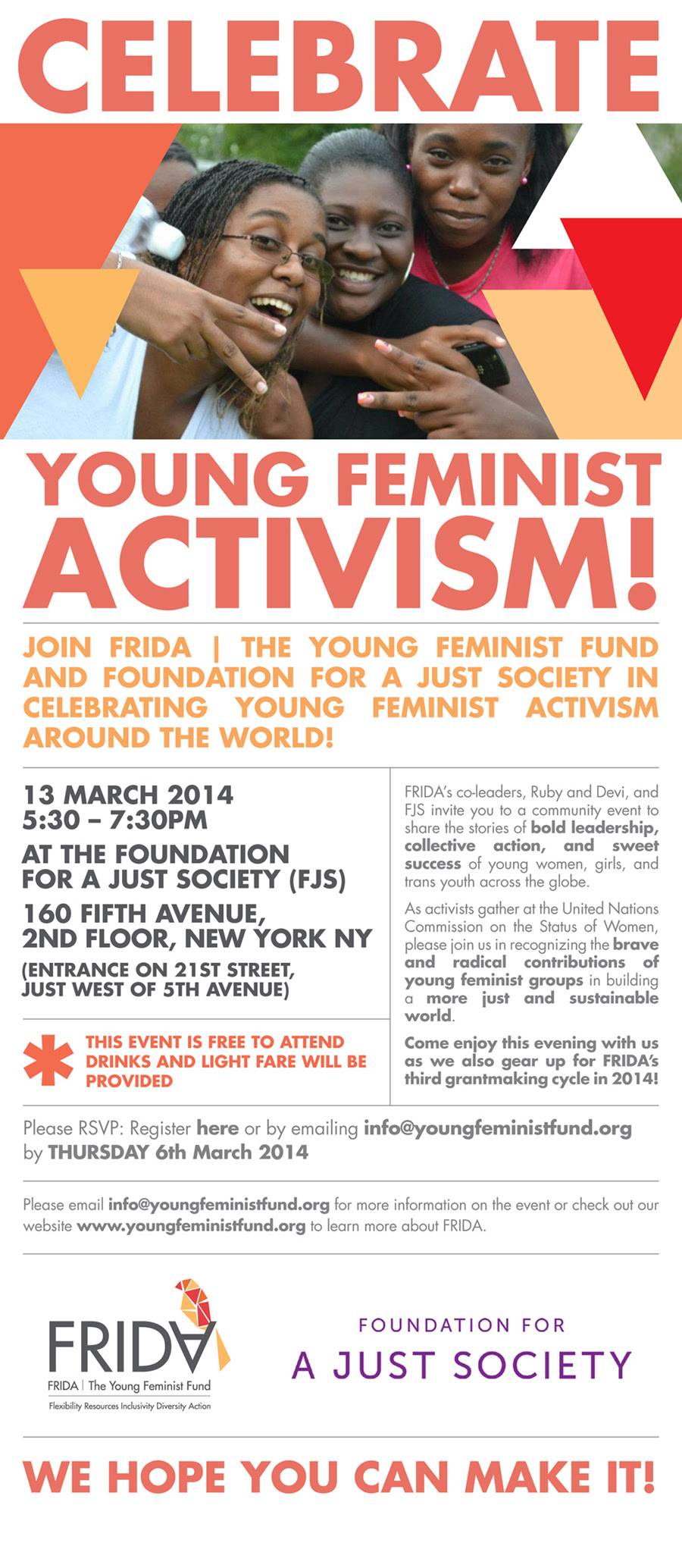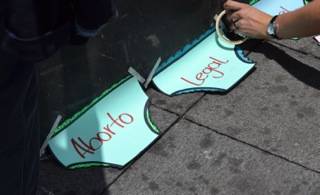 Founded in 2008, Salud Mujeres provides free and timely information to Ecuadorian women on how to safely terminate a pregnancy using medication to prevent unnecessary deaths of women resulting from unsafe, clandestine abortions. Their hotline enabling women to make informed decisions about their lives and bodies is the first one of its kind in Latin America. In November 2013, Salud Mujeres joined the ranks of FRIDA grantees with a new project, an "artistic traveling caravan" to spread information and raise awareness on safe abortion through theatrical performances, movie screenings, and other forms of information dissemination in five cities across Ecuador.
We asked Anais Cordova-Páez, member of Colectiva Salud Mujeres, about their work, motivation, challenges, and feminism.