Indonesia Chapter
The first stop of FearlesslyFRIDA's global art tour began in May 2016 in Indonesia with FRIDA grantee partner Transvoice. A young feminist group based out of Bogor in West Java. their mission is to empower the transwoman community by raising awareness about their rights.  The Fearless Collective conducted workshops with Transvoice learning more about each other's work and brainstorm ideas to drive art and artivism. Together, the trans youth members of Transvoice worked with artists from The Fearless Collective to create public art in the form of a mural, in honor of May 17, the International Day Against Homophobia, Transphobia and Biphobia, to reflect what  it means to be fearless in a hostile national environment.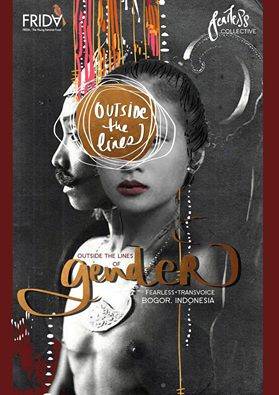 Three days, countless permission and one rain storm later – they started painting and sharing their art on the streets of Bogor! Now their incredible public art and posters are all over the city sharing their message of fearlessness and pride. "Watching The Fearless Collective come together with Transvoice was one of the most magical things I have ever experienced; we danced, re-claimed public space and celebrated the rights of trans people from Bogor, " recalls Ruby Johnson, Co-Director of FRIDA | The Young Feminist Fund. "The convergence of FRIDA, our grantee partners and the Fearless Collective in diverse locations across the globe is a unique opportunity to document stories of collective struggle, of personal change, of courage through giant public art pieces and engage communities."
Click here to view the photo essay of that has emerged from the entire experience.
Click here to learn more about the ongoing poster campaign and how you can participate in it.