Asia and the Pacific

Hashtag Generation is a group of social media activists in Sri Lanka, working with a decentralized and a non-hierarchical approach with the sole objective of encouraging meaningful engagement of young girls and women in civic and political processes. The group adopts a trilingual approach in their advocacy efforts, making the entire campaign inclusive and reflective of the diverse population groups in Sri Lanka. They can be found on social media via Facebook, Twitter and their blog. Since the group started out its journey as social media activists, they state that "there is no better picture that reflects our spirit" other than the logo pictured on the left.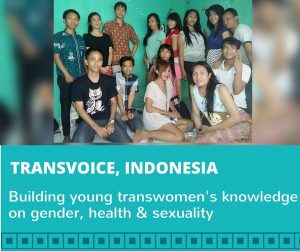 Initiated by some young transwoman peer leaders in Bogor,West Java, Indonesia, Transvoice was formed in November 2014 to accompany young transwoman in accessing information and services related to issues of sexual orientation and gender identity, gender equality, sexual health and reproduction rights, human rights, information about HIV and AIDS and economic empowerment. Transvoice members currently include 86 young transwomen and the group's mission is to empower the transwoman community in fulfilment of transgender woman's rights as rightful citizens of Indonesia. Some of their activities include providing information about issues of sexual orientation and gender identity, raising awareness on SRHR rights, human rights and HIV/AIDS through regular discussions, assisting communities in accessing health services, especially for transwoman living with HIV, assisting communities that experienced violence, networking and advocacy and utilising social media as a medium for campaigning. Transvoice dreams of building a hair and beauty salon as a place to provide skills to members and as a business unit of organization for sustainability.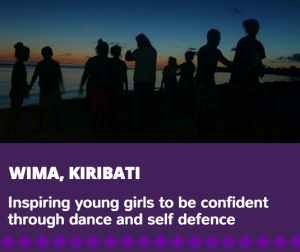 WIMA was newly formed this year in 2015 in Kiribati.  Its members are mostly single girls and single teenage mothers who are worried about their safety and would like to learn to protect themselves.  The group is targeting to combine self defense and Kiribati traditional dancing to inspire young girls to join and be protected.  The number of members have increased to 20 within a week. The group has been successful in inspiring young girls who have never exercised in their lives to prioritise their health and body and are learning to keep that in good shape by looking after their diet.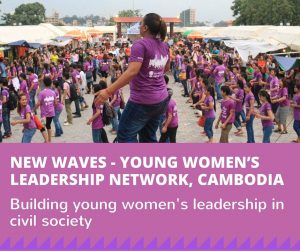 Founded in 2011 in Phnom Penh, Cambodia, New Waves – Young Women's Leadership Network encourages young females to work in partnership with civil society organizations and governments at national and sub-national levels through women's empowerment, capacity, and advocacy. Our main goal is to support women to obtain leadership skills to improve their participation in developing a democratic society and increase an environment that enables and supports effective advocacy. Through training, radio talk shows, special initiatives, and feminist talks and meetings, we make sure that more young women are fully engaged in their communities as leaders, empowered to make their own decisions, and that they have access to information, especially on gender issues and reproductive health.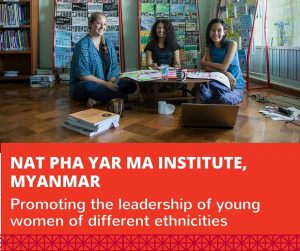 Founded in 2014 in order to empower young women of different religion and ethnicity, Nat Pha Yar Ma (Goddess) Institute is based out of Yangon, Myanmar. As patriarchy is rooted in Myanmar society, women are considered as a second class of community. Moreover, young women are seldom considered in leadership positions because of long hierarchy practice. As a consequence of long time colonial era and poor governance for six decades, over 60-years-old civil war is still existing in Myanmar. Tons of thousands of women have lost their sons, husbands, fathers, mothers, daughters and properties and rape has often been used as a weapon. Therefore, the group has dedicated itself to work for young women from diverse ethnic and religion in order to be able to build peace in respective communities and promote their leadership skills. Some of their activities include launching civic leadership and peace building training, service learning, networking among young women, building sisterhood, speaking out about women issues and breaking the constructed barriers by practicing behaviour change that challenge the culture and norms in our daily life.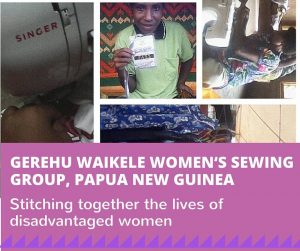 Founded in August 2014, Gerehu Waikele Women's Sewing Group is based in Port Moresby, Papua New Guinea. The group teaches women members from disadvantaged communities how to sew and  introduces them to financial knowledge as an integrated part of sewing lessons. The group focusses on attracting women of disadvantaged areas to financial knowledge and inclusion through sewing classes. The group is due to get registered as a result of member contributions every Saturday during sewing class and is proud to be selected as one of FRIDA's grantee partners.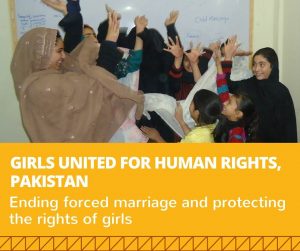 Founded by girls aged 12 to 15 in 2014, Girls United for Human Rights Swat's (GUHRS) mission is to empower the disfranchised girls in rural regions of Pakistan, eliminate socio-economic inequality, facilitate self-reliance, enable local self-governance, and promote people's advocacy. Our goals are to reduce discrimination and violence against girls, including early and forced marriages. We advocate to raise the legal age for marriage and organize community awareness sessions using interactive theater and public action, and involvement of religious leaders and other influential members of our community.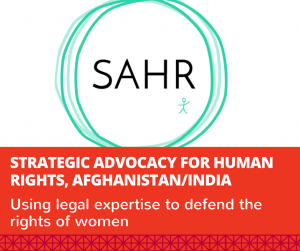 Founded in 2009 in Afghanistan, Strategic Advocacy for Human Rights currently consists of 20 members. We fight for women's human rights, in particular women rape survivors charged with adultery. We bring legal expertise to frame and tackle gender-stereotypes and misinterpretations of law and run workshops to bridge the gap between academia and activism. By providing trainings to activists, journalists, women's rights organizations' workers and lawyers, we aim to give them the legal tools that will help them construct solid legal arguments and empower them to make brave choices.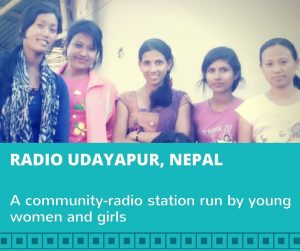 Founded in 2009, Radio Udayapur is a community radio station run by girls and women based in  Udayapur, Eastern Nepal. With a 200,000-listener base from among semi-urban and indigenous communities of Danuwar, Chaudhary and Hilly/Terai Dalits, we use media as an important instrument in ending patriarchy. Our  project "Un-Veiling" is a response to a very urgent issue: child marriage. If nothing is done, an estimated 140 million girls will become young brides by 2020. Through Un-Veiling, a pilot yearlong mass-engagement and sensitization effort using media activism among local communities, we aim to create change in the society and end child marriage.