Middle East and North Africa

Founded 2015, in Ankara, Turkey, Youth Approaches to Health Association (YAHA) is the only association in Turkey which works on sexual and reproductive health and rights (SRHR) and comprehensive sexuality education (CSE) for young people and especially young women. YAHA is planning to operate in youth works mainly in the area of sexual and reproductive health and rights. YAHA acquires a vision to strengthen young people, especially young women to expose their individual characteristics, be treated as subject in all areas in particular in the presence of decision-makers, to fulfil participation-oriented social utility through built areas which is based on their subjectivity. Recently, the group organized a massive campaign on HIV+/AIDS through 42 cities in Turkey and completed Young Women Academy Project in which 24 young women participate to discuss gender-based violence.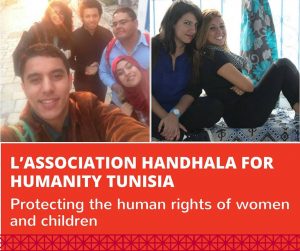 Fondée par des jeunes tunisiens de la société civile. L'association Handhala for Humanity est une organisation à but non lucratif qui a été créé en 07/04/2014 pour promouvoir la citoyenneté et les droits de l'homme, en s'appuyant, sur la protection et l'éducation des enfants et les droits des femmes.
Young women from Tunisia founded Handhala for Humanity. The association is a non profit organizations created on April 7, 2014 aim at promoting citizenship and human rights, by protecting and educating children and women's human rights.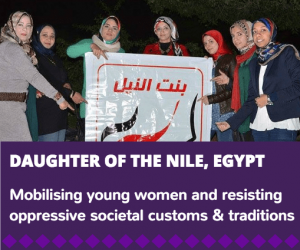 Founded in 2012 in Egypt in response to the evident violence against women in its different forms in El-Biheriah governorate, and specifically sexual violence that includes child marriage, female genital mutilation and harassment, Daughter of the Nile (Bint El-Nile) aims at mobilizing women to defend their rights, and to integrate them into the public space to become active and resistant against all forms of violence and discrimination that fall upon them in the name of societal customs and traditions. The group's objective is to build a wide feminist movement in El-Biheirah governorate to oppose all forms of violence and works on two main programs: 1) Feminist Education and Awareness Raising Program; and 2) Combating Child Marriage Program. Despite the societal pressure, customs, traditions and limited resources that have challenged our work, the group was able to raise the awareness of 200 young women and men about harassment in the rural and urban areas of El-Biheirah governorate and they consider this as their biggest achievement so far.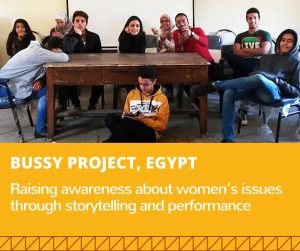 "BuSSy'" is a project intended to empower women and raise awareness about women's issues through storytelling in Egypt. Together with different groups of men and women stories of Egyptian women about their memories and experiences of womanhood are told on stage to expose real women's stories and provide a space for free expression on issues that society was failing to address.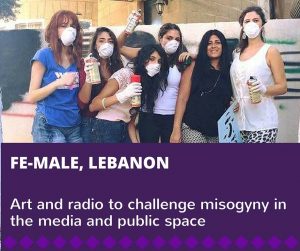 Fe-Male was founded in 2012 by a group of young feminists in Beirut, Lebanon. A civil non-sectarian association that works on raising gender awareness through mass and social media, women empowerment, elimination of stereotyping and objectification of women, and changing discriminatory laws. Our first initiative was the first feminist radio program in Lebanon, called, "Sharika wa Laken" (A partner, but not yet equal).  In addition, we have been involved in various public actions and launched different online campaigns to raise awareness on women's rights, and our last one was entitled "Not by Commodification Your Product Sells" aiming to raise awareness about the different types of gender discrimination in the media and advertisements and how sexualizing women leads to gender based violence. Also, lately Fe-Male produced a documentary about women's in image in Lebanese media and ads. Fe-Male is a member of the Arabic Network for Monitoring and Changing the Image of Women and Men in Media and Women Alliance for Virtual Exchange (WAVE).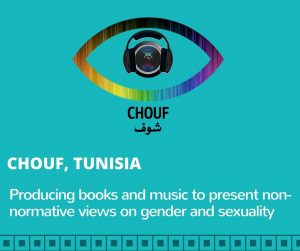 Created in 2013, Chouf is a feminist organization working about women bodily and sexual rights in Tunisia. The organization is based on an egalitarian principle that rejects any hierarchical ordering of its members and defines itself as a group of activists who rely on audiovisual material in their work. The group has a multiplicity of objectives, but they all revolve around one necessity: allowing Tunisian women, and more specifically FSF women, a safe environment in which they can express themselves freely and work on developing their potentials; an opportunity that otherwise would have been very difficult to obtain given the double discrimination that these women have to face. The group believes that in the transitional context we are living after the revolution, feminism has never been of such importance as it is now for the young generations.