Sub-Saharan Africa

Copper Rose Zambia was founded in Lusaka, Zambia in 2015 by two young ladies who believe that poverty is not an excuse when it comes to making a long lasting impact in their communities. The group collects donations of sanitary napkins and donates them to under privileged girls who cannot afford and are missing many days of school due to a lack of appropriate materials. During the donation, other materials such as pad bins and cleaning materials are also donated to the schools so that there may be efficient disposal of the newly acquired napkins. The group visits girls and has open sessions on menstrual hygiene, confidence building and uses these sessions as a platform to address HIV/AIDS, sexual and reproductive health concerns that they may have. These school visits do not only target adolescent girls but boys as well, the boys sessions cover topics such as male circumcision, what is being a real man and build confidence in the young men. The group also recently started our first Youth Chats, these are sessions with young people that are increasing awareness about HIV/AIDS and getting to zero new infections through awareness. Their greatest achievement has been to be able to donate over 500 sanitary napkins through the use of social media as a tool to fundraise.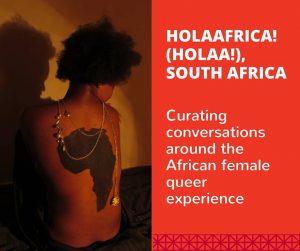 HOLAAAfrica (HOLAA!) was founded in 2012 in Johannesburg, South Africa because the original collective realised that there was very little online in terms of the African queer female experience. This idea has grown to adding to the African female sex and sexuality narrative which has been historically erased, is currently under developed but is still extremely powerful. By publishing stories of African women on all aspects of sex and sexuality–be it political, economic, social or sexual–the group seeks to add to the general narrative and rhetoric surrounding these issues. This is done whilst engaging in online activities and campaigns, looking to have conversations on everything from masturbation and safe sex to cyber violence. The group seeks to proliferate information and challenge problematic ideas by boosting different narratives. These conversations continue offline with facilitated conversations in partnership with various organisations and creating safe spaces to discuss sensitive issues. The group is working towards building and bolstering a community where women can feel safe to speak on issues that are otherwise silenced and having other women engage and relate to it too.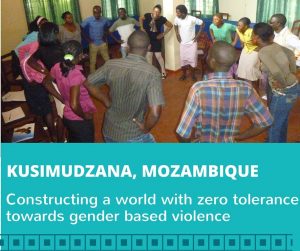 Founded in January 2015, Kusimudzana (which means helping each other)  is a nongovernmental organization with the main vision of  ending gender based violence in the community and the country, as a whole. Located in Cruzamento de Tete, Villa de Vanduzi, Chimoio, Moçambique, the group's  activities include advocacy, information dissemination, life skills trainings, judicial accompaniment, medical acompaniment, psychosocial support among others. They plan to establish a transit centre for offering temporary shelter to their clients and are just starting and still have very little recourses to implement their work. The group has already trained its members who work as activists in the community.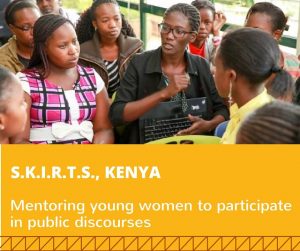 Founded in 2014, S.K.I.R.T.S is based in Nairobi, Kenya and aims to mentor young women to participate in public discourse on issues affecting them through capacity building. The group offers security trainings to young women journalists and WHRDs so that they can make women's voices visible without putting their lives in danger. The group also offers workshop meetups sessions for young women and girls to openly share ideas for the growth of the larger feminist movement. Their greatest achievement so far has been to get recognition from the nation's president for being an innovative young women's group working on gender equality. Successfully mobilizing university students on a three-day workshop on the intersection of technology use and women empowerment has also been a recent achievement for them.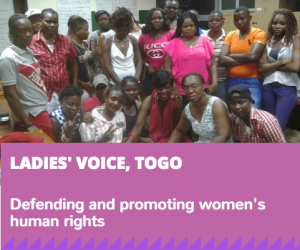 Ladies' Voice est un groupe dont le siège est à Lomé et qui peut être délocalisé en tout autre lieu du Togo sur décision de l'Assemblée général. Ladies' Voice est créé en Février 2014 dans le but de défendre et de promouvoir les droits de la femme en général. Pour atteindre ses objectifs, le groupe organise des séances de causeries et Cinéma débats, des sensibilisations sur la santé sexuelle et reproductive de la femme afin de permettre à ses membres d'assumer leur propre sexualité et d'être informées sur les infections sexuellement Transmissibles. Ladies' Voice organise aussi des rencontres d'échange et des ateliers sur le leadership féminin et les droits de l'homme. Les plus grandes réalisations du groupe sont entre autres l'acquisition d'un cadre provisoire de travail et l'assistance aux victimes des violations des droits humains.
Ladies' Voice is a group based in Lomé but that could be relocated to any other place within Togo if the General Assembly decides it. Ladies' Voice was created in February 2014 aim to defend and promote women's human rights. To achieve its objectives, the group organizes discussion sessions and movie forums, as well as sensitization on sexual and reproductive health of women in order to enable its members to assume their own sexuality and to be informed on Sexually Transmitted Infections. Ladies' Voice also organizes exchange meetings and workshops on women's leadership and human rights. The greatest achievements of the group are among others the acquisition of a provisional working framework and assistance to victims of human rights violations.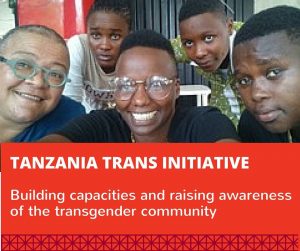 Tanzania Trans Initiative is a non-governmental organization (NGO) dedicated to the Transgender community (Trans men, Trans women, Transgender sex worker, Transgender who live with HIV/AIDS and gender non confirm) in response to HIV/AIDS and Human Rights Promotion, Advocacy through in depth partnership with the communities in Tanzania. Established in 2013, the organization is located in Tanzania, Dar es salaam region. TTIs activities do focus on advocacy, capacity building, information dissemination to communities and its constituency, awareness raising on various issues that concern TTI's members. Their membership is open to all. Their achievements include creating a Transgender space where they can learn and receive information on health and human rights, doing capacity building on SOGI Issues (Sexual Orientation and Gender Identity) and being nominated to be a member of Tanzania Human Right Defender Coalition (THRD-Coalition).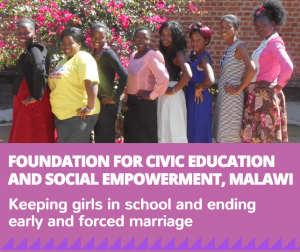 Founded in 2013 in Balaka, Malawi, Foundation for Civic Education and Social Empowerment (FOCECE) was created to provide civic education on key national issues, as well as care and support services mainly to the youth at the grassroots level. Formed by girls who have experienced pressure to marry early, we are aiming to reduce the school dropout rate of girls due to early pregnancies and early marriage. We conduct girl child education awareness meetings targeting all groups of people in our communities to ensure that every girl child remains and completes her school and that every parent is responsible enough to promote girl child education and stop early marriages. We also provide civic education on maternal health issues and speak firmly on the rights of the youth and the children, while engaging with community leaders, teachers, and parents.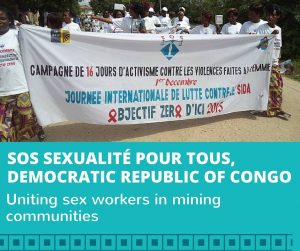 Young women working as sex workers initiated our collective in 2011 and called it SOS Sexualité Pour Tous [Sexuality for All]. We live in the mining city of Misisi, Ngandja, in the Fizi Territory of the Democratic Republic of the Congo, and in a context of serious human rights violations, including stigma, discrimination, sexual violence and sexism. Our specific project is an awareness and advocacy campaign for the promotion and defense of sex workers' rights. We seek to increase sex workers' knowledge of human rights, increase the distribution and use of condoms, and encourage sex workers and their partners to get health check ups and voluntary HIV tests.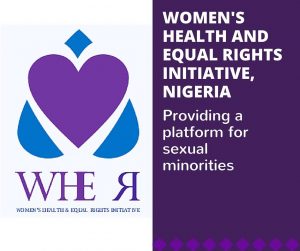 Founded in 2011, Women's Health and Equal Rights Initiative aims to provide a platform for the promotion of the well-being and protection of the rights of women and girls through advocacy, education and empowerment. We work with sexual minority women aged 18-30 years old in Abuja, Nigeria. We create awareness of women's health issues for sexual minority women, provide social support services such as community networking, counseling, legal services and to influence policies/laws affecting women, girls, sexual minorities through advocacy. We hope to create a peer education network and initiate helpline services for sexual/physical violence, support groups using social media and provide a mentoring program. Additionally, we will organize human rights sensitization workshops and document human rights violations against sexual minority women in Nigeria.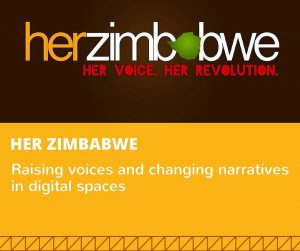 Founded in 2012, Her Zimbabwe seeks to raise awareness about Zimbabwean women's lives by creating a digital repository of knowledge through unique content generation, documentation and visualisation of Zimbabwean women's issues. Using a web-based platform, incorporating Facebook and Twitter, we seek to engage and capacitate Zimbabwean women to move into the new media sector as shapers and influencers of discourse through training and skills sharing. We target women aged 20-35 but also integrate voices of men. Her Zimbabwe was created as a direct response to the need to provide feminist online space for women, led by women. We hope to effectively use social media – to cultivate and document Zimbabwean feminist narratives.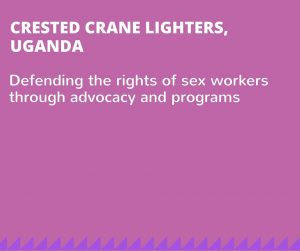 Founded in 2010, Crested Crane Lighters is a group of young women and transgender sex workers aiming to protect and advance the rights of female sex workers and their children in Uganda. We do this by advocating for the adoption of international human rights policies in national legislation and by working to document and report violence experienced by young sex workers.