Central Eastern Europe, Caucasus, Central and North Asia region

FemCollective is based in Armenia, however does not have a date of birth and not even a fixed name as they tend to be anonymous. The group has  a flexible membership mechanism and at the moment, is made up of 4-5 members. On March 8, 2013, the group came together with more than 10 women for the first time to write a feminist manifesto and to organise public actions in Yerevan. The group tries to challenge existing narratives on women and their rights by co-creating new texts and disseminating them in various public spaces by street graffiti, street performances, public readings, zines, articles, leaflets, in a way, we try to create some sort of "spaces of protest". FemCollective uses social media platforms as well, by collaborating with other feminist groups. Empowerment has also been very important for the group, as a collective, and they have been trying to develop instruments of expression through participating in practices of collective protest and protection.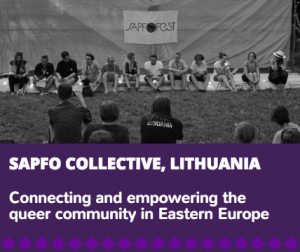 Sapfo Collective
is based in Vilnius,
Lithuania
and organizes the first independent community-initiated Festival in the Baltics, which seeks to connect and empower the queer community, fight prejudice and discrimination, as well as increase awareness and visibility of queers in Lithuania and the rest of Eastern Europe. Even without any major institutional support, for the 4 years already
SapfoFest
is growing and expanding through volunteering, services in-kind, crowd funding and in-kind donations. A lot of determination by its organizers, volunteers and increasing number of participants (2012 – 70; 2013 – 100; 2014 – 300 and 2015 – over 450) have succeeded in creating a learning, sharing, empowering space for queer and LGBT+ community & allies in Lithuania and the Baltics. Through powerful tools of education, culture & knowledge sharing the group seeks to mobilize our resources and capacity that are necessary to bring social change and create the society of the future!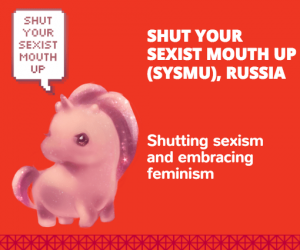 Shut Your Sexist Mouth Up (SYSMU) operates from from Russia (St.Petersburg and Moscow) and was founded in February 2014 in order to provide safe space and a platform for sharing one's experience. Currently, the group has a presence on three main platforms at: vk.com/feminist_unicorn,  femunicorn.com and @femunicorn on Twitter. The group's main activity is its anonymous publication of personal stories about sexism, abuse, harassment and different kinds of gender-based violence. When needed, the group also provides psychological help. SYSMU's greatest achievements has been to build a community like this over 25,000 people as well as having an official representation of themselves on the web. The group has also conducted two self two self-defence trainings before and considers it to be yet another feather on its cap.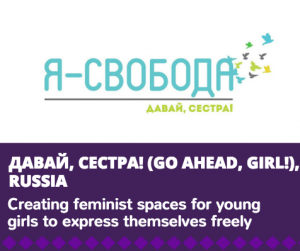 Давай, сестра! (pronounced Davai, sestra! and translated as Go ahead, girl!) is based in Ulan Ude, Russia and was founded in 2015 for establishing an environment of feminism in the city. The group's mission is to create a feminist platform for young girls and women where they can communicate with each other, provide emotional support to those who need and to organize a safe environment where girls can openly discuss feminist issues without any fear of being censored. The group plans to implement an information campaign about freedom of reproductive choice and women's rights, which would consist of social visual advertising using banners and billboards. The group also plans to make a database of local examples of sexual objectification in their region, analyze these issues and then discuss with other girls from the community. Last but not the least, the group wishes to create an anonymous online community of feminists, where everyone would discuss different aspects of feminism and communicate with other representatives of the movement. The group considers its founding and its organising its biggest achievement.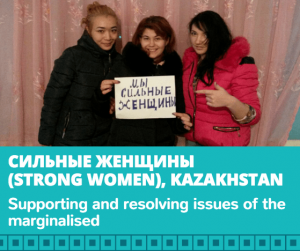 This group is called СИЛЬНЫЕ ЖЕНЩИНЫ or "Strong Women". They organized (united) in June 2015 and are located in the Republic of Kazakhstan, Ust-Kamenogorsk. The group consists of a number of girls and women, who are exposed to all forms of discrimination and stigmatization in the society because of their social status: former prisoners, HIV infected, former drug users, orphans, etc. The group's main achievement has been in organizing this platform where such people can get help and support in solving their problems. Many of the women from this group have got jobs and become more confident.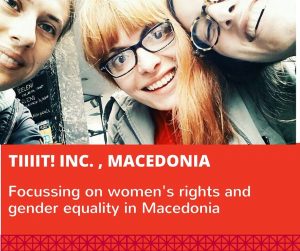 Tiiiit! Inc. was initiated in 2010 in Skopje, Macedonia as a product of a long term friendship and wish to actively engage in the field of women's rights, female intellectual and creative production, active participation in the promotion and development of the independent cultural scene and social activism in Macedonia region. The group advocates for more substantial recognition of these fields, through creating opportunities and wider space for creative expression, cooperation and professional development of independent individuals and groups. The group nurtures and develops its activities through encouraging and affirming diversity, research, non-formal education and promotion with the help of creative exchange and collaboration with actors from similar fields of work. In 2013, the group developed the ПРВО ПА ЖЕНСКО (It's First and It's a Girl) Festival – the first and only festival in the country which promotes feminist culture, art and activism. Currently, the group is working hard on the fourth edition of the Festival and the realisation of its project 'Intimate Female Maps'. Driving through their personal trajectories and listening to their music, the group wants to create an intimate female map of the Ex-Yugoslavian capital cities, contrasted to the masculine rebuilding and representing of cites today and dominant, touristic presentations through guided excursions, souvenirs and postcards.
Founded in 2014, Giuvlipen wants to express the visibility of Roma women who are facing double discrimination in society by addressing the negative impacts of school dropouts, early marriage, and rejection of the Roma identity. Through creative theatre performance, we want to create a safe space to organize and inspire debates to strengthen the Roma sisterhood. Our goal is to change the stereotypical views on Roma women and the way of thinking of Roma women about themselves and their role in society. Within the next year, we hope to gain 1,000 spectators as well to produce publications, use social media, and connect with other activist groups.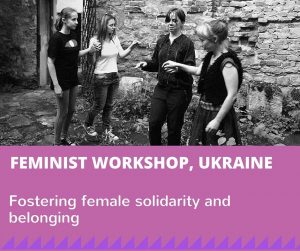 Founded in 2014, Feminist Workshop aims to unite women of different professions, and to foster a sense of female solidarity and belonging to a group where they can find the support. They focus on women of different age and social groups, and try to include those who have recently moved to their community from the eastern regions of Ukraine, where military actions are conducted.We provide support through diverse workshops by combining educational activities with reflections on the position of women in the society through street art, film screenings, group lessons, craftivism and yarn-bombing, bike shop, and academic-activist roundtables. With the help of different activities we try to create a positive image of feminism and unite women from different spheres.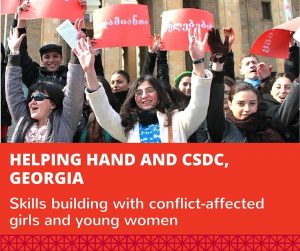 Helping Hand and CSDC aims to develop personal and leadership skills of young women in Georgia. We work with homeless and orphaned young women living in conflict zones and other at-risk groups through a series of programs providing information on health care, economic independence, women's rights, and gender equity.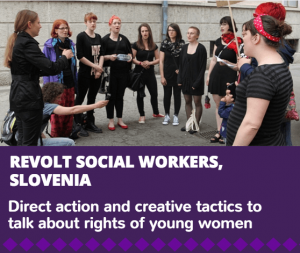 Founded in 2012, Revolt Social Workers is a group of 14 young women from Slovenia working in the field of social work, experiencing first hand the economic and social changes happening in our communities. We advance women's rights, non-violence, and an economic system that provides opportunities for all. We aim to bring together women's and feminist organizations protecting and fighting for the rights of young women and to open up a public space to speak about women's rights in Slovenia. In particular, we work with the most marginalized groups such as women with mental health disabilities, lesbian young women and poor/unemployed women. We use direct action, workshops, art and activism, and creative tactics to encourage public dialogue and empower young women.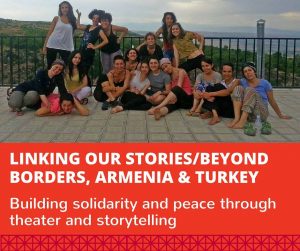 Founded in 2012, Linking Our Stories / Beyond Borders aims to use performance arts and storytelling as a method to build solidarity and peace across the closed Turkish-Armenian border with young women from Armenia and Turkey. When this group was formed, young women collaborated stories around the topics of sexuality, and created a performance from those stories to an audience of over 50 people. They intend to continue to work together to develop a performance that addresses the issues experienced by Turkish and Armenian women. Linking Our Stories anticipates on bringing five women from Turkey and five women from Armenia to tour and perform for two weeks. Through open-ended questions, the group hopes that citizens from both countries will interact with one another and discuss the common issues they are facing.