A special message from FRIDA Advocacy Officer, Ledys Sanjuan
How did the holidays shape up for you? I know you're still coming out of vacation time, which is why I thought of inspiring you today with a special message!
Recently, I had the privilege to meet and be part of a series of workshops organized by a feminist collective Gordas Sin Chaqueta (loosely translated as "Fat women without jackets") in Bogota, Colombia. This collective is one of the three FRIDA grantee partners in Colombia, and I want to share my experience because I believe that the work they do is absolutely essential for young feminists in Latin America and beyond.
Women all over the world face the pressure of looking a specific way in order to be desirable. Our bodies are battlegrounds of corporations, governments, and patriarchal men. This "desirability" affects our employment, social status, even how we see ourselves. Gordas Sin Chaqueta aims at healing from societal expectations of perfection and empowering ourselves to love our bodies and each other, no matter what.
At this colectiva, the slogan is "we are stronger in the pack than we are alone" and I never knew that to be so true. In the company, of over twenty women of all shapes and sizes, we began a journey of healing, community and mutual love. We used art, games, exercises, music and dance to get in touch with our bodies, heal from the trauma, and move from victimhood to powerful young feminist identities.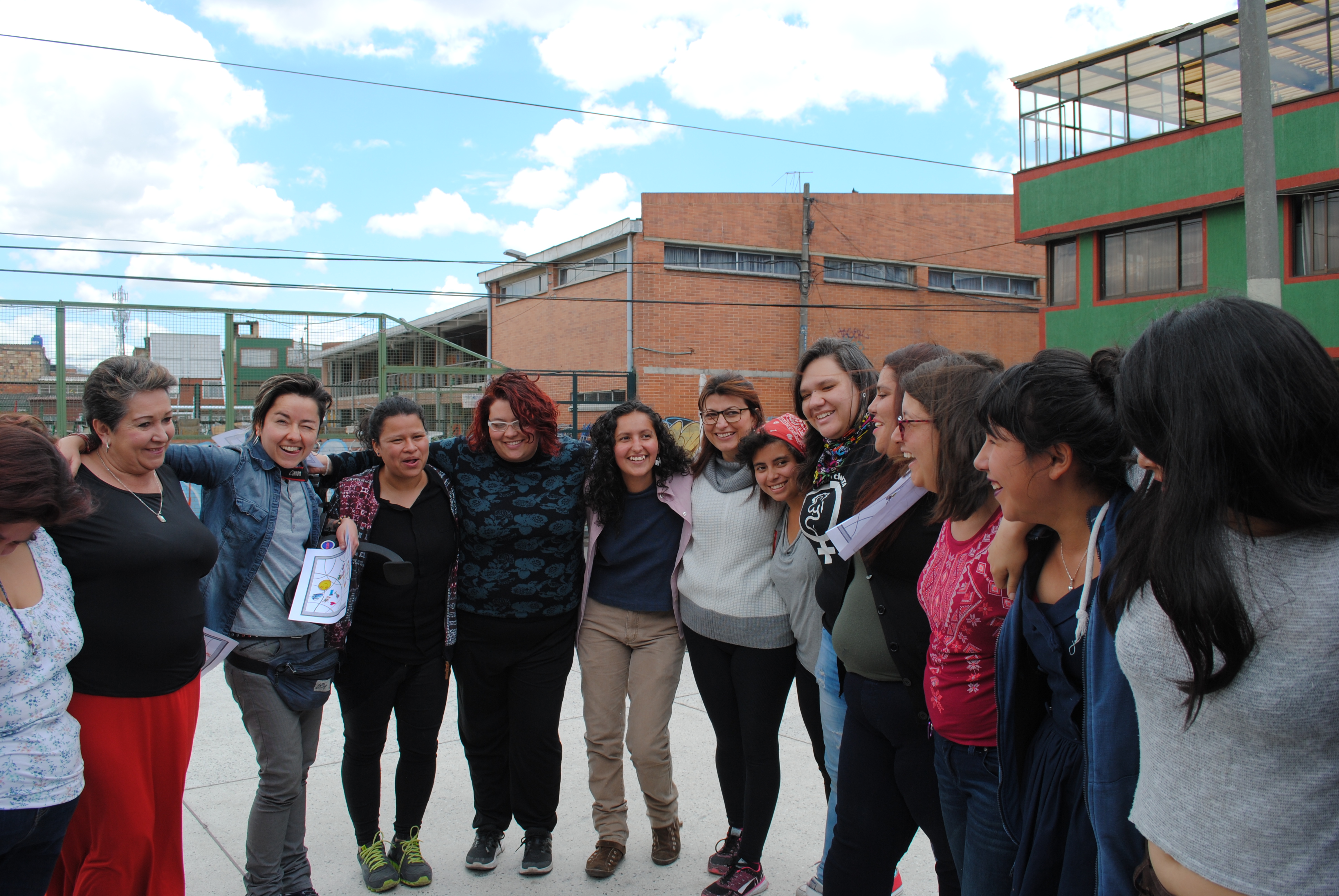 Without a doubt, being part of these workshops, has been one of the most inspiring things I did in the whole year. Not only do I feel confident with my body because I have healed, but I am also stronger today because now I have a pack of young feminists who have my back.
I am incredibly proud and lucky to be associated with FRIDA–an organisation that supports young feminist groups like Gordas Sin Chaqueta. Youngfems are deploying new strategies and tackling issues that are often invisibilized and overlooked. This is the kind of feminism built from love, care and mutual trust, and I invite you to join us.
I have full faith in FRIDA creating a real impact in young feminist organizing. Because I have seen it happen.
Will you join me in supporting FRIDA? Start the new year by making a contribution to young feminist resistance. This is our year!
Wishing you a fabulous 2018!
Ledys Sanjuan
FRIDA Advocacy Officer
All pictures © Colectiva Feminista Gordas Sin Chaqueta, Colombia
---
Mensaje especial de la Responsable de Promoción de las causas de FRIDA, Ledys Sanjuan
¿Cómo estuvieron sus días festivos? Se que todavía están saliendo de las vacacionesl, y es justo por esta razón que se me ocurrió ofrecerles algo de inspiración con un mensaje especial.
Recientemente tuve el privilegio de conocer y ser parte de una serie de talleres organizados por la colectiva Gordas sin Chaqueta, en Bogotá, Colombia. Esta colectiva es una de las tres copartes que FRIDA tiene en Colombia, y me gustaría compartir mi experiencia con ellxs, ya que creo que el trabajo que están llevando a cabo resulta totalmente crucial para lxs jóvenes feministas en América Latina y el resto del mundo.
En todo el mundo, las mujeres tenemos que lidiar con la presión de vernos de cierta manera para ser deseables. Nuestros cuerpos son los campos de batalla de corporaciones, gobiernos y hombres patriarcales. Esta naturaleza "deseable" afecta nuestro trabajo, nuestro estatus social e incluso la manera en que nos percibimos a nosotras mismas. Justo por eso, el objetivo de Gordas sin Chaqueta es sanarnos de estas experiencias sociales de trauma y, en cambio, invitarnos a que amemos nuestros cuerpas y nos amemos colectivamente.
El eslogan de esta colectiva es "somos más fuertes como manada que solas", el cual nunca ha sido más cierto. En la compañía, conformada por casi veinte mujeres de todos tamaños y formas, emprendimos una travesía de sanación, de creación de comunidad y de amor mutuo. Nos valimos del arte, juegos, ejercicios, música y baile para entrar en contacto con nuestras cuerpas y así sanar los traumas, dejar la posición de víctima y así conquistar nuestras identidades como jóvenes feministas poderosxs.
No me queda duda alguna que haber sido parte de estos talleres ha sido una de las cosas más inspiradoras que hice en el año. Tras este proceso de sanación no solo me siento más segura de mi cuerpo, sino también me volví más fuerte, ya que ahora soy parte de una manada de jóvenes feministas donde el cuidado mutuo es central.
De igual forma, me siento extremadamente orgullosa y afortunada de ser parte de FRIDA; una organización que apoya a grupos de jóvenes feministas como Gordas sin Chaqueta. Estxs jóvenes feministas están aplicando estrategias nuevas y abordando problemas que con frecuencia parecen invisibles o son pasados por alto. Este es precisamente el tipo de feminismo que está construido a partir del amor, el cuidado y la confianza mutua, y es por eso que les invito a unirse a nuestro movimiento.
Tengo la certeza absoluta de que FRIDA generará un gran impacto en las organizaciones de jóvenes feministas porque yo misma soy testimonio de ello.
Apoye a FRIDA junto conmigo. Si desea recibir actualizaciones periódicas sobre las jóvenes feministas de FRIDA y más, suscríbase a nuestro boletín en español.
¡Les deseo un fabuloso 2018! ¡Este es nuestro año!
Ledys Sanjuan
Oficial de Advocacy de FRIDA