A statement in solidarity with human rights defenders in Nicaragua from Latin American Women's Funds
In the past few days, the world has witnessed thousands of Nicaraguans taking to the streets in response to government austerity measures, that would effectively privatise all remaining public services. Young people have been at the forefront of these protests, organising rallies, meetings and protests from schools and universities. Unfortunately, this means that young people have also been most affected by violent repression and young women human rights defenders have been injured or murdered by government forces.
FRIDA especially extends its solidarity with its community of young feminist organizers and partners, who are affected by the wave of violent repression in Nicaragua. We are extremely saddened and outraged to see that every day repression and violence against activists and protesters from the government prevail.
Latin American women funds and FRIDA got together to release a statement of solidarity. (Please see image below) We are asking the international community to stand with Nicaraguan civil society, organisations and human right defenders in a call for the IMMEDIATE stop to the violence. We stand with our sisters on the ground facing this wave of violence and call on others to do the same by sharing this statement and supporting #SOSNicaragua
---
EN SOLIDARIDAD, LLAMADO AL CESE DE LA VIOLENCIA EN CONTRA DE PROTESTAS EN NICARAGUA 
Comunicado de fondos de mujeres y feministas de América Latina frente a represión política en Nicaragua
En los últimos días, el mundo ha sido testigo de miles de nicaragüenses que han tomado las calles en respuesta a medidas de austeridad del gobierno las cuales eliminarían servicios públicos esenciales. Las personas jóvenes han estado al frente de estas luchas organizadas en sus colegios, universidades y comunidades. Desafortunadamente, esto significa también que lxs jóvenes han sido lxs más afectados por la violencia y la represión de las protestas por parte del gobierno de Nicaragua.
Estamos extremadamente tristes e indignadxs por la completa erosión a los derechos de libertad de expresión y asociación por medio de arrestos, golpizas y asesinatos de activistas y protestantes.
Los fondos de mujeres en América Latina y FRIDA unimos nuestras voces en el comunicado publicado abajo. Pedimos a la comunidad internacional solidarizarse con la sociedad civil, organizaciones y defensorxs de Derechos Humanos en Nicaragua en el llamado al cese INMEDIATO de la violencia. FRIDA está en solidaridad con lxs activistas jóvenes y feministas afectadxs y con el pueblo nicaragüense en esta lucha por la libertad y la democracia. #SOSNicaragua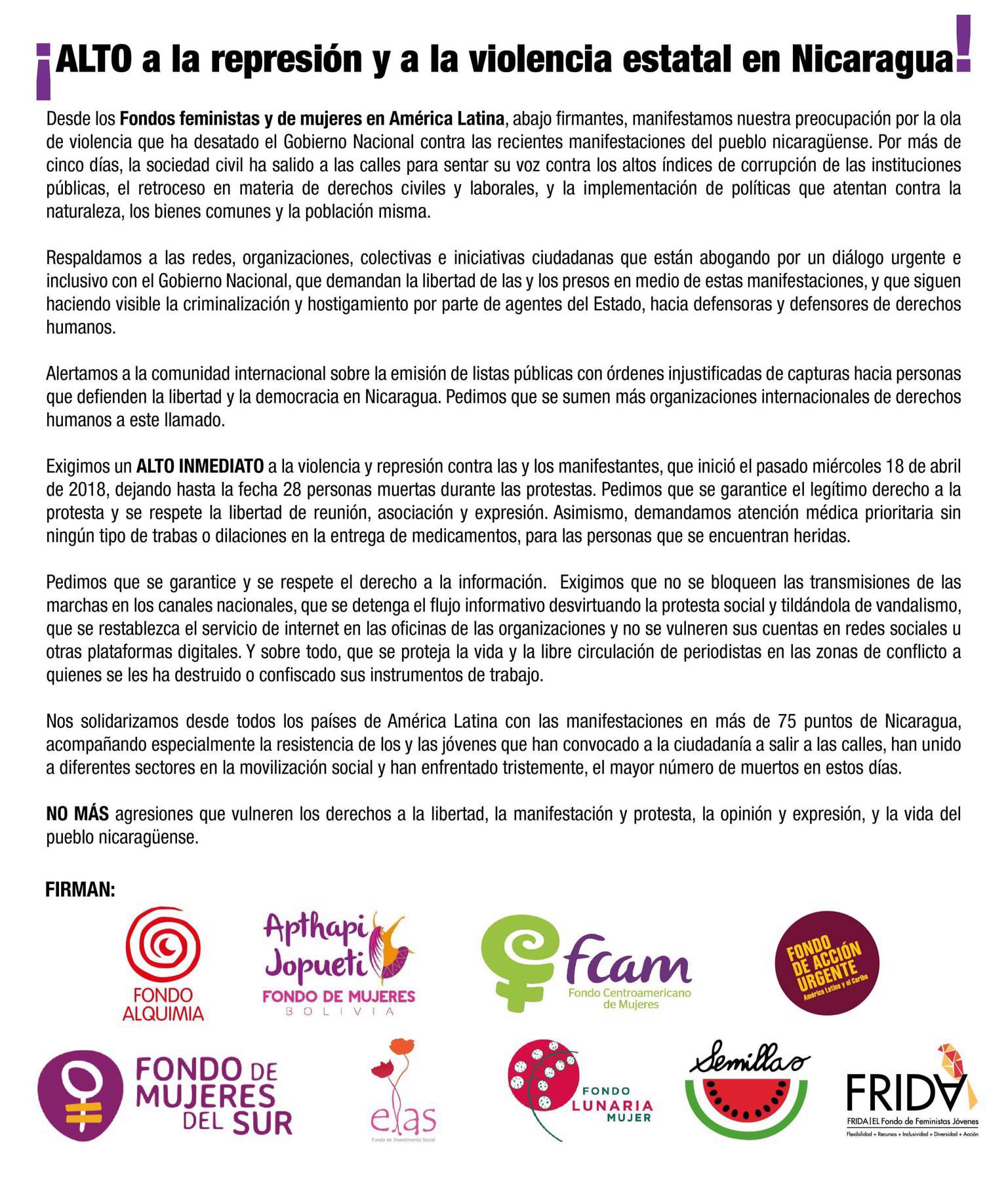 ---
Nos últimos dias, o mundo tem visto milhares de nicaraguenses ir às ruas em resposta às medidas de austeridade tomadas pelo governo as quais efetivamente privatizaria todos os serviços públicos. As pessoas jovens tem estado a frente nestas lutas , organizando reuniões e protestos nas escolas e faculdades. Infelizmente, isto significa que as pessoas jovens tem sido as mais afetadas pela repercussão violenta e as jovens defensorxs de direitos humanos tem sido feridas ou assassinadas pelas forças armadas do Estado.
O FRIDA oferece sua solidariedade com a comunidade de jovens ativistas feministas e parceiras, que estão sofrendo uma onda de repressão violenta na Nicaragua. Nós estamos extremamente tristes e indignadas que todos os dias, as ativistas vivem em repressão e violência graças à esse regime governmental atual.
Os fundos de mulheres de América Latina e o Fondo FRIDA juntarmos nossas voces no comunicado publicado embaixo. Nós pedimos à comunidade internacional solidariedade com a sociedade civil nicaraguense, as organizações e defensorxs de direitos humanos neste chamado para um IMEDIATO CESSAMENTO da violência. FRIDA manifesta a sua solidariedade com as ativistas jovens e feministas afetadas e com o povo de Nicarágua nesta lute pela liberdade e a democracia. #SOSNicaragua.