Climate and Environmental Justice Special Grants
We are no longer accepting applications for this special grant round.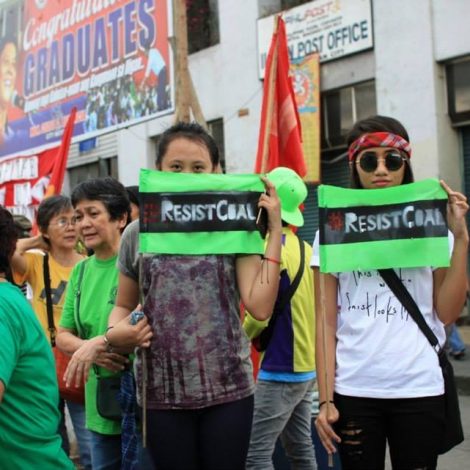 WHAT
Young feminists are on the frontlines of efforts to resist, undo and mitigate the effects of climate change and environmental degradation.
Yet, as noted by FRIDA community at the UN climate negotiations, women, and young women in particular, often remain on the margins of decision-making and forums on these issues.
FRIDA recognizes that climate change and environmental degradation constitute a significant threat to human and our planet's well-being, and that these threats disproportionately impact on women's well-being, survival and livelihoods. With the aim of ensuring that young feminists and young women are supported in continuing to play an active role in the global transition towards justice and sustainability; FRIDA is launching a special grant round for young feminist and young women-led groups focused on Climate and Environmental Justice in targeted regions and countries.
WHO
Groups founded or led by young women or trans* youth (under 30 years) that are committed to ALL of the following:
1) Advancing and defending women's rights from a feminist perspective
2) Improving the lives of young women/trans* youth at local, national, regional or international levels;
3) Working towards climate and/or environmental justice, understood as defending a clean, healthy and safe environment while at the same time defending the rights of the most marginalized sectors, including women, indigenous groups, and/or others;
Inclusive organizing, collective action and feminist and/or environmental movement building
Groups founded in the past 6 years (i.e. your group was formed between 2011 – 2017)
Groups based in:
Pacific Island Countries and Territories, including: American Samoa, Cook Islands, Fiji, Federated States of Micronesia, French Polynesia, Guam, Kiribati, Marshall Islands, Nauru, Niue, New Caledonia, Northern Mariana Islands, Palau, Papua New Guinea, Pitcairn Islands, Samoa, Solomon Islands, Tokelau, Tonga, Tuvalu, Vanuatu and Wallis and Futuna.
Asia: Bangladesh, Cambodia, India, Indonesia, Mongolia, Nepal, Philippines, Pakistan, Sri Lanka.
Africa: Benin, Burkina Faso, DRC, Ghana, Kenya, Mali, Mozambique, Nigeria, Senegal, Tanzania, Togo, Uganda, Zambia, Zimbabwe.
Latin America: Bolivia, El Salvador, Guatemala, Honduras, Nicaragua, Paraguay.
Central Europe: Georgia.

If you are based in a Global South country that is not listed here, we urge you to apply to our next regular grant round in November/December of this year, where we will include dedicated Climate and Environmental Justice grants. Young feminist groups from across the Global South that work for climate and environmental justice will be eligible to apply.

Priorities:

Special focus on frontline and young women environmental rights defenders. Groups, networks, or collectives that are diverse in their membership and made up of and/or working with socially marginalized young women especially: refugees, ethnic, national and caste minorities, rural women, urban poor, lesbian, bisexual, transgender, women living with HIV/AIDS, sex workers, women with disabilities, women living in armed conflicts and post conflict zones.

Small, emerging grassroots groups, networks, or collectives with little or no access to funding from larger donors.

Groups, networks, or collectives that are working on emerging or issues that have not received prior funding.

Groups, networks, or collectives located in remote underserved areas.

Groups using creative and innovative strategies to further their activism (including art, music, culture, poetry, social media etc.).
Who is NOT supported
Who is not supported:
Groups or organizations that display an intolerant attitude towards others on the basis of age, religion, sex, race/ethnicity, disability, class or sexual orientation.
Organizations working with young women and trans* youth but led by individuals over 30 years of age. We do not fund youth "programs" of existing organizations — we fund youth-led groups.
Groups that promote climate and environmental solutions and approaches that involve Carbon Capture and Storage (CCS, BECCS) or other technological and market-based approaches that lead or risk leading to land-grabbing and displacement; geo-engineering or other large-scale attempts to manipulate the Earth's systems; nuclear energy, large hydropower dams or other large-scale energy solutions deemed risky and unsustainable; genetically modified crops and large-scale agrochemical-dependent monocultures such as palm oil and soy beans; and other measures that put biodiversity and ecosystems as well as the rights of indigenous, rural and marginalized populations at risk.
Scholarships, internship or school fees (including Doctoral and other academic research).
Groups with budgets over $25,000 USD.
Proposals submitted by individuals, government institutions, political organizations or religious groups.
Groups that focus only on the provision of direct services (e.g. formal education, technical training, craft or health care, etc.).
Groups that focus solely on income generating activities, without a strong social and environmental sustainability approach.

Groups based in countries outside of those listed.

Applications that DO NOT fit criteria will not be considered or reviewed. If you are not sure if you fit basic criteria, please take a look at our Climate and Environmental Justice grant round FAQ. In case your question is not included, please email us at proposals@youngfeministfund.org and we will make sure to respond at the earliest convenience.
Amount & Length
Funding amount and length: FRIDA makes grants of up to $5,000 USD. They are flexible grants that can be used for general support and/or projects* to be used over a period of 12 months and are open to renewal.
*Please Note: FRIDA recognizes the value of general support and encourages groups to prioritize resources according to their own needs. For example some groups may consider using FRIDA funds to cover staff, administration, or organizational costs while others may use funds to support establishing infrastructure or project related costs.
IMPORTANT
All grantees will be required to sign a grant agreement, which will outline accounting, reporting, and other terms and conditions regarding how funds will be distributed. Grantees will be required to be in regular communication with FRIDA staff and will be required to share regular updates of their work. Further details on reporting will be provided after grants have been approved.
Before completing the application, please read the application guidelines to determine your eligibility. Also, you can review some Frequently Asked Questions on the website.
All applications must directly benefit young women and trans* youth in a culturally appropriate, sustainable, and gender inclusive manner, and promote climate and environmental sustainability and justice.
If you would like to see the kinds of groups FRIDA is currently supporting, please click here.
You do not need to be a legally registered group to apply.
You may submit your application in English or Spanish.
Applications must be received by: July 23rd 2017.
You can submit only ONE proposal this special funding cycle.
If unsuccessful, you will be informed by email in August 2017. Funds will be distributed to grantee partners latest by September 2017.
HOW to APPLY
Thank you for your interest! We are no longer accepting applications for this special grant round.