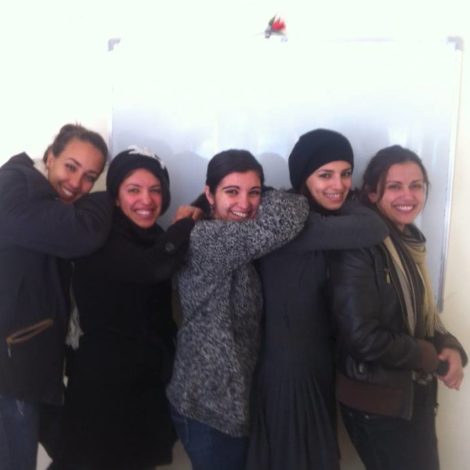 Asurif was created in 2011 emerging from the context of living in a society where a woman is marginalized and discriminated against by the Algerian law (the family code) and the social conditioning in which she grows up. The group's mission is to sensitize people, especially the youth and students, on gender issues and to strengthen leadership through training and valorisation of women's work in rural areas in the larger framework of a rights based approach. They try to open important debates through the feminist mobilization of university-level young women and the empowerment of rural women who work in organic farming by organizing seasonal markets for their produce.
"We were able to organize our first market for women's organic productions in a context where women are not protagonists for such activities. It is their husbands who are responsible for selling their products," they say and consider it as one of their biggest achievements. For the first time in a Kabyle village, for instance, women sold and explained how they produced knowing that majority of visitors and buyers are foreigners.
---
Asurif a été crée en 2011 vu le contexte où nous vivons où la femme est marginalisée et discriminée par la loi Algérienne (le code de la famille) ainsi le conditionnement social dont elle grandit. Notre mission est de sensibiliser et conscientiser surtout les jeunes, particulièrement les jeunes étudiantes sur la question de genre et renforcer le leadership à travers des formations , et la valorisation de travail des femmes au milieu rural dans le cadre de l'empowerment populaire où nous organisons desmarchès saisonniers de leurs productions bio.
Nous avons pu organiser notre premier marché des productions bio des femmes dans un contexte où les femmes ne sont pas pro-tagonistes, leurs maris se chargent de vendre leurs produits, c'est un exploit car pour la première fois dans un village kabyle, les femmes vendent et expliquent comment elles produisent sachant que la majorité des visiteurs et acheteurs sont des étrangers