Bnt Al Masarwa (بنت المصاروة -)
Bnt Al Masarwa is a young feminist band that was established in June 2015. An Egyptian women's group, they seek to produce a women's music in Arabic based on the life experiences of women whose lives are shaped by different circumstances, backgrounds and identities. "We dream of a creative Egyptian society that carries in its memory, a lyrical memory and story that does not capture individuals in social roles, and gives space for individuality and free choice. " Their songs are written in a participatory way through workshops, documenting stories and life experiences, documenting and participating. After songwriting, other stages of song production follows, based on the stories collected and then made available to the public through their song and music.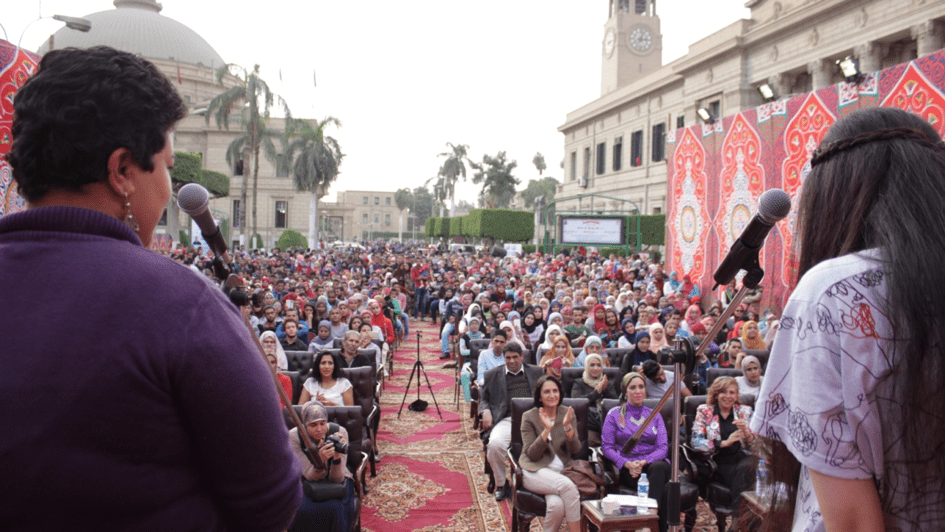 Their first album, Al-Masarwa, was produced by KAFRA for Feminist Studies and Studio Badrum in Alexandria.Their song "Slow and silent", talks about Egyptian women;s experiences with domestic violence, and about the psychological pain the band experienced during this experience. In 2016 and the beginning of 2017, they conducted three workshops in the villages of three governorates in Upper Egypt. Within the framework of these workshops, 34 women participated with parts of their life experiences, where patriarchal and other forms of intersectional oppressions, such as social status, class, religious identity, color, race and family. During this time, they wrote 18 new songs, all based on the stories that the women of Upper Egypt shared through the participatory storytelling workshop. They are now trying to produce ten songs in their second album Mazgouna.