Colectiva Feminista Gordas sin Chaqueta, Colombia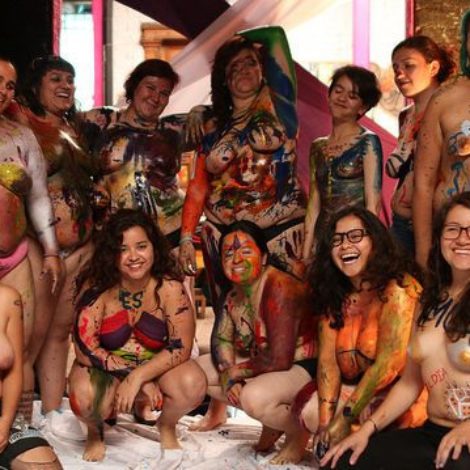 Colectiva Feminista Gordas sin Chaqueta is a feminist social organization that seeks to contribute to the cultural transformation of the violence that is exercised on the bodies of women, as well as stereotypes that reproduce inequality in the context of patriarchy. By 2020, the organization aims to be recognized at local, national and international level for contributing to transforming stereotypes that reproduce violence in the larger patriarchal system.

Internally, the group believes that the greatest success they have had has been to be able to create a space of affection to heal the wounds left by 'machismo' (male violence) in women's lives. Externally, they believe it has been very important to be able to mobilize spaces for meeting, reflection and collective construction of healing and resistance tools among women from the city of Bogotá. They also consider the impact created on others' lives through what they have produced–documentaries, photo museums, workshops, songs, agendas, texts, among others– as aa significant achievement.
---
Somos una organización social feminista que busca aportar a la trasformación cultural de las violencias que se ejercen sobre los cuerpos de las mujeres, así como los estereotipos que reproducen la inequidad basados en el sistema patriarcal. Al 2020 la Colectiva Feminista Gordas sin Chaqueta será una organización social feminista reconocida a nivel local, nacional e internacional por aportar a la trasformación de estereotipos que reproducen la violencia y los esteteoripos basados en un sistema patriarcal.
Internamente creemos que el mayor éxito que hemos tenido ha sido crear un espacio de complicidad y afecto para sanar las heridas que ha dejado la violencia machista en nuestras historias de vida. Hacia afuera, creemos que ha sido muy importante poder movilizar espacios de encuentro, reflexión y construcción colectiva de herramientas de sanación y resistencia entre mujeres de la ciudad de Bogotá. Así mismo, consideramos un logro importante la incidencia que los productos que hemos desarrollado han tenido en la vida de otras compañeras (el documental, el foto museo, los talleres, las canciones, las agendas, los textos, entre otros).