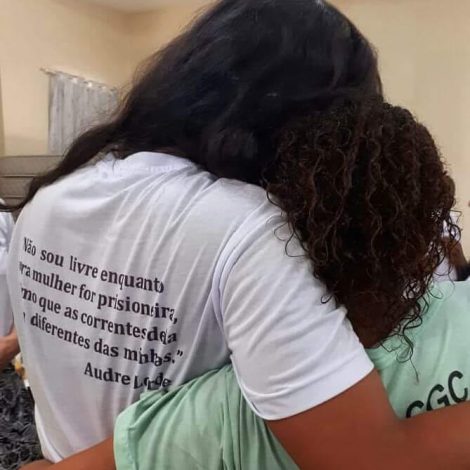 Elas Existem- Mulheres Encarceradas (They Exist- Incarcerated Women) appeared in 2016, and is an intersectional feminist organization, anti-punitive, criminal abolitionist and aims to act on behalf of women who make up the prison system and adolescents childcare system in Rio de Janeiro. The association's main focus is on pregnant, postpartum and lactating women in deprivation of liberty, arrested transsexual women; the entry and exit of the prison system; women deprived of their liberty assisted by the mental-asylum units; adolescents in deprivation of liberty; foreigners in deprivation of liberty; the black women and their relation with the jail. The association fight not only for the improvement of the conditions in the prison, in immediacy, but also for extrication, considering the selectivity of Brazil's criminal justice system, which mainly affects poor black population, and also the specific situation of women's vulnerability in jail, which are invisible and forgotten.

The group members are currently developing workshops aimed at adolescents in compliance with socio-educational measures in the PACGC, which aim to provide them with the means to exercise their creative process, contributing to strengthen their self-esteem and offering them resources that can be used in their life after hospitalization. Through this project, they seek to provide the tools for adolescents to empower themselves and recover their subjective position in life, recognizing their abilities and possibilities in the learning process, valuing the diversity of their identities, and contributing to the improvement of their intramural relationships, by getting involved in collaborations together. So far, workshops of braids and turbans, creative writing, crochet, and mandalas have been held, and there are already workshops on painting, street dancing, among others, regularly organized.
"This project is especially important for us because the workshops are held in weekly meetings, always on Sundays in the morning, and having this permanent contact with them allows us to better understand their demands to think about strategies that best meet them, as well as creating an expectation in them , which have given us a very positive feedback of the activities," they say. In addition, adolescents in conflict with the law are a particularly vulnerable group due to their youth, which relates to other factors such as family, education, work and future prospects.