Grupo De Jovenes Semillas De Libertad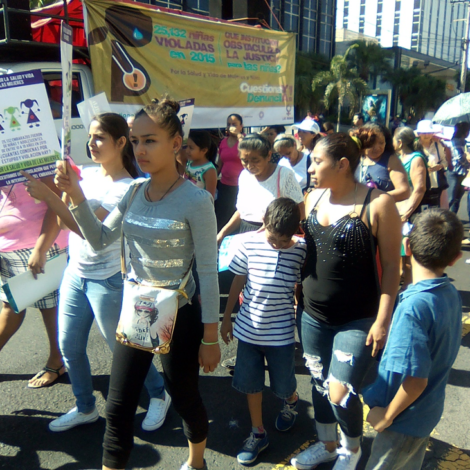 Grupo semillas de libertad (Group Seeds of Freedom) is an organization of diverse young women that works towards realising the full exercise of their rights and the autonomy of their bodies through the construction of political subjects who can fight to break stereotypes established by the hetero-patriarchal system and stereotypes that condition and violate women through the capitalist, neoliberal and patriarchal systems of oppression.
The group's greatest achievement was to participate in actions to mobilize approval for their four central causes. Given the oppression of young women in cultural, economic and religious contexts, encouraging young women -and even their mothers- to participate was a key challenge. However, GSL believes there is still a lot of work to be done, especially on fundamental issues such as young women's sexuality, autonomous control of their bodies, and the spaces they inhabit. On the other hand, in legal terms, there have been considerable advances regarding the four great causes that GSL is fighting for. Local Deputy Lorena Peña was key in passing the Rule of Law Initiative that legalized such causes. Aside from GSL, many other organizations have joined the struggle, such as Alianza por la salud, Colectiva feminista, Las mesoamericanas en resistencia, COINCIDIR, Jóvenes voceros y voceras.
---
Grupo semillas de libertad es una organización de mujeres jóvenes diversas que buscan el pleno ejercicio de sus derechos y de la autonomía de sus cuerpos a través de la construcción de sujetas políticas que luchen por romper con estereotipos establecidos por el sistema hetero-patriarcal que condicionan y violentan a la mujer a través de los sistemas de opresión capitalista, neoliberal y patriarcal.
Su logro más grande es haber sido parte de las acciones de presión y movilización para la aprobación de las cuatro causales por las que luchan. Este fue un reto muy grande ya que lograron que algunas jóvenes y sus madres participaran en dichas acciones a pesar de encontrarse en un país en donde las jóvenes viven en un contexto represivo en el ámbito cultural, económico y religioso. GSL considera que aún hay que seguir trabajando temas fundamentales para las mujeres jóvenes, como el control de la sexualidad de sus cuerpos y territorios. Por otro lado, en lo que a avances en la tribuna se refiere, la diputada Lorena Peña presidió la entrega de la pieza de correspondencia para la aprobación de estas cuatro causales. La lucha no es sólo de GSL, también hay muchas organizaciones que se unen, como: Alianza por la salud, Colectiva feminista, Las mesoamericanas en resistencia, COINCIDIR, Jóvenes voceros y voceras