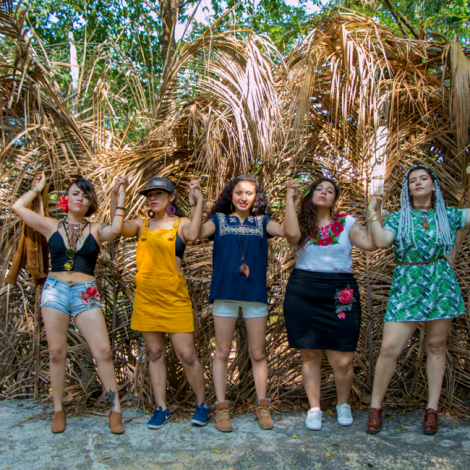 Las Hijas del Rap is an initiative of the hip hop women of the Yucatan Peninsula that began in late 2015. Conformed by dancers, rappers and visual artists, Las Hijas del Rap is a collective of feminist hip hop artists dedicated to use artivism for eradicating gender violence and motivate social action based on art and culture.
The group recently sang at the UN HeForShe event that was held in Mexico city. They were also selected to represent Mexico at the First International Women's Hip Hop Festival in Cuba. "We were able to give workshops, conferences and presentations and share with the artists of the Hip Hop scene in Cuba. It was an experience that enriched us, inspired us and helped us mature as a collective," they say.
---
Las Hijas del Rap es una iniciativa de las mujeres hip hop de la Península de Yucatán que inició a finales del 2015. Conformada por bailarinas, raperas y artistas visuales, Las Hijas del Rap es una colectiva de hip hop feminista que se dedica al artivismo para erradicar la violencia de género e invitar a la acción social desde el arte y la cultura.
Hemos tenido dos maravillosas experiencias: La primera fue cantar en un evento de HeForShe de la ONU en la capital de nuestro país. El segundo fue haber sido seleccionadas para representar a México en el Primer Festival Internacional de Hip Hop Femenino en Cuba. Pudimos dar talleres, conferencias y presentaciones y compartir con las artistas de la escena Hip Hop de Cuba. Fue una experiencia que nos enriqueció, nos inspiró y nos ayudó a madurar como colectiva.