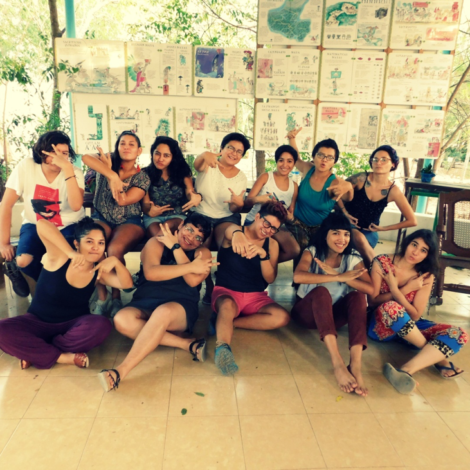 Reflection and Action Feminist is a horizontal collective that has been organizing for 3 years in Merida, Mexico. The group wishes to contribute to eradicating violence and inequality towards women in order to live fully and freely. For this, they facilitate meetings between women who promote the inclusion of feminism in our realities and motivate organizational processes in order to form networks of support between each other. Their group functions through respect and dialogue of sharing positions and ideologies, visualising the violent environment in which they live and collectively building spaces of liberation for women according to their abilities. Some of their activities have been creation and dissemination of a policy of safe spaces, facilitation of conversations and self-defense workshops, organization of bailongos separtistas, lunar rounds and workshops of urban cicilismo for women, marches and interventions of the public space and the accompaniment of safe abortions autogestivos.
"We have made visible feminist issues that had not been discussed in our context previously such as the need for policies of safe spaces in events and places, the organization of separatist spaces for both reflection and fun and the formation of a network of companions of safe abortion in the Peninsula." they say and are happy to be able to achieve all that since its formation.
---
Reflexión y Acción Feminista es una colectiva horizontal que lleva 3 años organizando en Mérida, México. Queremos contribuir a erradicar la violencia y desigualdad hacia las mujeres para poder vivir plena y libremente. Para esto facilitamos encuentros entre mujeres que promuevan la inclusión del feminismo en nuestras realidades y motivamos procesos organizativos con el fin de formar redes de acompañamiento entre nosotras. Nos basamos en el respeto y el diálogo para compartir posturas e ideologías, visibilizar el entorno violento en el que vivimos y construir espacios de liberación para las mujeres de acuerdo a sus capacidades. Algunas de nuestras actividades han sido la creación y difusión de una política de espacios seguros, la facilitación de conversatorios y talleres de defensa personal, la organización de bailongos separtistas, rodadas lunares y talleres de cicilismo urbano para mujeres, marchas e intervenciones del espacio público y el acompañamiento de abortos seguros autogestivos.
Hemos logrado visibilizar y posicionar temas feministas que no habían sido discutidos en nuestro contexto previamente como lo son la necesidad de políticas de espacios seguros en eventos y lugares, la organización de espacios separatistas tanto de reflexión como de diversión y la conformación de una red de acompañantes de aborto seguro autogestivo en la Península.