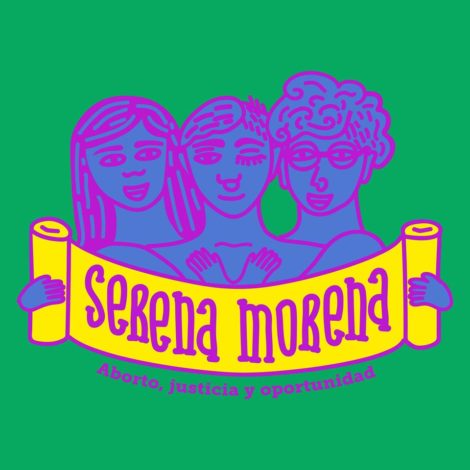 Founded on March 8, 2017, Serena Morena is collective of women who work on advancing women's right to safe abortion and that represents all women who decided to abort. Through their platform, they inform and accompany women who have decided to have an abortion in a safe and free way. At Serena Morena, "we are all women that the state prefers to see dead, in doctor's offices or on battered stretchers." The collective demands the total decriminalization of abortion. ​Serena Morena was born with the sole intention of disappearing someday. Because we are not interested in hiding us, nor in that a project that is born of the death of other women resists to the time, as that would mean that everything remains the same.
At the moment, the group's most relevant achievement has been to have accompanied more than 20 women – in person, by telephone and by email – and contributing to reducing the social stigma that a woman faces who decides not to comply with the maternity mandate in a society accustomed to dominate our bodies.
---
Misión: Serena Morena se fundó el 8 de marzo del 2017. Serena Morena somos todas las mujeres que decidimos abortar. A través de esta plataforma, informamos y acompañamos de manera segura y gratuita a las mujeres que ya decidieron.
Visión: Serena Morena somos todas las mujeres que el Estado prefiere ver muertas, en consultorios o camillas maltrechas. Serena Morena exige la despenalización total del aborto. Serena Morena nació con la única intención de desaparecer algún día porque no estamos interesadas ni en escondernos, ni en que un proyecto que nació de la muerte de otras mujeres resiste al tiempo, porque eso significaría que todo siguiera igual.
Por el momento, nuestro logro más relevante es haber acompañado a más de 20 mujeres –de forma presencial, telefónica y por correo electrónico- y contribuir a la reducción del estigma social al que se enfrenta una mujer que decide no cumplir con el mandado de la maternidad en una sociedad acostumbrada a dominar nuestros cuerpos.