Celebrating feminist pasts, presents and futures!
Today marks the recognition, celebration and honoring of countless womxn--some of whom remain unacknowledged and unnamed-- yet whose work continues to add value to our lives. This year,
as FRIDA goes through a transformation of its own
we want to honour the transformations we go through in the movement(s), as we move through time. Illustration by Perrin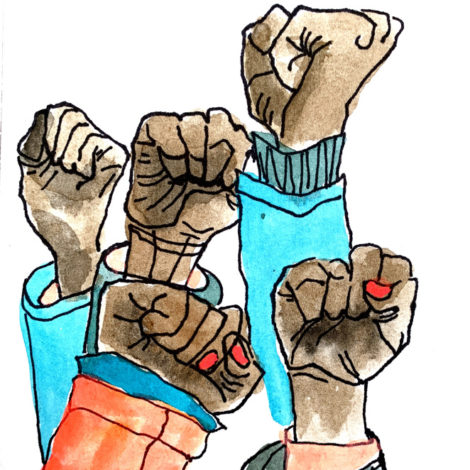 HAPPY IWD2019!
For the last couple of weeks, we have been asking members of the FRIDA community questions about
the past, present and future!
❉ What movements, people or organisations do you want to commemorate during March 8th from your local contexts?
❉ What difficulties and challenges--political, economic, environmental--do you see young women and trans* youth facing in your region right now?
❉ Young feminists are already building alternative and creative visions for the future gnawing at the foundations of the patriarchal global capitalist system. What is your version of the future? What do you imagine the feminist future looks like?
The FRIDA community responded in different ways--with art, poetry, words, pictures and more. Here's all that they said:
FROM THE DESK OF GRANTEE PARTNERS
History has its own way of burying the contributions and presence of womxn.

We must seek to unearth them and reaffirm the importance of being a womxn, celebrating our multiple versions of womxnhood and be comfortable in being identified as one.
✽ A young feminist group that prefers to remain anonymous wished to remind us about a woman forgotten in the pages of history:
"Today, our team pays tribute to Maria Trubnikova. The beginning of the feminist women's movement in the CIS countries is associated with her name. It is thanks to her that women got the opportunity to get a higher education. Maria Trubnikova challenged prejudices that restricted the freedom of women. She was one of the first woman to start wearing pants, encouraging more women to embrace comfortable clothes with no gender attached. Together with fellow members, she organized the Organization of Cheap Apartments and Other Benefits for the needy residents of St. Petersburg, Russia, so that women left without housing could rent decent and affordable housing and earn money to afford living on their own. Maria Trubnikova defended the idea of equality for which she deserves respect! "A great cause cannot come from an evil path" - that was her life motto." (Did you know about Maria? Click here to learn about her.)
They also shared more about the situation of women in society:

Explaining the relevance of 8M, the group says: "In our region, March 8 is celebrated as the International Women's Day, but few people also celebrate it as the International Day of Women's Solidarity and the Struggle for Equal Rights. March 8 for our team is a reason to remind the society and government structures about the place women occupy in it and gradually seek to change this situation."
✽ FRIDA grantee partner, Balance from Kosovo wishes to use today to remind its people of an important woman fighting the stigma faced by sexual violence survivors, especially in conflict ridden spaces.

Last year, Vasfije Krasniqi spoke out publicly against sexual violence in an open letter on her Facebook profile, addressed to the man who abducted and raped her, with the aim of letter empowering others to speak and not to be ashamed. "Everybody knew that a Serbian police officer took me. Everybody knows that you don't take a 16-year-old girl to take a statement. I am not ashamed and I am not afraid. I am going to do my part." We are inspired by Vasfije and countless womxn who speak out against sexual violence. We stand in solidarity with each one of them.
✽ Beautiful Hearts against Sexual Violence , Mongolia has a packed day today. This year, to commemorate International Women's Day, they are going to march at Sukhbaatar Square in Ulaanbaatar city and 21 provinces in Mongolia. "We will be using art-based activism to draw and paint together for women's solidarity wall. We will create artworks in four domestic violence shelters. Each March 8th, they are committed to marching and their activism. "Please accompany us via social media! We will tweet, post and make various stories on 8 of March," they say. Give them a follow on Facebook , Twitter and Instagram !
✽ Here is a poster image shared by Jaringan Melawan Kekerasan Seksual , FRIDA grantee partner in Indonesia:
They say that they imagine feminists in the future who will create a public discourse that is independent, democratic, equal, and creates space for minorities.. "We also hope that solidarity between feminist networks will be more widespread. We poured it into this picture. Why "whatever?" Because for us, every womxn is unique and diverse. We have the right to determine what choices we make for our lives...to marry, or not; to have children or not; wear our hair long or short, wear a hijab or not. We want to move together to build awareness, invite all levels of society to be more respectful of women by not attaching stigma to them and their choices. Whatever the womxn chooses, that is her right. Stop being a moral police!," they say. We cannot agree more!
✽ FRIDA grantee partner from Georgia, StrongGogo , shared their reflections for a feminist future in the form of this beautiful image:
✽ Reflexion y Acción Feminista (RAF) , Mexico shared their affirmations too, along with this heartwarming photo:
Para nosotras, colectivizar día a día, salir a las calles y tomar los espacios que por derecho nos pertenecen es una responsabilidad para con nuestras ancestras, mujeres mayas que defendieron con la cuerpa su territorio, el agua y sus semillas, su cultura y creencias; mujeres brujas, sanadoras en conexión con su cuerpo y entorno. Articulamos, celebramos y reconocemos a las mujeres que antecedieron los movimientos sociales en nuestra ciudad, sobretodo en el movimiento feminista, mujeres amigas con las que actualmente articulamos y construimos otras realidades. Amamos y reexistimos junto a nuestras abuelas, madres, tías, primas, hermanas, amigas, amoras, aliadas y todas las mujeres que comparten el camino con nosotras. Luchamos, resistimos y construimos otras realidades para nosotras y las otras, para que podamos ser libres, para poder vivir. Lo hacemos desde el amor y la alegría. Tenemos derecho a todo. Lo queremos todo. No pararemos hasta tenerlo.
¡Ni un paso atrás! ¡La vida es nuestra! ¡VIVAS NOS QUEREMOS!
[For us, collectivise every day, go out into the streets and take the spaces that belong to us is a responsibility to our ancestors, Mayan women who defended their territory with their bodies, water and its seeds, its culture and beliefs; women witches, healers in connection with their body and environment. We articulate, celebrate and recognize the women who preceded the social movements in our city, especially in the feminist movement, friends with whom we currently articulate and build other realities. We love and re-exist together with our grandmothers, mothers, aunts, cousins, sisters, friends, "amoras", allies and all the women who share the path with us. We fight, we resist and we build other realities for us and others, so that we can be free, to be able to live. We do it from love and joy. We have the right to everything. We want everything. We will not stop until we have it.
Not a step back! Life is ours! ALIVE WE WANT US!]
✽ Colectiva Feminista Gordas sin Chaqueta , FRIDA grantee partner in Colombia, critiqued the overuse of internationally known days like March 8 and November 25, shunning the capitalist pink bows, red roses and congratulations postcards on 8M that inherently reeks of machismo and belittles important feminist work. They remind us to remember our roots: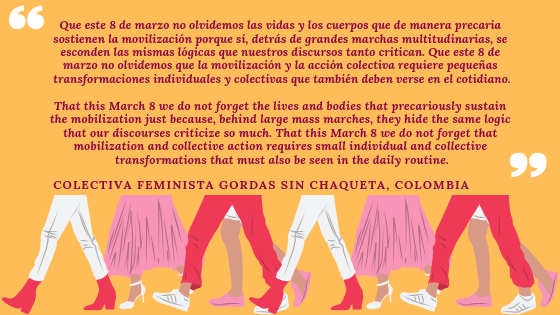 ["That this 8th March we don't forget the lives and the bodies that precariously sustain the mobilization, because yes, behind large mass marches, there is also hide the same logic that our discourses criticize. That this March 8 we do not forget that the mobilization to the collective action requires small individual and collective transformations that must also be seen in the daily life."]
✽ And here is Jovenas Rompiendo El Silencio from Guatemala sharing a picture of the blanket they made with the girls to show their support and solidarity for 8M!
✽ Las Hijas Del Rap from Mexico shared this wonderful illustration:
ADVISORS SAY...
FRIDA girl advisor Ludmila Martínez Catinari from Argentina used art to express her creativity for 8M demands for this international strike of women:
☟
☟
☟
FRIDA advisor Letícia Vieira shared this greeting video to all the women on this day:
"(..) In moments where walls are built, I want to say hello, despite everything, we continue to struggle with resilience and we are going to achieve many achievements. Happy day of international fight of the rights."
POETRY
FRIDA staff members weaved poetry to respond to the questions of past, present and future!
✍Ledys Sanjuan, a FRIDA staff member, poured her emotions in the form of poetry that reminds its readers to remember our ancestors, our roots and take inspiration from it: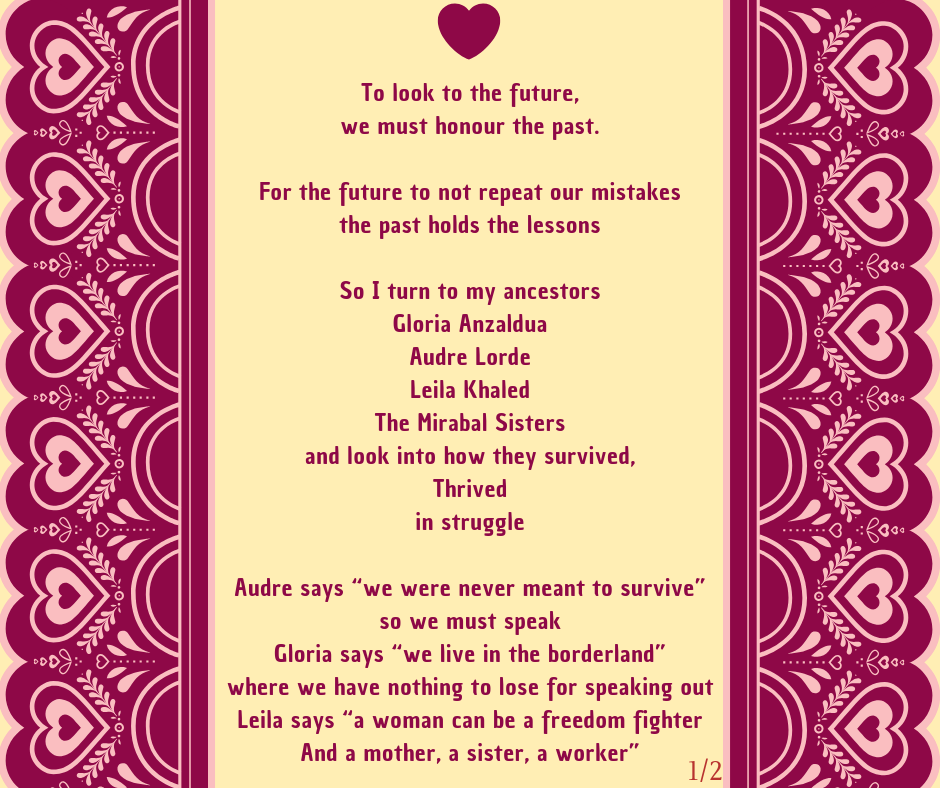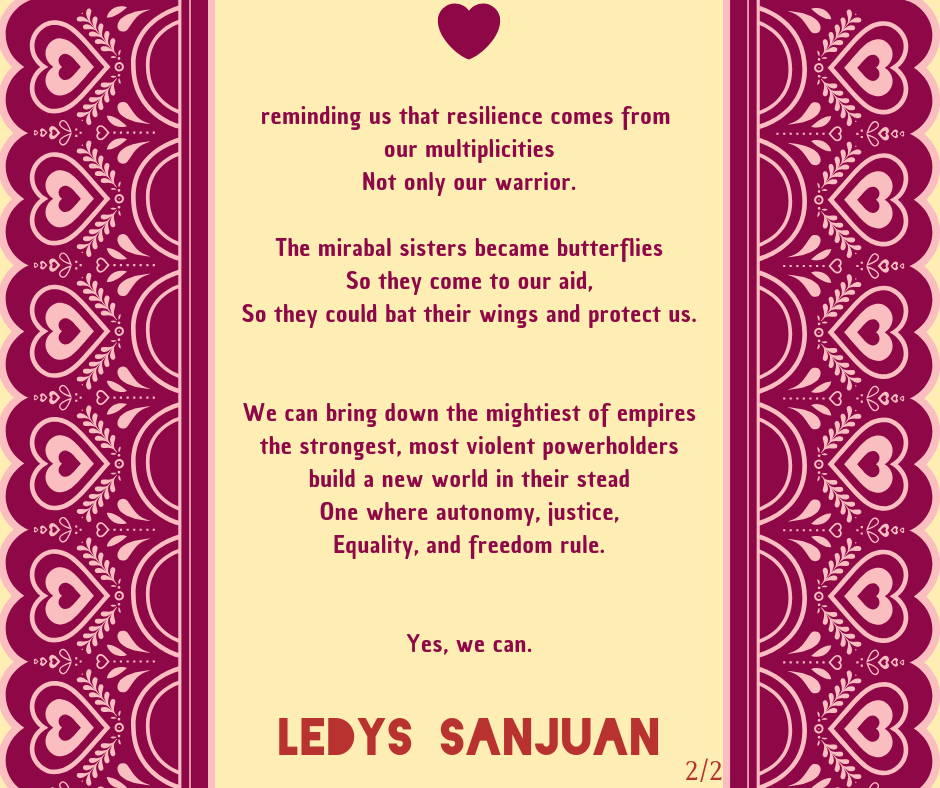 ✍Where do we source our creation from? Who are our ancestors? How do we continue the fight, as strong womxn? FRIDA staff member, Tatenda, who writes as Queen Nzinga, shared some powerful imagery alongside her soul searching words: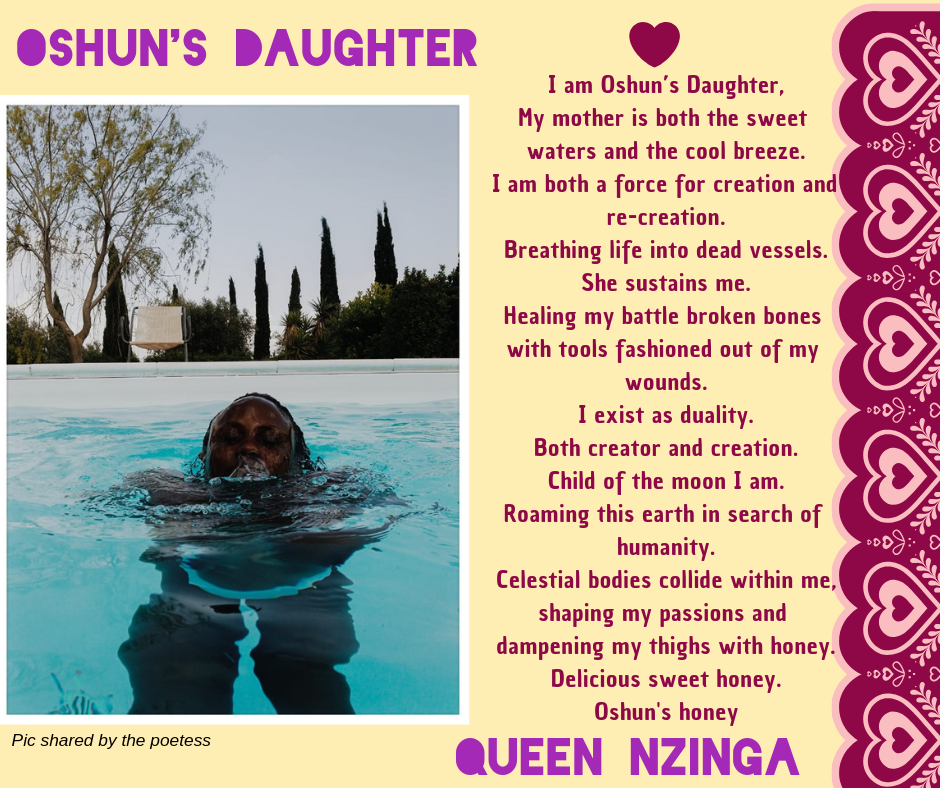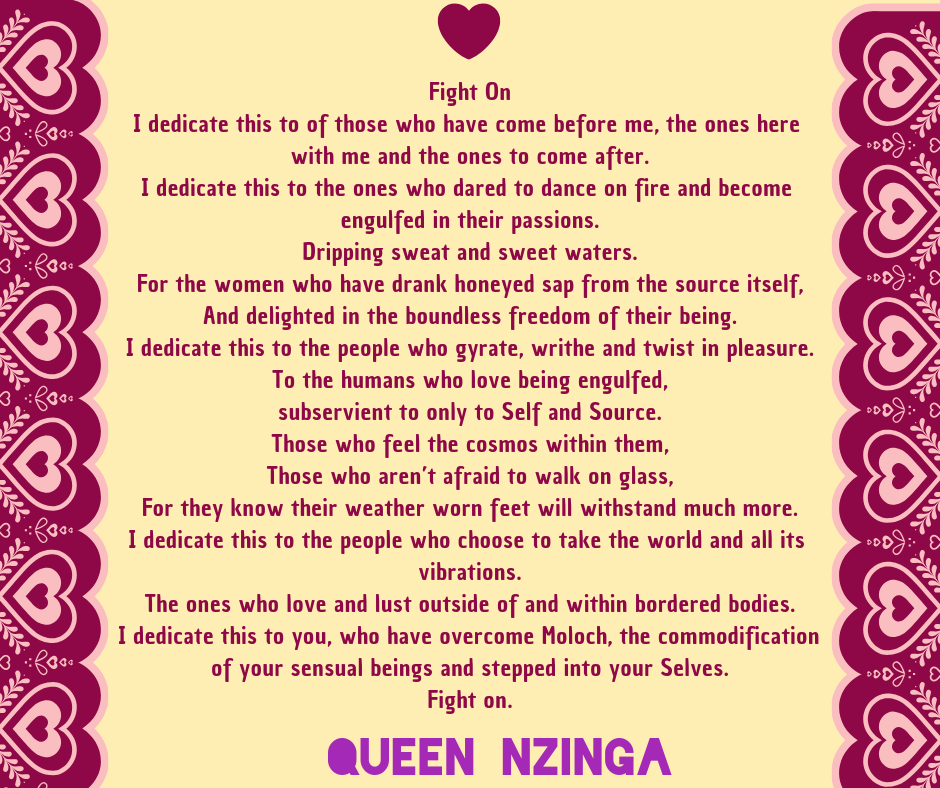 ✍Euge Olmos shares her vision of the feminist future that will be nothing short of revolutionary. In her own words: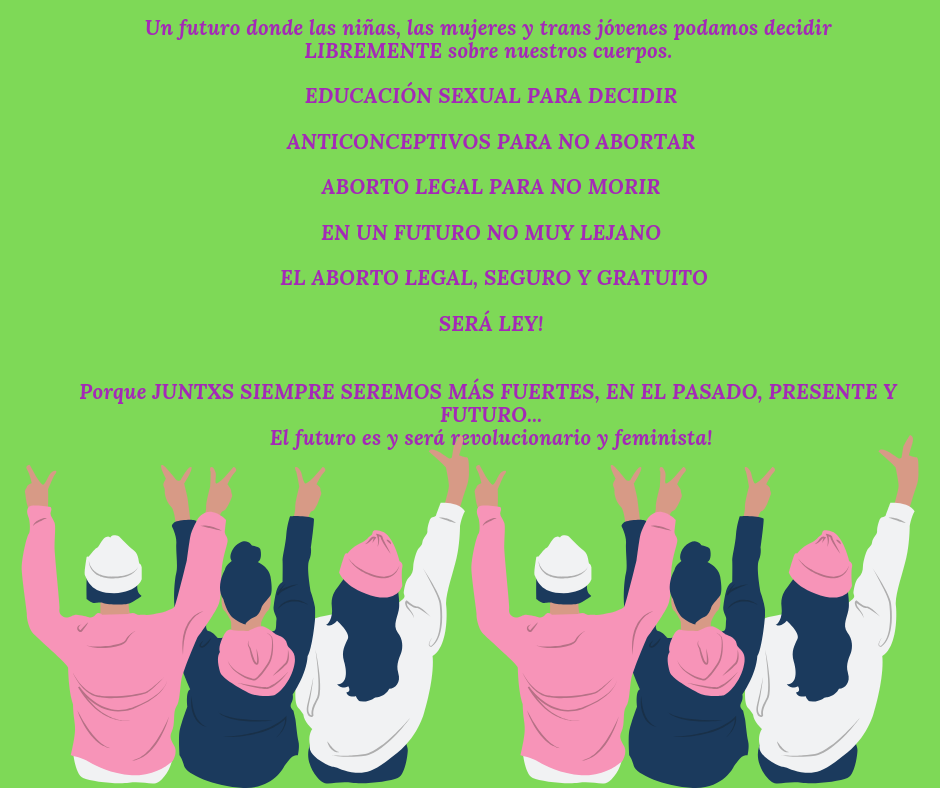 [A future where all the girls, young women and trans youth could decide freely on our own bodies.
Sexual education to decide
Contraceptives to dont abort,
Legal abortion to dont die.
In a not far future the legal, safe and free abortion will be law!
Because together we will be always be stronger in the past, in the present and in the future…
The future is and will be revolutionary and feminist!]
Support FRIDA's network of young womxn!
Did you know that FRIDA is the only youth-led fund exclusively supporting young feminist organzing worldwide? Make your International Womxn's Day extra special by dedicating a donation to a womxn today.