Asia-Pacific Region
Sarah Soysa is a passionate young feminist in the Sexual and Reproductive Health and Rights field with a special focus on Gender. She has completed her Bachelor's degree in Social Work in Sri Lanka and is currently reading for her Master's degree in Gender and Development Studies at the University of Melbourne as an Australia Awards Scholarship recipient. Sarah has extensive experience in the fields of sexual and reproductive health and rights, HIV/AIDS and gender and development. Sarah has worked with national, regional and faith based organizations, such as the International Planned Parenthood Federation, Family Planning Association of Sri Lanka, South Asia Regional Youth Network, Y-PEER Sri Lanka, Young Women's Christian Association, Asia Safe Abortion Partnership, Chibby's Friends, Positive Women's Network and The Grassrooted Trust, to only name a few. She has also worked in a Certified Girls' School as a professional social worker and has conducted research on sexual violence against women in public transportation in Sri Lanka. Sarah is currently working at the Youth Research Centre at The University of Melbourne, Australia, as a Research Assistant involved in development of training curricula for young people. Upon completion of her studies, she hopes to work in the development sector, building capacities of youth and advocating for rights and political participation of young women and other marginalized groups.
Smita Sharma is a freelance researcher and writer based in Kuala Lumpur, Malaysia. Smita studied philosophy and previously held research positions in human rights and the politics of climate change and agricultural reforms. She believes passionately in the power of people coming together to create positive change. She has been involved in feminist and sexuality rights organizing since the age of 17, mostly working in small teams and coalitions to engage new advocates and raise awareness on issues such as women in the media and politics, gender-based violence, civil liberties and socioeconomic inequality. Her current projects include Sejarah Wanita and PopDevRights Malaysia. Smita is especially keen on building young women's leadership and is excited to be part of FRIDA's advisory team!
Tahere Talaina Siisiialafia is a young Samoan woman currently pursuing her Master's degree in Development Studies at the University of the South Pacific (USP) in Fiji and a Master's degree in Social Work at the University of the West Indies in Jamaica. She has been involved in community development since childhood particularly through the Baha'i Faith not only in Samoa but also in Fiji, Canada and Jamaica. When she was 14, she began representing Baha'i youth at the national level, particularly at the National Youth Forums and Youth Parliament in Samoa. In 2010 she was involved in establishing a youth-led social work organization serving socially deprived communities and young people in Suva, Fiji. Tahere was the leader of a debate team at USP at an event organized by UNDP, USP and Pacific Youth Council (PYC) on the Post-2015 Development Agenda. In 2012 she was elected onto the Executive Board for the Pacific Youth Council, a regional platform that serves the needs of young people in the Pacific. She was also selected to be the youth representative on the Development Team of the Pacific Youth Development Framework (still being formulated). Tahere represented PYC at the 58th Session on the UN Commission on the Status of Women and has been appointed as the Global Deputy Focal Point for the UN Major group for Children and Youth for Small Island Developing States (SIDS).
Narisha Karan – Bio coming soon!

Latin American and the Caribbean Region
Ro-Ann Mohammed is a 22-year-old feminist and LGBTI activist. Born and raised in Trinidad and Tobago, Ro-Ann moved to Barbados when she was 18 to attend the University of the West Indies at Cave Hill, where she studied Psychology and eventually co-founded the organization Barbados – Gays, Lesbians and All-Sexuals against Discrimination (B-GLAD), currently the sole youth and women led LGBTI organization in the country. In addition to co-directing B-GLAD, Ro-Ann dedicates her time to working with NGOs and initiatives geared towards the advancement of women and LGBTI people in Trinidad and Tobago. Believing in the intersectionality between the two, Ro-Ann thinks that a feminist voice is critically necessary in the LGBTI movement; this drives her passion to end the underrepresentation of LBT women in LGBT spaces. Dedicated to the advancement of marginalized and stigmatized people, Ro-Ann is currently the facility manager of a local reintegration institute for ex-prisoners, ex-juvenile delinquents and other socially displaced individuals.
Central & Eastern Europe and the Commonwealth of Independent States Region
Anna Nikoghosyan is a 23-year-old feminist from Armenia. Anna is the Executive Director of Society Without Violence NGO, Armenia, a feminist organization working on a range of women's human rights issues; she has been a member of the organization since 2009. Anna has participated and conducted dozens of educational activities and advocacy initiatives on Gender Equality, Women's Leadership, Peace Building, Gender Based Violence, SRHR and LGBTQ rights. Her achievements include participation in the 32nd International Human Rights Training Program in Canada organized by Equitas, in the 58th session of the Commission on the Status of Women in New York City, and in the International Visitor Leadership Program sponsored by the U.S. Department of State. She is a member of the Armenian Coalition to Stop Violence against Women, Young Women's Network in South Caucasus, International Women in Black Movement, AWID, ASTRA Network, and ASTRA Youth. Anna holds a Master's Degree in Human Rights and Democratization; passionate about the eternal fight between human rights, culture and traditions, she wrote her Master's thesis on "Cultural Relativism and Universalism: States Obligations under CEDAW Article 5". Anna speaks Armenian, English, French and Russian, adores music and plays the piano. "I'm in the human rights sphere because I can never stop fighting for an equal, free and healthy society without violence and discrimination," says Anna.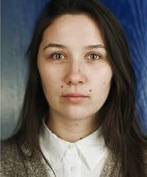 Selbi Jumayeva is a 28 year old from Kyrgyzstan who has been active in her community since she was 16 as a community mobilizer, educator and activist on issues of sexuality, gender, health and rights. She has been primarily engaged in activism as LGBTIQ ally advocate (and has been an active member of the LGBTIQA organization Labrys for 10 years now). In 2009, Selbi became active in anti-violence (focus on sexual violence) campaigning as an organizer, reaching hundreds of people through performances, public art installations, interventions and marches. In 2012, Selbi and her activist friends started Bishkek Feminist Collective SQ (a FRIDA grantee partner in 2013-2014). Selbi holds a Bachelor's degree in Sociology from the American University of Central Asia and a Master's degree in Human Rights from the University of Essex.
Arian Kajtezović was born in 1986 in Croatia. Arian holds a teaching degree in mathematics and physics and a master degree in computer science and mathematics. Arian spent many years living in Canada working on awareness raising and empowerment of youth of various gender identities, gender expressions and sexual orientations. Arian also lived, studied and worked in Bosnia and Herzegovina. In 2010, Arian moved back to Croatia where he has been actively working on advancing trans* rights since 2011. In early 2012, he was involved in the founding of Trans Aid, an organization primarily focusing on the rights of trans*, inter* and gender variant persons. Arian is currently one of three Co-chairs of Trans Aid and is involved in most aspects of the organization's work. Arian has been on the Transgender Europe (TGEU) Steering Committee since 2013 and became the Secretary in 2014; he is also part of the core team behind the newly formed Trans* Network Balkan. He aspires to dedicate much of his life to working to achieve and ensure the highest standards of human rights for persons of all gender identities and gender expressions.
Sub-Saharan Africa Region
Tatenda Muranda is a Pan-Africanist and a self-identified suit in a feminist activist. She is a co-founder of HOLAAfrica! and has worked with a number of human rights organizations, including the Human Rights Advocacy Centre in Ghana and the Commission for Gender Equality in Johannesburg, South Africa. Her interests lie in human rights (particularly women's access to socio-economic rights), development finance and social entrepreneurship. She currently lives in Johannesburg, South Africa, where she works in private equity and is an active member of the Mahogany Educational Trust where she coordinates the mentorship program.
Thematic Advisors
Camaro West is a passionate activist from St. Kitts and Nevis living in Canada. A self-described dreamer and un-cautious optimist, she has a Master's degree in International Development with a focus on Gender and Development. Following her studies, Camaro spent time in Ghana working as a Gender Advisor for the Ghana YMCA and has remained actively engaged in promoting women's rights globally. She is a member of the CatchAFyah Caribbean Feminist Network, an active blogger and former Global Outreach Director for Girls' Globe, an international women's rights advocacy and awareness organization. Having worked for a small Canadian non-profit providing funding to community development projects throughout Latin America, Camaro also brings her grant-making experience to the team. Camaro is particularly interested in the area of young women's leadership and feels strongly that grassroots feminist activists are powerful agents of change. She is thrilled to be a part of the FRIDA team, helping to raise the voices of young feminists and building their capacity to do their work.
To see our entire Advisory Committee,

click here

.