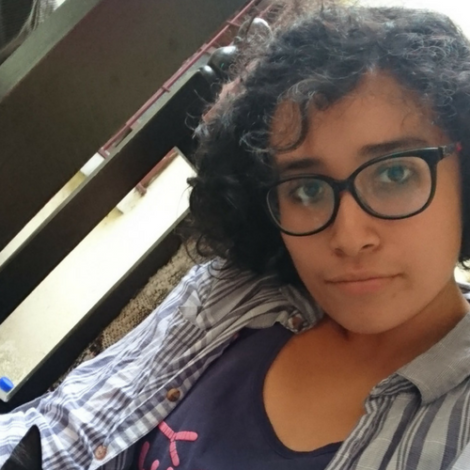 Patronus: Butterfly, elephant, whale, hummingbird, rat.

Favourite Quote: El día que tengas menos ganas de hacer algo, es cuando más tienes que hacerlo. (anónimo)
Ambar is a feminist activist from Honduras who studied in a bilingual school in Honduras. Ambar lived close to the sea and was born in a region where women's condition was, and continues to be, dangerous in every way, "an irreversible vulnerability" as some would put it. From an early age, she was always a part of small feminist cycles such as Casa Chamana in San Pedro Sula, or the CEMH in Tegucigalpa, but she did not identify herself as a feminist until she was 12 years old, on the Coup d'état of 2009.She is currently studying Archaeology at Universidad de San Carlos de Guatemala while also studying Cinematography in Escuela Casa Comal. Ambar has been part of several courses on gender, equality and feminism, as well as creative writing, script writing, and acting. She has worked in diverse feminist groups, torture preventive and rehabilitation centres, as an assistant and a volunteer, to improve her country as well as women's conditions. Ambar is fluent in Spanish and English.
---
Patronus: mariposa, elefante, ballena, picaflor, rata.
Cita favorite: El día que tengas menos ganas de hacer algo, es cuando más tienes que hacerlo. (anónimo)
Ambar es activista feminista de Honduras que estudió en un colegio bilingüe. Ambar vive cerca del mar y nació en una región en la que la condición de las mujeres era, y sigue siendo peligrosa en todo sentido, una "vulnerabilidad irreversible" podría decirse. Desde joven formó parte de ciclos feministas pequeños, como Casa Chamana en San Pedro Sula o CEMH en Tegucigalpa, pero sin identificarse como feminista hasta los 12 años durante el golpe de estado en 2009. Actualmente estudia arqueología en la Universidad de San Carlos de Guatemala y simultáneamente cinematografía en la Escuela Casa Comal. Ambar ha formado parte de varios cursos de género, igualdad y feminismo, tanto como de escritura creativa, guión y actuación. Ha trabajado en varios grupos feministas, centros de prevención de tortura y centros de rehabilitación y ha sido asistente y voluntaria con el objetivo de mejorar su país tanto como la situación de las mujeres. Ambar habla inglés y español fluido.
} } } }