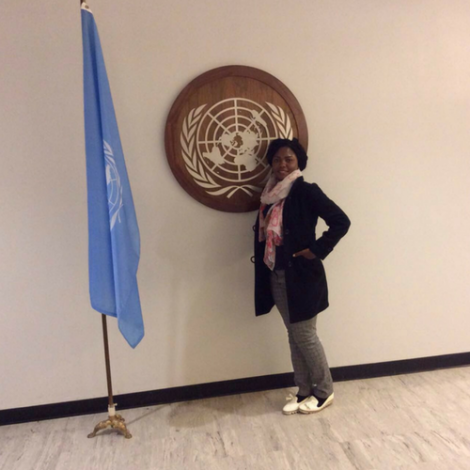 Favourite Quote: The sky is the limit
Nyota is a passionate women's rights activist and has dedicated her life to social justice, conflict transformation and peacebuilding. She is currently the communication manager at La Pépinière a DFID program whose goal is to improve the situation of adolescent girls and young women in the Democratic Republic of Congo. Nyota began her social justice work as a translator/interpreter at the World Social Forum in Nairobi, Kenya in 2007. In 2009 she began working with International Emergency and Development Aid (IEDA) in Goma, Democratic Republic of Congo as well as Norwegian Church Aid, supporting the organizations' peacebuilding work in conflict-ridden eastern Congo. She later returned to Kenya where she worked at FEMNET a pan African-women led Communication and Development network, and at Urgent Action Fund- Africa's grant making program, which responds to urgent needs of women human right defenders. From 2012-2016 Nyota worked as a Fundraising and Communication Manager at Fonds pour les femmes Congolese (FFC), FFC provides small grants; capacity building to women and girls organizations focusing on women's political participation, reproductive health rights, sexual and gender-based violence HIV/AIDS as well as building women's' movement in DRC from the ground up. Nyota has a degree in Business Finance and Accounting and is She is also an IVLP alumny an american program exchange on women's leadership; peace and security. She is fluent in English, French, Swahili and Lingala and tweets as @NyotaSty .
---
Citation Favorite: "le ciel est la limite"
Nyota est une militant passionné des droits des femmes qui a consacré sa vie à la justice sociale, la gestion des conflits et à la consolidation de la paix. Elle est actuellement responsable de la communication à La Pépinière, un programme du DFID dont l'objectif est d'améliorer la situation des adolescentes et des jeunes femmes dans République démocratique du Congo. Nyota a commencé son travail pour la justice sociale en tant que traducteur / interprète au Forum social mondial à Nairobi, Kenya en 2007. En 2009, elle a commencé à travailler avec l'aide internationale à l'urgence et au développement (IEDA) à Goma, en République démocratique du Congo ainsi qu'à l'aide norvégienne de l'église. Tout en soutenant le travail de consolidation de la paix des organisations dans le Congo orienté vers le conflit. Elle est retournée plus tard au Kenya où elle a travaillé avec FEMNET, Un réseau de communication et de développement Panafricains, et elle a travaillé aussi dans le cadre du programme Urgent Action Fund – Africa's grant making, qui répond aux besoins urgents des femmes défenseurs des droits de l'homme. De 2012 à 2011, Nyota a travaillé en tant que responsable de collection des fonds et de la communication chez Fonds pour les femmes congolaises (FFC), FFC fournit de petites subventions et elle travaille pour le Renforcement des capacités des organisations de femmes et de filles axées sur la participation politique des femmes, les droits de santé en matière de procréation, la violence sexuelle et sexiste, le VIH / sida et le mouvement de la femme en RDC dès le début. Nyota est titulaire d'un baccalauréat en finance et en comptabilité. Nyota fait partie du l'IVLP qui est un programme d'échange Américain sur le leadership des femmes et paix et sécurité.
Elle maîtrise l'anglais, le français, le swahili et Lingala et elle tweet comme @NyotaSty.
} } } }