Jenny Lisbeth Domínguez Rivas
Advisor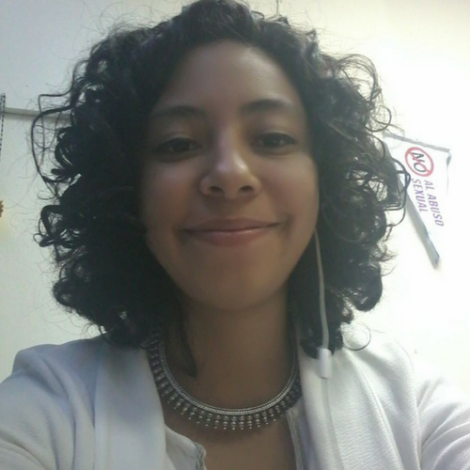 Patronus: CUSUCO o ARMADILLO.

Favourite Quote: Los padres blancos nos dijeron: «Pienso, luego existo»,
y la madre negra dentro de nosotras —la poeta— murmura en nuestros sueños:
«Siento, luego puedo ser libre.» Audre Lourde
Jenny is a sociologist and researcher on gender issues, women's human rights, feminist movement from El Salvador. She is deeply passionate about and committed to work on empowering women who have faced some type of violence and / or gender discrimination. Since 2011, she has participated in Salvadorian feminist women spaces, carrying out protest actions against violence against women by public state agents, lesbian-phobia, positioning of autonomous feminism, etc. Currently, she is pursuing a Postgraduate degree on gender and feminist studies at the UNAM. "I consider that in the violent context I live in, young feminist women contribute to develop peace relationships, mostly, sisterhood relationships through generation of healthy, empathetic and non-dependable ties. I think this is one of the most important points that the feminist movement should prioritise," she says. Jenny is fluent in Spanish.
---
Patronus: cusuco o armadillo
Cita favorite: Los padres blancos nos dijeron: «Pienso, luego existo»,
y la madre negra dentro de nosotras —la poeta— murmura en nuestros sueños: «Siento, luego puedo ser libre.» Audre Lourde
Jenny es socióloga e investigadora de asuntos de género, derechos humanos de las mujeres, y movimientos feministas de El Salvador. Trabaja apasionadamente y con mucho compromiso en el empoderamiento de mujeres afectadas por algún tipo de violencia y / o discriminación de género. A partir desde 2011 ha participado en espacios feministas para mujeres en El Salvador, ejecutando acciones de protesta contra la violencia contra las mujeres por agentes públicos del estado, lesbiofobia, posicionando feminismo autónomo etc. Actualmente asiste a un posgrado de estudios de género y feminismo en la UNAM. "Estoy convencida de que en el contexto violento en que habito, mujeres jóvenes feministas contribuyen al desarrollo de relaciones pacíficas, sobre todo relaciones fraternales a través de la generación de lazos saludables, empáticos y no-dependientes. Creo que es uno de los puntos más importantes que debe priorizar el movimiento feminista", dice. Jenny habla español fluido.
} } } }