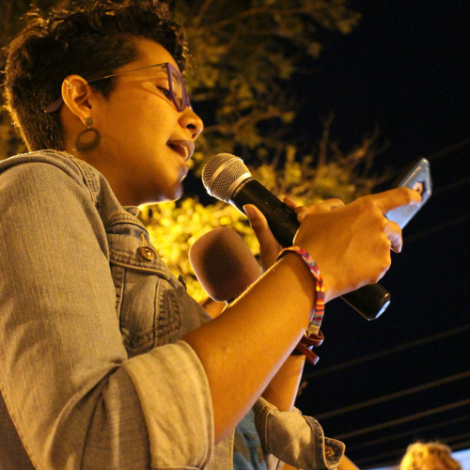 Patronus: Deer
Favourite Quote: "Los padres blancos nos dicen: pienso, luego existo. Pero la madre negra que llevamos dentro -la poeta- nos susurra en nuestros sueños: siento, luego puedo ser libre." Audre Lorde
Judit is a feminist lesbian activist from Managua Nicaragua. Graduated in psychology, with professional experience in research and social communication, she is passionate about photojournalism. She has experience of working as a consultant in various organizations in the field of communications and media, on the promotion of women's and children's rights as well as population at social risk. Currently, Judit is doing her Master's in Gender Perspective and Development and is interested in doing a feminist research on the contribution of de-colonial feminism. "I firmly consider that the feminist movement is the only social force in Latin America and worldwide which is able to sketch the outlines of a new world free of discrimination and inequalities," she says and adds that to address this, we must aim to be have creative, subversive and innovative activisms that challenge capitalist and heteropatriarchal systems. Judit is deeply interested in the study of social movements in the Latin American and Caribbean region and is fluent in Spanish, English and French. She tweets as @juditabarca.
---
Patronus: venado

Cita favorite: "Los padres blancos nos dicen: pienso, luego existo. Pero la madre negra que llevamos dentro -la poeta- nos susurra en nuestros sueños: siento, luego puedo ser libre." Audre Lorde
Judit es activista feminista lesbiana de Managua, Nicaragua. Licenciada en psicología con experiencia profesional en investigación y comunicación social y apasionada del periodismo fotográfico. Además tiene experiencia trabajando como consultora en varias organizaciones en el campo de comunicaciones y medios, la promoción de los derechos de las mujeres y de los niños y de poblaciones de riesgo social. Actualmente, Judit asiste a un máster en Perspectiva de Género y Desarrollo y está interesada en investigar las contribuciones del feminismo descolonial. "Estoy convencida de que el movimiento feminista es la única fuerza social en América Latina y global capaz de bocetar las características de un nuevo mundo libre de discriminación y desigualdades" dice, agregando que para lograr eso tenemos que tener activismos creativos, subversivos e innovadores que desafíen sistemas heteropatriarcales y capitalistas. Judy está profundamente interesada en el estudio de movimientos sociales en la región de América Latina y el Caribe y tiene un alto dominio de español, inglés y francés. Encuéntrala en twitter: @juditabarca.
} } } }