Program Associate (Sub-Saharan Africa)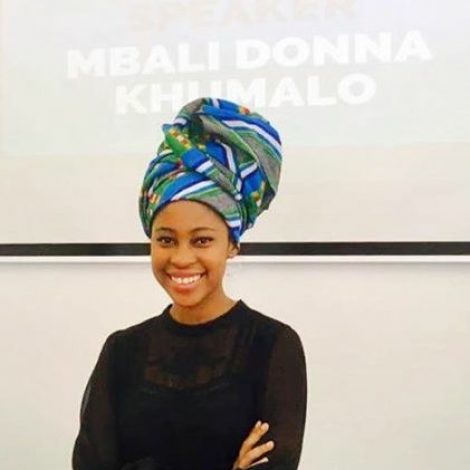 Fav Quote: "As a woman, I have no country. As a woman, my country is the whole world." –Virginia Woolf.
Mbali Donna Khumalo is 25 and although she very proudly hails from Johannesburg, South Africa, she considers herself a citizen of the world. There's nothing quite like exploring the unknown; and as a typical Sagittarius, nothing lights her fire more than travelling, meeting new people and learning something new about life, humanity and self. Mbali has a triple major degree in English Literature, French and Anthropology from the University of the Witwatersrand, and her postgraduate studies include an Honours in Anthropology. She is currently working towards obtaining a Masters in Anthropology. Mbali's first job was working as a national action team leader for V-Girls South Africa, a youth branch of the V-Day organization. She has also served as the National Head of Research and Education for Students for Law and Social Justice (SLSJ). She has been a national spokesperson and steering committee member for the Unite Against Corruption (UAC) campaign, and co-founded a social enterprise (MbalEnhleSis) with her sister in order to donate sanitary towels to young women in her country who missed school because they could not afford to buy pads/tampons during their cycles. She has also loved being a teaching assistant for the first and second year Anthropology classes at Wits University. Other than speaking four of the local languages in her country (isiZulu, English, Afrikaans and Xhosa), Mbali makes a conscious effort to learn French to better understand the Francophone population of Africa. In her spare time, Mbali loves to listen to music, take extraordinarily long walks, talk to friends and family about anything and everything, and dream about the things she'd like to manifest.
} } } }