Senior Communities & Culture Coordinator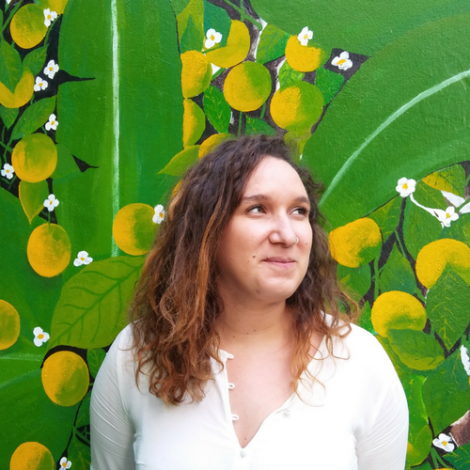 Patronus: Panda
Favourite Quote: "One cannot think well, love well, sleep well, if one has not dined well" : Virginia Woolf
Originally from Morocco, Nadia started out as a researcher. Her need to document and expose pressing realities is what drove her into working on supporting the feminist movement. She did this through research: as a fellow at Temple University, and later as a research assistant for the Moroccan American Center and Tahrir Institute for Middle East Policy. She also did this through writing: for Fair Observer and Free Arabs. And she did this through actions: in her work with The Bussy Project in Egypt, using storytelling and theater as a tool for raising awareness about gender-based violence in Egypt. And now, Nadia is with FRIDA continuing to support other young feminists through her actions and in her role as the Communities & Culture Officer. In her spare time, Nadia likes to read anything and everything, shop for rugs, explore the old medinas in Tunis, hang out at the beach, sample different types of chili around the world, continue my constant search for the perfect cup of tea ("so far Morocco is winning!"), cook/bake, do yoga, go to theater performances, and "watch complicated foreign films". Nadia is currently based in Tunis and is fluent in English, French and Arabic.
---
Patronus: Panda
Citation Favorite: "One cannot think well, love well, sleep well, if one has not dined well" : Virginia Woolf
Originaire du Maroc, Nadia a commencé comme chercheuse. Son désir de documenter et d'exposer les réalités pressantes actuelles, l'ont poussée à soutenir le mouvement féministe. Elle l'a fait à travers la recherche : en tant que Fellow à 'Temple University', et plus tard en tant qu'assistant à la recheche au 'Moroccan American Center and Tahrir Institute for Middle East Policy'. Elle l'a aussi fait à travers l'écriture : pour 'Fair Observer and Free Arabs'. Elle l'a finalement fait à travers ses actions : au cours de son travail avec le Projet Bussy en Egypte, utilisant le théâtre comme un outil de sensibilisation sur les violences basées sur le genre en Egypte. Et maintenant, Nadia travaille avec FRIDA continuant de soutenir les autres jeunes féministes à travers ses actons dans son rôle d'Organisational Associate. Durant son temps libre, Nadia aime lire sur tous les sujets, acheter des tapis, explorer les anciennes médinas de Tunis, passer du temps à la plage, gouter les différentes variétés de chili du monde, poursuivre sa recherche de la parfaite tasse de thé ("jusqu'ici le Maroc vient en tête!"), cuisiner/faire des pâtisseries, faire du yoga, aller au théâtre, et "regarder des fils étrangers compliqués". Nadia est actuellement basée à Tunis et parle couramment Anglais, Français et Arabe.
---
Patronus: Panda
Cita favorite: "Uno no puede pensar bien, amar bien, dormir bien, si no ha comido bien" -Virginia Woolf
Originaria de Marruecos, Nadia empezó como investigadora. Su necesidad por documentar y mostrar las realidades apremiantes fue lo que la llevó a trabajar y apoyar al movimiento feminista; y lo hizo a través de sus investigaciones: primero como becaria en la Temple University y después como asistente de investigación en el Centro Marroquí-Americano y en el Instituto Tahrir para Políticas del Medio Este. De igual forma, la escritura la ayudo a cumplir su meta; escribió para Fair Observer y Free Arabs. Por supuesto, sus acciones también generaron impacto. En su trabajo con The Bussy Project, en Egipto, se sirvió de los relatos y el teatro como herramienta para crear consciencia sobre la violencia de género en ese país. Actualmente, Nadia trabaja con FRIDA y continúa apoyando a otras jóvenes feministas por medio de sus acciones como socia organizacional. En su tiempo libre, Nadia disfruta de leer de todo, comprar alfombras, visitar medinas antiguas. En Túnez pasa tiempo en la playa, prueba diferentes tipos de chiles del mundo; continua su búsqueda para encontrar el mejor té del mundo ("hasta el momento ¡Marruecos va ganando!"); cocina/hornea; hace yoga; va al teatro y mira "películas extranjeras complicadas". Nadia radica actualmente en Túnez y domina el inglés, francés y árabe.
---
الحيوان الروحي: الباندا
قول مأثور محبب: "يستحيل على الإنسان التفكير بشكلٍ جيد، أو الحب بشكلٍ جيد، أو النوم بشكلٍ جيد، ما لم يأكل بشكلٍ جيد" – فرجينيا وولف
ناديا من المغرب أساساً وابتدأت عملها في مجال الأبحاث. تطوّر دعمها للحركة النسوية من إحساسها بالحاجة لتوثيق وفضح الواقع الضاغط. عملت في هذا الإتجاه عبر التركيز على الأبحاث، بدايةً مع زمالة دراسية في جامعة تمبل الأمريكية، ومن ثمّ كمساعدة أبحاث في المركز المغربي-الأمريكي ومعهد التحرير لسياسات الشرق الأوسط. كما لها في هذا المجال عدد من الكتابات في فير أوبزرفر ومجلة العرب الأحرار الإلكترونية. كما سعت لذلك عبر العمل على الأرض، من خلال عملها مع مشروع بصي في مصر مستخدمة المسرح والحكاية لرفع الوعي حول العنف القائم على النوع الإجتماعي في مصر. تعمل ناديا الآن مع فريدا وتستمر بدعم الحركات النسوية الشابة بالأفعال ومن خلال دورها كمشاركة تنظيمية. في أوقات فراغها، تحبّ ناديا قراءة كل شيء وأي شيء وشراء السجادات واستكشاف المدن القديمة في تونس وقضاء الوقت على الشاطئ وجمع أنواع مختلفة من الفلفل الحار من حول العالم، كما أنها ما تزال مواظبة على بحثها الدائم عن كوب الشاي المثالي ("المغرب في الصدارة إلى الآن"). بالإضافة إلى ما سبق، تحب ناديا الطبخ والخبز، واليوغا، والعروض المسرحية و"مشاهدة الأفلام الأجنبية المعقدة". تقيم ناديا حالياً في تونس، وتجيد اللغات الإنكليزية والفرنسية والعربية.
} } } }