Advisor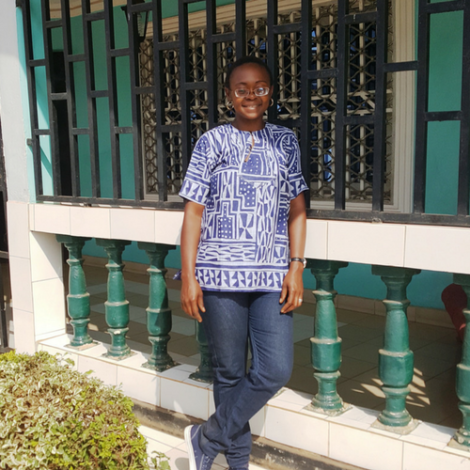 Favourite Quote: "A woman is like a tea bag – you can't tell how strong she is until you put her in hot water" – Eleanor Roosevelt
Roseline is passionate about the socio economic empowerment of women, especially the girl child at grassroots level and the education of children. She works for a Swiss charity in Cameroon, coordinating education, gender empowerment and environmental projects. She is co-founder and board member of "Enfance Cameroon", a franco-cameroonian project in favor of disadvantaged children of Cameroon. She coordinates the African Youth Alliance Group, a youth-female led organization, empowering women and young girls through the creation of clubs to challenge unjust policies affecting their lives and improve their skills through peer mentoring and leadership. She holds a Masters Degree in Marketing and Finance from the Catholic University of Central Africa. Based out of Cameroon in the Sub Saharan Africa region, Roseline is fluent in French and English and tweets as @RoselineKamdem.
---
Citation Favorite: "Une femme est comme un sac de thé – vous ne pouvez pas dire combien elle est forte jusqu'à ce que vous la mette dans l'eau chaude" – Eleanor Roosevelt
Roseline est passionnée par l'autonomisation socio-économique des femmes, particulièrement les filles au niveau de base et l'éducation des enfants. Elle travaille pour Suisse Charité au Cameroun dans la coordination pour l'éducation, l'autonomisation des femmes et les projets environnementaux. Elle est cofondatrice et membre du conseil d'administration de "Enfance Cameroon", un projet franco-camerounais pour les enfants défavorisés du Cameroun. Elle coordonne le African Youth Alliance Group. Une organisation dirigée par des jeunes femmes, qui encouragent les femmes et les jeunes filles à créer des clubs dans le but de contester les politiques injustes qui affectent leur vie et de renforcer leurs capacités grâce aux encadrements et l'apprentissage par les pairs. Roseline est titulaire d'une maîtrise en marketing et finance de l'Université catholique d'Afrique centrale. Elle est Basée au Cameroun dans la région de l'Afrique subsaharienne, Roseline parle couramment le français et l'anglais et elle tweet comme @RoselineKamdem.
} } } }