Board Member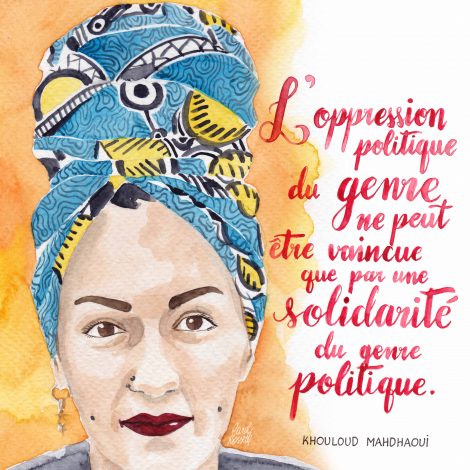 Khouloud is a Tunisian journalist, based between Tunis and Paris. She's a camerawoman and audiovisual activist as well as a founding member and president of the feminist LBT organization Chouf, in Tunisia. She was elected as Women Secretary Alternate of ILGA during the last international submit in Mexico. She is also the founder of Chouftouhonna in Tunis, which is the first international feminist art festival in the region. At an academic level, Khouloud is part of Kohl, a journal for body and gender research advisor board. Those different qualifications allow her to benefit from many skills and shares. Added to her ability to speak Arabic, French and English and her very good understanding of Spanish, it gives her the opportunity to lead from the front of many projects – videos and photos mainly. All of which aim to fight against discrimination based on gender and sexual orientation. Through her work she questions and deconstructs permanently roles and norms imposed on women by the various patriarchal societies. Besides she is an also fervent boxing amateur and writes erotic short novel when she has time.
---
Khoulod est une journaliste tunisienne basé à Tunis et Paris. Elle est photographe et activiste audiovisuel et fondatrice et présidente de l'organisation féministe LBT Chouf en Tunisie. Elle a été élue secrétaire d'ILGA lors de la dernière présentation internationale au Mexique. Elle est également le fondatrice de Chouftouhonna en Tunisie, qui est le premier festival international d'art féministe dans la région. Au niveau académique, Khouloud fait partie de Kohl, une magazine de recherche de corps et de genre. Elle parle l'arabe, le français et l'anglais et a une très bonne compréhension de l'espagnol et elle a mené de nombreux projets – principalement des vidéos et des photos. Ils visent à lutter contre la discrimination fondée sur le sexe et l'orientation sexuelle. Grâce à son travail, elle déconstruit en permanence les rôles et les normes imposées aux femmes par les diverses sociétés patriarcales. Elle est aussi une amateur de boxe et elle écrit des romans érotiques quand elle a le temps.
---
Khoulod es una tunecina periodista, que reside entre Túnez y París. Es camarógrafa y activista audiovisual así como socia fundadora y presidenta de la organización feminista LBT Chouf, en Túnez. Fue elegida Mujer Secretaria Sustituta de ILGA durante la última cumbre internacional en México. También es fundadora de Chouftouhonna en Túnez, que es el primer festival feminista internacional de la región. A nivel académico, Khouloud forma parte de Kohl, una revista de investigación de cuerpo y género, en el consejo asesor. Estas cualidades tan variadas, le permiten beneficiarse de muchas habilidades y valores. Sumadas a su capacidad para hablar árabe, francés e inglés y a su buena comprensión del español, es capaz de dirigir desde primera línea muchos proyectos; vídeos y fotos principalmente. Todos ellos con el objetivo de luchar contra la discriminación por razones de género u orientación sexual. A través de su trabajo cuestiona y deconstruye permanentemente los roles y las normas impuestos a las mujeres por las distintas sociedades patriarcales. Además, es boxeadora ferviente y escribe novela erótica breve cuando tiene tiempo.
---
خلود صحفية تونسية تبلغ من العمر، تتنقّل بين تونس وباريس. خلود مصّورة وناشطة سمع-بصرية، كما أنّها عضوة مؤسسة ورئيسة في شوف، منظمة نسوية لمثليات وثنائيات ومتحولي/ات الجندر والجنس في تونس. وقد انتخبت أمينة نسائية مناوبة لإلغا خلال مؤتمر إلغا الأخير الذي عقد في المكسيك. كما أنها مؤسسة شوفتوهنّ في تونس، أول مهرجان فني نسوي دولي في المنطقة. على الصعيد الأكاديمي، خلود عضوة في المجلس الإستشاري الخاص بكحل، مجلّة لأبحاث الجسد والجندر. إنّ هذا التنوّع يتيح لخلود الإستفادة من العديد من المهارات والقدرات. بالإضافة إلى ذلك تتقن خلود اللغات العربية والفرنسية والإنجليزية وفهمها جيد للغة الإسبانية، مما يخوّلها المشاركة في قيادة عدد من المشاريع – مع التركيز على الفيديوهات والصور – المتمحورة حول مكافحة التمييز القائم على نوع الإجتماعي والميول الجنسية. من خلال عملها، تسعى خلود لتحدي وتفكيك الأدوار والأعراف المفروضة على النساء في ظلّ المجتمعات الأبوية. من جهة أخرى، تهوى خلود ممارسة الملاكمة وتكتب قصص شبقية قصيرة في أوقات فراغها.
} } } }