Young women and girls around the world shouldn't just be a cause to donate to or an issue to vote for; we should be the ones making the decisions on how our world should change. Applicants work together to determine how FRIDA's grantmaking funds are allocated, and what the best strategies are towards making our world more just and equitable.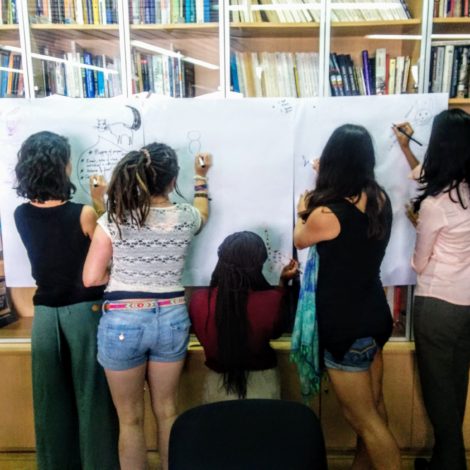 Our model
FRIDA uses a participatory grantmaking process that puts decision-making in the hands of young feminists themselves. Through this model, we are changing power and relationships in philanthropy.
After grantee partners submit an application, they are invited to vote for which proposals get funding. FRIDA's staff and team of advisors ensure that grants are awarded through an open and transparent review of applications. This means that young feminists, deeply connected to on-the-ground realities and their constituents, decide what strategies are needed and what should be implemented with the resources available.
Changing narratives
We want to be a "go-to" source for knowledge on young feminist activism and we are doing that by changing the rhetoric of impact. Through our programs, we gather and have access to a wealth of information on the issues that young women and trans* youth consider to be their main priorities as well as the strategies, practices, and tools that young feminists are using to create change. We want to share this knowledge so that donors, governments, and other decision-makers can be more responsive to the needs of activists on the ground.
Furthermore, through our monitoring, evaulation, and learning systems and commission cutting-edge research projects in order to track the success stories, current trends, and systemic challenges. With this evidence, we can prove young feminist organizers are critical leaders in reducing inequality, poverty, and discrimination.
MORE & BETTER RESOURCES
Through promoting new models of philanthropy and sharing our knowledge, we want to see an increase in the quantity and quality of resources available for young feminist organizers.
Furthermore, we amplify the contributions of young feminist organizers through creative communications, provide advice to those who want to meaningfully engage with young women, girls, and trans*youth, and spark initiatives on how to be a resource ally to the young feminist movement.