Resourcing Young Feminists
When young women, girls, and trans*youth come together, they can create lasting change. FRIDA partners with young and emerging feminist organizations to help them make the most impact on their communities possible. The groups we support are dismantling patriarchy, addressing human rights violations, and overturning inequalities.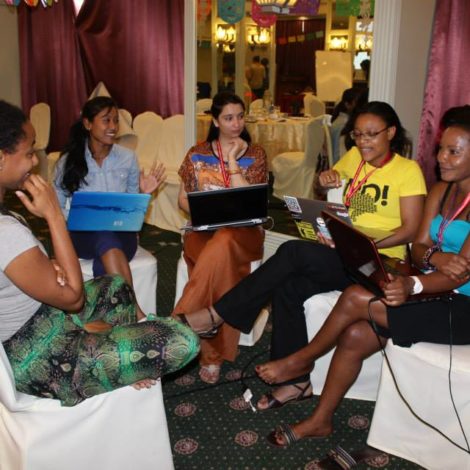 Flexible Funding
In order to respond to the funding gap felt by the growing number of young feminist organizers worldwide, FRIDA provides small grants to newly established groups in the Global South.
Using a participatory grantmaking model, our core grants are awarded as flexible funds and core support, which allows groups to define their own budgets and dedicate funds to where it is most needed - whether it is for renting meeting space, buying supplies, or compensating staff.
FRIDA is bold and willing to take risks and support emerging forms of organizing and unregistered groups that show the potential to make impact and that are pressing on, despite restrictive and repressive environments.
AMPLIFYING DIVERSE IMPACT
As part of our values, we aim to reach and support a diverse range of grantee partners. Priority is given to groups composed of and/or working with marginalized populations, with little or no access to funding from larger donors.
FRIDA is interested in supporting creative and innovative strategies, including art, music, culture, poetry, and social media. We've funded organizers in Mexico working for women's and LGBTQ rights, who led self-defense classes and put on periodic art performances and installations to inform the general population about how gender violence results in hate crimes against women in their area. In Turkey, FRIDA grantees organized a massive campaign on HIV+/AIDS through 42 cities. A FRIDA grantee partner in Mozambique organized life skills trainings, judicial accompaniment, medical accompaniment and psychosocial support, among others. They plan to establish a transit centre for offering temporary shelter to their clients and have trained other members who work as activists in the community.
FRIDA's grantee partners bring social justice to their communities through four major lenses: 1) Raising individual awareness, 2) Increase equitable access to resources and services, 3) Transform the legal & policy environment, and 4) Transform social values, practices and norms.
Funding + model
In addition to providing financial support, FRIDA provides opportunities for learning, linking and leadership.
In becoming a FRIDA grantee partner, young feminists have access to special online platforms, an accompaniment program, webinars, and additional funds to invest in their own organization's capacity development, from finance trainings and registration fees to hiring consultants and buying equipment.
Our latest publication, The Resource Mobilization Toolkit , is meant to act as a guide and referral to youth-led initiatives, especially small-scale startup groups from the Global South, who are new to the movement. It provides additional tools, tips and tricks about how to mobilize resources to advance our activism!
Catalyzing Movements
We recognize that young feminist groups acting in isolation are not as effective and efficient as they could be if they are part of larger connected actions.
WATCH THE MAGIC
What happened when 50 young feminists from FRIDA's community of grantee partners, advisors, staff and board from the Central Eastern Europe, Caucasus and Central and North Asia (CEECCNA) region came together in Tbilisi, Georgia?
Watch this video to relive a powerful experience!
Grantee partners
Check out the work of some of grantee partners below. Click here to learn about them all!