FRIDA's 8th call for applications closed on May 4, 2022. FRIDA provides core, flexible funding for emerging grassroots groups led by young girl, women, trans and/or intersex feminists working in alignment with FRIDA's principles. Groups can apply for a grant of USD 6,000 which can be used over a period of 12 months for general support and/or projects and is open to renewal. 
WHO SHOULD CONSIDER APPLYING?
You should consider applying for FRIDA funds if:
Your groups or collective is led by young women, girls, trans and/or intersex youth, aged 30 and under. In order to be eligible for a FRIDA grant, at least 70% of your organization's membership needs to be women, girls, trans and/or intersex youth under 30 and the leadership in the group and/or the individuals with decision making power need to be young women, girls, trans and/or intersex youth under 30. 
Your group, network or collective is based in West, East, South, Central Africa; South, Southeast, East Asia and the Pacific; South West Asia and North Africa, Latin America,; the Caribbean and Central, Eastern Europe and Central and North Asia
Your group is working towards improving the lives of young women, girls, trans and/or intersex youth at local, national, regional or international levels
You believe and exhibit inclusive organizing and collective action and feminist movement building.
FRIDA currently supports 300+ grantee partners, having welcomed 97 new groups from 79 countries in 2022. To read more about the latest cohort, please view this mini zine available in English, Portuguese, Spanish, French, Arabic and Russian.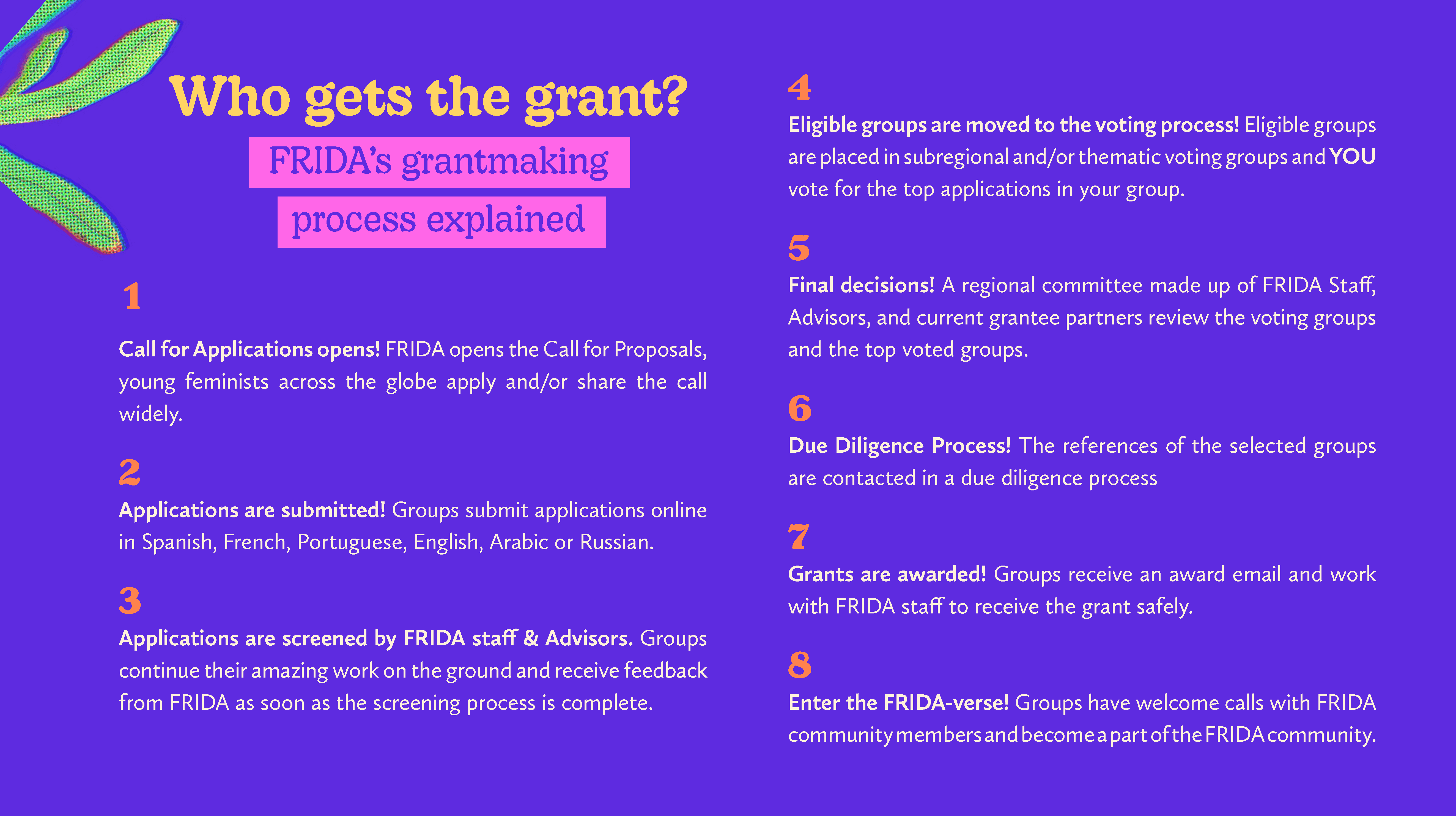 Ready to learn more and apply? ​
We have created Application packs in 6 languages that details more about eligibility criteria, what we seek to prioritize during this grant cycle, important dates and timeline and accessibility notes. Please see more details below:
Please note that the platform has had updates in the last year and you may notice some differences in the questions on the forms or in the design, but how to access and apply remain very similar. 
You can access the Application Form in .pdf here if you would like to check the questions before applying. Please note that all applications must be submitted on our grantmaking platform. We will NOT accept applications submitted via email. 

To support groups applying from areas with lower bandwidth of WiFi connectivity, we have created a low resolution, summarized version of this application pack available in English, Spanish, French, Portuguese, Arabic and Russian. Please click on each language to access it, if that is the case for your geographical location.
If you have any further questions about anything, we recommend that you read some frequently asked questions (FAQs) here. It is also available in French, Spanish, Russian, Portuguese, Arabic. If your question is not answered there, you can contact us at applications@youngfeministfund.org
All the best!