Maria Eugenia Olmos (Euge)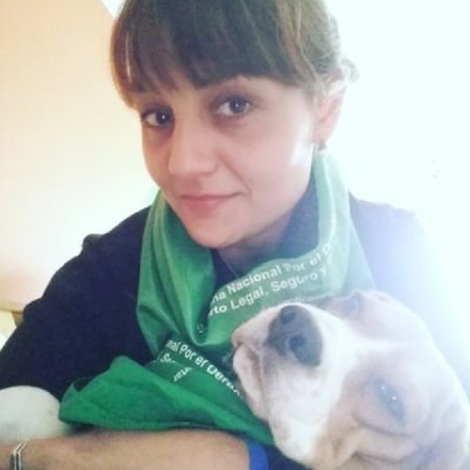 Patronus: Horse
Favourite Quote: "Sororidad es la amistad entre mujeres diferentes y pares, cómplices que se proponen trabajar, crear y convencer, que se encuentran y reconocen en el feminismo, para vivir la vida con un sentido profundamente libertario" Marcela Lagarde
Euge is a feminist activist and a woman human rights defender from Argentina. She has a degree in international relations, a master's degree in development management and is a PhD student at the Department of Gender Studies at the Center for Advanced Studies at the National University of Cordoba, Argentina. Her work experience has largely been with various non-governmental organizations, working in the last 10 years at Catholic for the Right to Decide Argentina. She is currently working with the Ministry of Health at the province of Cordoba, Argentina and as a teacher at the 21st Century University, where she worked together with other colleagues the first subject on gender studies at the University. Euge's expertise include design, project management, resource development, international cooperation and gender. She is deeply passionate about women's human rights, focused on sexual and reproductive rights and violence against women. Euge is fluent in English, Spanish and a little bit of "Portuñol", German and French. She tweets as @meugeolmos.
---
---
Patronus: caballo
Cita favorite: "Sororidad es la amistad entre mujeres diferentes y pares, cómplices que se proponen trabajar, crear y convencer, que se encuentran y reconocen en el feminismo, para vivir la vida con un sentido profundamente libertario" Marcela Lagarde
Euge es una activista feminista y defensora de derechos humanos argentina. Se licenció en relaciones internacionales y tiene un máster en gestión del desarrollo, además está haciendo su doctorado en el área de Estudios de Género en el Centro de Estudios Avanzados en la Universidad Nacional de Córdoba, Argentina. Su experiencia laboral se basa en el trabajo con varias organizaciones no-gubernamentales. En los últimos 10 años ha trabajado con Católicas por el Derecho a Decidir Argentina. Actualmente trabaja con el Ministerio de Salud en la provincia de Córdoba, Argentina y como profesora en la Universidad Siglo 21, siendo, junto a otros compañeros, la primera en trabajar en la temática de estudios de género en esta universidad. Las capacidades de Euge incluyen diseño, gestión de proyectos, desarrollo de recursos, cooperación internacional y género. Trabaja apasionadamente para los derechos de las mujeres, enfocándose en derechos sexuales y reproductivos y violencia contra las mujeres. Euge tiene un dominio alto de inglés, español, tanto como un nivel básico de "portuñol", alemán y francés. Usa twitter como @meugeolmos .
} } } }