Co Executive Director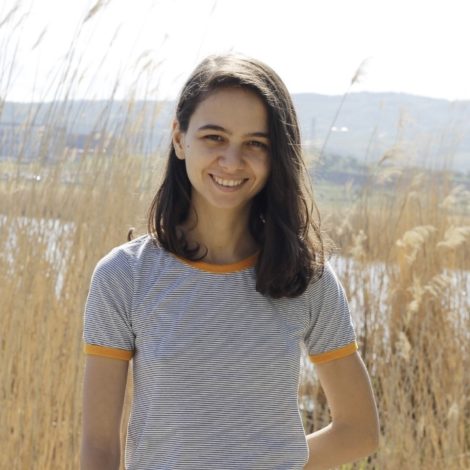 Patronus: Cat.
Favorite Quote: Draco Dormines nunquam titlandus ("never tickle a sleeping dragon" – Motto of Hogwarts).
Nino is a queer feminist socialist and data geek from Tbilisi, Georgia. Since 2013 Nino worked at Taso Foundation – Women's Fund and Memory Research Center in Georgia as the Monitoring, Evaluation, Learning and Development Officer. For nearly 6 years she focused on the development of community philanthropy with leadership of rural and indigenous women and young girls in conflict affected areas of Georgia. Over the last year, she coordinated the research on women's/feminist movement in Georgia. For 4 years now she has been working as external MEL consultant for a number of organizations in Eastern and Central Europe. She has years of experience in youth work and non-formal education at socialist & youth lead organizations. Nino is an Alumna of Robert Bosch Stiftung & MitOst e.V. and was coordinating local alumni ecosystem in Georgia. She studied Sociology and Gender at Tbilisi State University. In her spare time Nino likes cooking for/ with friends and playing board games, spending time with her two cats – Anne and Maru, attending documentary film festivals and reading National Geographic.
---
Patronus: Chat.
Citation préférée: nunquam titlandus de Draco Dormines («Ne jamais chatouiller un dragon endormi» – La devise de Poudlard).
Nino est une socialiste féministe queer et une geek de l'informatique de Tbilissi, en Géorgie. Depuis 2013, Nino a travaillé pour la Fondation Taso – une Organisation de Subvention des Projets pour Femmes et Centre de Mémoire et de Recherche en Géorgie en tant que Responsable du Suivi, de l'Evaluation, de l'Apprentissage et du Développement. Pendant près de 6 ans, elle s'est focalisée sur le développement de la philanthropie communautaire sous la direction des femmes et des jeunes filles rurales et autochtones dans les zones affectées par le conflit en Géorgie. Au cours de la dernière année, elle a coordonné la recherche sur le mouvement féministe en Géorgie.
Depuis 4 ans, elle travaille en tant que consultante externe sur de Suivi, Evaluation, et Apprentissage pour un certain nombre d'organisations d'Europe Centrale et Orientale. Elle a des années d'expérience dans le travail avec les jeunes et l'éducation non formelle au sein d'organisations socialistes et dirigées par des jeunes. Nino est une ancienne diplômée de Robert Bosch Stiftung & MitOst e.V. et supervisait l'écosystème local d'anciens élèves en Géorgie. Elle a étudié la sociologie et le genre à l'Université d'État de Tbilissi. Dans son temps libre, Nino aime cuisiner pour / avec ses amis et jouer aux jeux de société, passer du temps avec ses deux chats – Anne et Maru, assister à des festivals de films documentaires et lire 'National Geographic'.
---
Patrono: Gato.
Cita Favorita: Draco Dormines nunquam titlandus ("Nunca hagas cosquillas a un dragón dormido" – El lema de Hogwarts).
Nino es una feminista socialista queer y genia de los datos de Tiflis, Georgia. Trabajó como Coordinadora de Monitoreo, Evaluación, Aprendizaje y Desarrollo en la Fundación Taso – Fondo de Mujeres y Centro de Investigación de la Memoria en Georgia desde el 2013. Durante casi 6 años, se centró en el desarrollo de la filantropía comunitaria liderada por mujeres y jóvenes rurales e indígenas en zonas en conflicto de Georgia; en el último año estuvo coordinando una investigación sobre el movimiento feminista y de mujeres en Georgia. Desde hace 4 años Nino trabaja como consultora de Monitoreo, Evaluación y Aprendizaje en varias organizaciones de Europa del Este y Central. Tiene años de experiencia en trabajo juvenil y educación no formal en organizaciones socialistas y lideradas por jóvenes. Nino es antigua alumna de la Asociación MitOst e.V. de la Fundación Robert Bosch Stiftung, y fue coordinadora su red de antiguos alumnos en Georgia. Estudió Sociología y Género en la Universidad Estatal de Tiflis. En su tiempo libre, a Nino le gusta cocinar para lxs amigxs y con ellxs, jugar juegos de mesa, pasar tiempo con sus dos gatos, Anne y Maru, asistir a festivales de documentales y leer la National Geographic.
---
Patrono: Gato.
Frase preferida: Draco dormiens nunquam titillandus ("nunca faça cócegas em um dragão adormecido" – O lema de Hogwarts).
Nino é uma socialista feminista queer e entusiasta de dados de Tbilisi, Geórgia. Em 2013, Nino passou a trabalhar na Fundação Taso – Fundo Feminino e Centro de Pesquisa e Memória, na Geórgia, como Diretora de Monitoramento, Avaliação, Aprendizagem e Desenvolvimento. Durante quase seis anos, ela focou o desenvolvimento da filantropia comunitária com lideranças femininas e jovens rurais e indígenas em regiões afetadas por conflitos na Geórgia. No último ano, ela coordenou pesquisas sobre movimento feminino/feminista na Geórgia. Trabalha, já há quatro anos, como consultora externa de monitoramento, avaliação e aprendizagem para uma série de organizações no Leste Europeu e na Europa Central. Tem anos de experiência em trabalho com juventude e educação informal em grandes organizações socialistas e de jovens. Também faz parte do corpo de Alumni da rede MitOst e.V., vinculada à organização Robert Bosch Stiftung, e atuou como coordenadora do ecossistema de alumni locais na Geórgia. Estudou Sociologia e Gênero na Universidade Estatal de Tbilisi. Nas horas vagas, Nino gosta de cozinhar para/com amigxs, jogar jogos de tabuleiro, passar tempo com suas duas gatas – Anne e Maru –, ir a festivais de cinema e ler National Geographic.
---
Патронус (или духовное животное): Кошка.
Любимая цитата: Draco Dormines nunquam titlandus («Никогда не щекочи спящего дракона!» – девиз Хогвартса).
Нино – квирная феминистка – социалистка, а также специалистка по данным из города Тбилиси, Грузия. С 2013 года, Нино работала в Женском фонде и Центре исследований памяти в Грузии, а также в Фонде «TACO» в качестве сотрудницы по мониторингу, оценке, обучению и развитию. В течение почти 6 лет она занималась развитием низовой филантропии при координации сельских и коренных женщин и девушек в регионах Грузии, пострадавших от конфликта. В течение прошлого года она координировала исследование о женском и феминистском движения в Грузии. Уже 4 года она работает консультанткой по мониторингу, оценке и обучению в ряде организаций Восточной и Центральной Европы. Она имеет многолетний опыт работы с молодежью и опыт неформального образования в социалистических, молодежных организациях. Нино является выпускницей Фонда Роберт Бош (Robert Bosch Stiftung) & MitOst e.V. и она координировала местные сети для выпускни_ц в Грузии. Она изучала социологию и гендер в Тбилисском государственном университете. В свободное время Нино любит готовить еду для/с друзьями, играть в настольные игры, а также проводить время со своими двумя кошками Энн и Мару, посещать фестивали документальных фильмов и читать National Geographic.
---
الحيوان الراعي السحري: القط
الاقتباس المفضل: Draco Dormines nunquam titlandus ("لا دغدغ تنين نائم" – شعار هوجورتس)
نينو ناشطة نسوية مثلية محبة للبيانات من تبليسي، جورجيا. عملت نينو منذ عام 2013 في مؤسسة تاسو – صندوق المرأة ومركز أبحاث الذاكرة في جورجيا كمسؤولة عن الرصد والتقييم والتعلم والتطوير. ركزت في عملها فيما يقرب من 6 سنوات على تطوير الأعمال الخيرية المجتمعية بقيادة نساء الريف والشعوب الأصلية والفتيات في المناطق المتضررة من النزاع في جورجيا. خلال العام الماضي، نسقت البحوث حول الحركة النسائية / النسوية في جورجيا. تعمل منذ 4 سنوات كمستشارة خارجية للرصد والتقييم والتعلم في عدد من المنظمات في أوروبا الشرقية والوسطى. لديها سنوات من الخبرة في العمل الشبابي والتعليم غير الرسمي في المنظمات الاشتراكية والشبابية الرائدة. نينو عملت بمنظمات روبرت بوش ستيفتونغ وميت أوست وكانت تعمل على تنسيق النظام البيئي للخريجين المحليين في جورجيا. درست علم الاجتماع والجنس في جامعة ولاية تبليسي.في وقت فراغها، تحب نينو الطبخ من أجل ومع الأصدقاء ولعب ألعاب الطاولة وقضاء الوقت مع قطتيها – آن ومارو، بالإضافة إلى حضور مهرجانات الأفلام الوثائقية وقراءة ناشيونال جيوغرافيك.
} } } }