With so many diverse and unique young feminists making up the FRIDA  community, sometimes it can be difficult to get a clear picture of our collective impact. As we approach this period of growth with increasing grantee partners and team members, it is important to reflect on our contribution to change. To articulate our individual and collective impact we are exploring participatory methodologies to collect information together with our grantee partners. For now, we wanted to share with you a taste tester of the analysis we have done so far…
Looking back – FRIDA grantees
In our first year of grant making, 2012, the cohort of grantees was 15 groups.  Here is a snapshot of the results from their year with FRIDA's support.
The groups were made up of 467 young feminists! This number included more than 30 transgender persons and 23 men and 414 women under 30. Of the 467 young feminists, 133 are sex workers below 30; many are indigenous, lesbians and young women living in difficult socio-economic conditions. All groups have grown their membership exponentially in the last year.
These groups collectively reached out to more than 2,877 young women, transgender youth and girls and organised over 78 events, workshops or activities. 5 groups produced publications or online communications, including the first feminist newspaper in Afghanistan, a book of stories, poems and illustrations of female political prisoners in Colombia, a research piece on discrimination faced by young Muslim women in the Philippines and a blog of young feminists in Philippines – Tumba Lata and a regular newsletter in Hungary – KLIT News. 
The groups worked with high school students; young lesbians; mothers of young lesbians; young indigenous women, including those from Zapatista communities in Chiapas, Mexico; young women seeking abortions; LGBTQ communities; female political prisoners and their families in Colombia; sex workers; activists and young women human rights defenders; young women from rural areas; and young women poets, musicians and visual artists, plus more!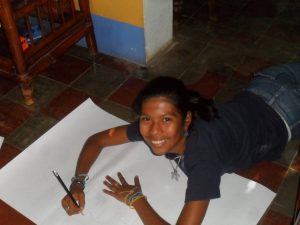 These young feminists are pushing their way from the margins of society to occupy public spaces and demand that their voices are heard. Their work is inclusive andinnovative, shifting power structures, creating deep rooted linkages of solidarity,  sisterhood and transgressing movements. In the coming months, we will share with you their individual stories and the phenomenal collective impact they are having across the globe!