Feminist student movements used the term 'the personal is political' as a political argument and rallying call in the 1960s. Initially a challenge to the nuclear family and family values, the personal is political has expanded to give us the language and the framework to challenge heteronormative, capitalist, and patriarchal systems, values, and institutions that seek to divide, box, and isolate our humanity. Systems, values, and institutions that want to see us one thing – a worker, parent, student, a family member – one at a time.
In our societies 'politics' happen in the public eye and are therefore up for debate. And what happens in private is therefore not 'political' and cannot be challenged. The personal is political is not only a reminder of the consistency of our wholeness and indivisibility of our identities and rights, but it also reminds us that there is no private vs public, that everything is political. We can challenge it and change it.
We are whole at all times, and at FRIDA, we are continually striving for a work environment that sees us as such and allows us to incorporate all that makes us who we are into our mission to enable the resources, support, flexibility, and networks to sustain young feminist visions. We aim to nurture both a working environment and a funding environment that sees and values ALL the different kinds of labor that go into all feminist organizing.
And at the heart of it, we aim to enable the political work of young feminists to challenge and change the world as we know it.
---
Check out some of the tools that FRIDA staff have curated over the years to ensure that our work environment remains rooted in feminist care:
---
For FRIDA staff, living and working through the pandemic was a sharp reminder to care for ourselves. As feminist workers, we set examples of what a healthy, sustainable, and nourished working style looks like in philanthropy and beyond. In 2021, FRIDA entered Core Operations Mode (COM) – an intentional collective tool that centered wellbeing by ensuring that FRIDA's staff and board focused on the core operational components needed to run the organization. In the midst of our current challenges, the most important way of resisting is by centering our collective well-being and questioning what we need to do rather than what we should
Click here to read more about COM
As a fully virtual organization with staff members located across the entire globe, we are committed to feminist principles of work, including individual self-care and collective well-being. Click here to read the principles that help us lead a balanced and satisfying work life.
At the most fundamental level, we feel happiness should be at the center of our organizing. This is particularly true for young feminists who have invested their time, love, energy, and passion into the movement at an early stage of their lives. Over a journey of collective reflections, FRIDA staff found the courage to collectively build, create and consolidate a healthier organizational and community culture. A few years ago, we created a Happiness Manifestx that accompanies us along this journey to hold each other accountable for our individual and collective well-being.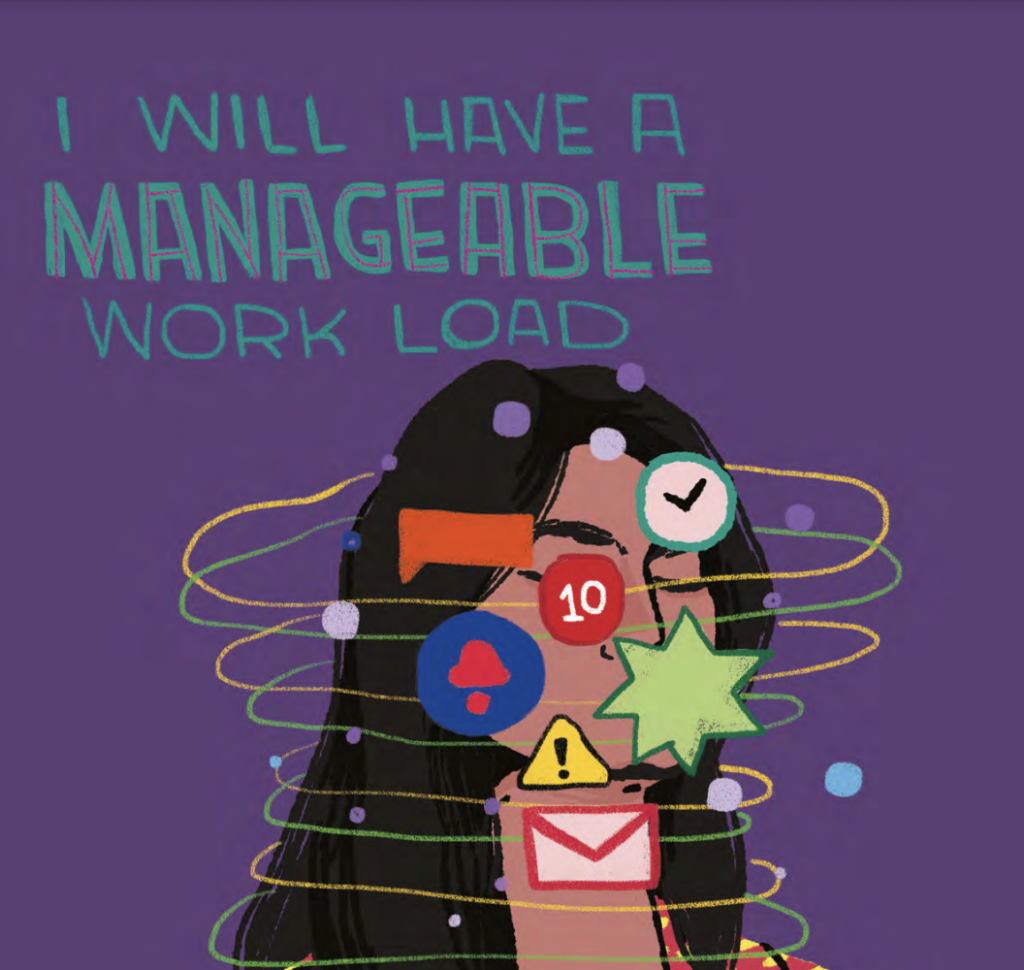 CLICK HERE TO READ FRIDA'S HAPPINESS MANIFESTX
The internet is not a safe place for young feminists. As a totally virtual organization, digital security and holistic care are at the crux of everything that we do. FRIDA staff engaged in a deep reflection process on the technology we use. We worked with cyberfeminist groups, coders and organizations to review, understand and question the apps, platforms, and tech tools we thought were convenient and weighed them against a political context of persecution and suppression of freedom of expression faced by young feminist human rights defenders. FRIDA's Principles to Guide Data and Technology are the result of the collective reflection on what the foundations of our tech and data look like.