There's no doubt that 2020 has been a tough year for all of us. Collectively, we have gone through a lot together. But even as this year refuses to give us a break, there are so many reasons to come together in joy and celebration.
As the first decade of FRIDA comes to an end, we embark upon a new chapter, focused on deepening the work that comes with catalyzing and supporting young feminist activism. Over the past two years FRIDA's team has worked collaboratively to develop a new collective Strategic Plan for the organization for the next five years (look out for more on this later!). With our new website, we are holding space to imagine and manifest a fresh, young feminist reality and honour the rising constellations of this Strategic Framework: flourishing, bridging, co-creating, queering, and moving.

We hope that this new website breathes life into our vision of possibility and transformation – telling our community's stories of resistance earnestly, while looking forward to what is in store for our movements.

---
Behind the scenes: How did we develop the website?
---
FRIDA centers participatory processes in all of its decision making and the development of this website has been no different. This site was a labour of love that centred input from and drew on the strengths of our diverse young feminist community at every critical step, to ensure that we were true to the spirit of FRIDA and conveyed our work and core principles with accuracy.

The vibrant artwork displayed on our new site was developed by Munira Yussuf, a young womxn artist whose work visualises FRIDA's cosmic journey and the richness of our community.

FRIDA recognizes the sexist, racist and ageist wage gap that exists in the tech world, and is deliberate in creating safe, autonomous feminist digital platforms in accordance with our Principles to Guide Data & Technology. In developing this website, we worked with Steffania Paola, a hackfeminist activist and web developer who has been working for a safer and feminist internet. Simultaneously, FRIDA is collaborating with Cl4ndestina, a feminist activist server to support and maintain our new website's infrastructure.

"Inverted Map" or the Hobo-Dyer Projection
FRIDA uses the Hobo-Dyer Projection to display our view of the globe. This map depicts the globe in its actual relative size and positions the Global North (Europe and North America) at the bottom, rejecting the insidious idea of Global North supremacy that we have all come to learn and challenging the subsequent internal biases, rooted in colonial ideals. Our website is a fundamental element in amplifying the work of our Grantee Partners and telling the stories of our community in a transformational way. In our effort to re-imagine a new world, we must acknowledge the ways in which colonial and patriarchal hegemonic ideologies have quite literally shrunk and erased our lands, territories and sense of community.
See the map and learn more about our Grantee Partners, by region here.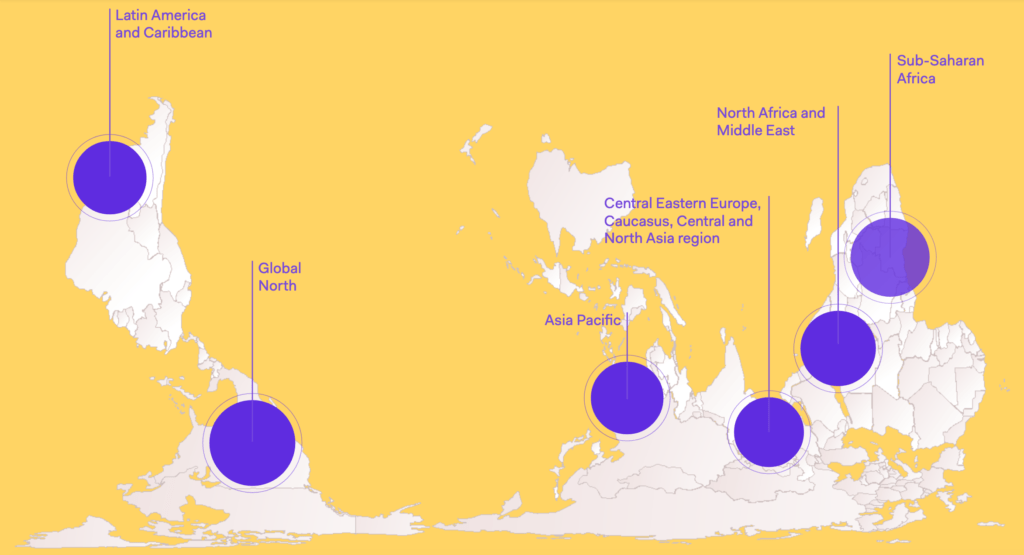 Prioritizing Digital Security and Data Privacy

As a Young Feminist platform, a key element of FRIDA's website has been centering the safety of our community and our data privacy while still documenting and presenting our work. FRIDA's new site has migrated to a new not for profit server that uses green energy from renewable, sustainable sources and free, open software. We chose our new server based on data privacy policies that prioritize protecting our staff and community's information.
Being multilingual

FRIDA is constantly working to do better in ensuring that our resources and platforms are available to all young feminists, everywhere. A large part of that commitment is dismantling English supremacy and making our spaces and platforms accessible to persons with different levels of ability. We are working to ensure that this website is available in all seven FRIDA languages: Arabic, English, French, Mandarin, Portuguese, Russian and Spanish. We are still in the process of building these but they will be available soon! Watch this space.
Accessibility

In developing this new site, we focused on presenting information clearly, concisely and in a way that is easy to navigate. We focused on the use of strong contrast, plain colors and plain text so that information is accessible as possible for people who have visual impairments. Our commitment to having a fully accessible website is a constant and ongoing process, which we are dedicated to continue improving on.
It is our vision that our new website tells the story of this new stage in FRIDA's history FRIDA, while telling our collective story. We offer gratitude to our entire community for its ongoing support and participation and we are thrilled to have you on this journey of young feminist imagining with us. We can't wait for you to see what more is in store!