Too often, we hear that girls are the future of our planet. But girls aren't just the future, but the present too. Their concerns aren't small, their expressions aren't naive. What they have to say is clear, loud and powerful – and they affect a better future for all of us.
As young feminist activists, we are too familiar with being invisiblised, patronised in certain places because of our age. Girl activists possibly face this even more, as their role and knowledge are rarely given equal space. However, it takes them the same amount of courage and bravery as anyone else to speak truth to power. Whether it's advocating for better laws to end forced marriage, breaking taboos to speak about menstruation at school, or creating rock bands and camps to build confidence – girls are already leaders.
Today, on International Day of the Girl (October 11), we celebrate the words, thoughts and voices of some amazing girl activists from around the world.
On being asked what it means to be a girls rights activist in Mozambique, Khensany wrote a poem: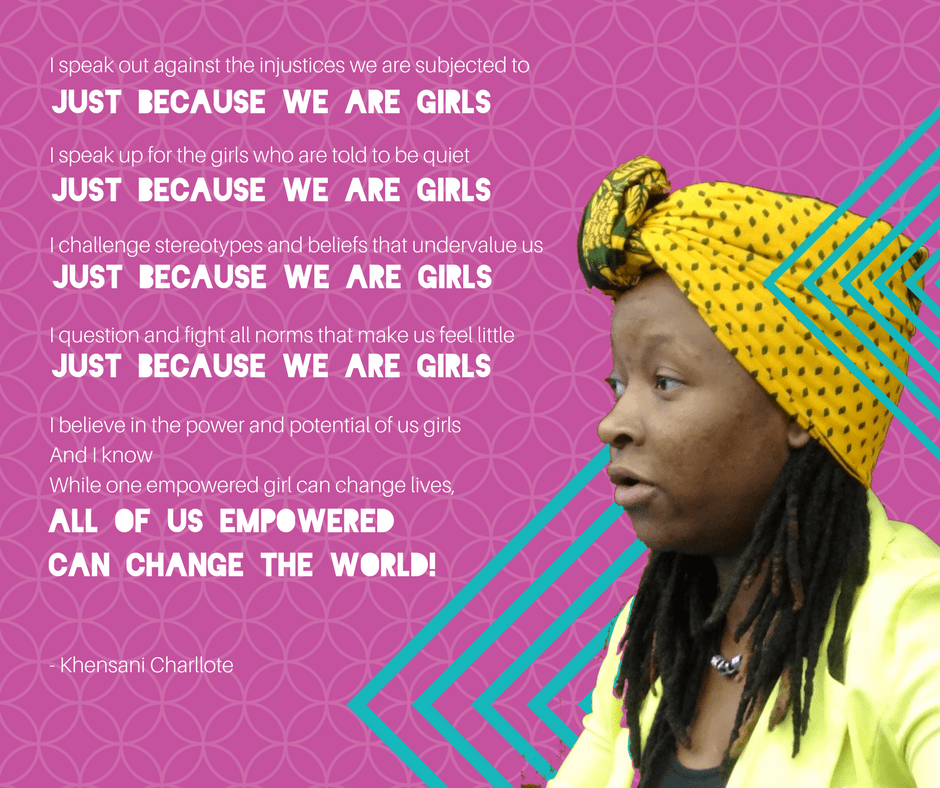 Zhanna from Kyrgyzstan had much to share about her own experience of being treated as "too young" and how she navigates between activism and school: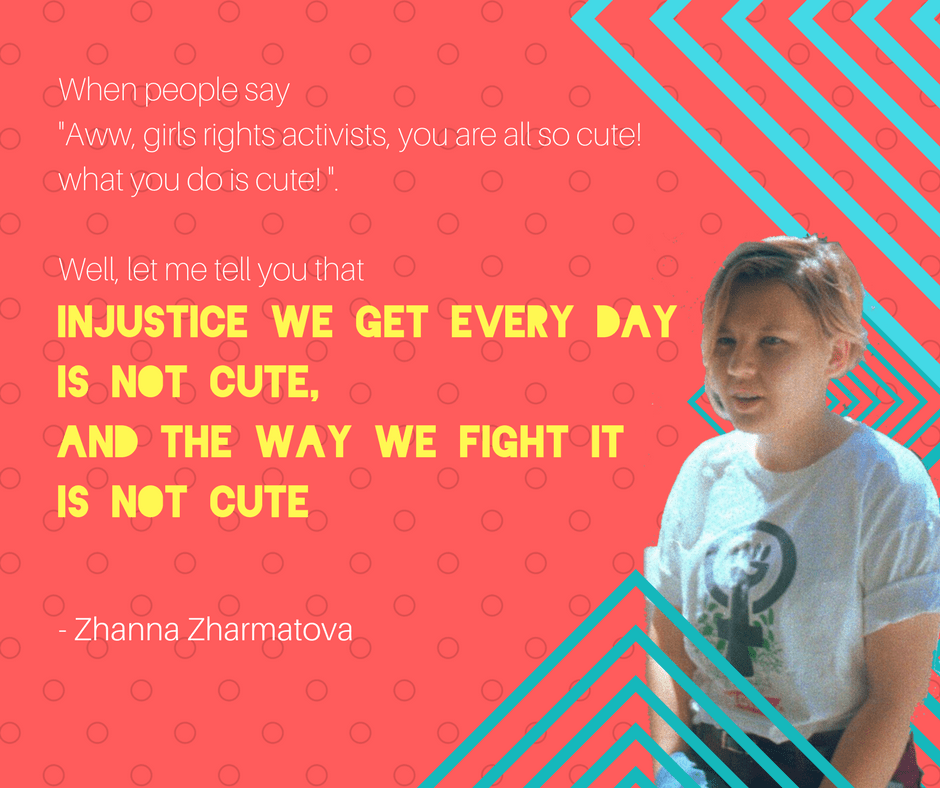 First, being a girls rights activist and activist in Kyrgyzstan or anywhere, is a great thing, because you have a belief that you can change something or at least try to change it. That you fight injustice and not just deal with it. Because you support and empower girls and women, and get that reciprocated. I feel this connection when we are together and fight for justice and equality. And being a girl activist in countries like Kyrgyzstan is a very important thing; we need to raise our visibility, to make our voices heard and do everything for people to know that we are not just growing future incubators in our wombs for giving birth and/or cleaning houses.
I could name hundred reasons why it's not an easy thing–to be a girl activist. I struggle everyday being an activist, still attending high school and being dependent on parents for most things. During my three year engagement with activism, I did face issues at school that brought a lot of stress. As I study in rural school, my school is very patriarchal and capitalist, just like the teachers and students. Some teachers are hateful to me, and spread rumours that what I do (feminist activism) is not right. They call it a different "sect" and see me as a weirdo. So it can be quite difficult to try and gain knowledge in a place full of hate. It's very sad at the same time that people in our country do not understand the word activist, and support these kind of ill-informed rumours.
I also face some struggles in activist circles and movements, when people say "Aww, girls rights activists, you are all so cute! what you do is cute! ". Well, let me tell that the injustice we get every day is not cute, and the way we fight it, is not cute. I can't remember anyone who could say this to an adult feminist activist. "Baby feminist! adorable!" "Is your mom feminist?" This is not something that a teenage activist wants to hear. Or even when you come to feminist event and see that you are the only teenage girl here, and girl activists are not represented at all.
Ghaya explains the activist situation in Tunisia and points at the gendered nature of children's upbringing that actually helps girls identify and recognise discrimination at an early age:
The social environment of girls often threatens their self-esteem by devaluing them. It sometimes determines their submission to the patriarchal oppression and normativity. They are indirectly and frequently taught fear and submission. It goes beyond valuing girls less than their brothers, by asking them to do the dishes, or to clean their mess after them. It is also about giving priority to boys' education over that of girls. According to the studies, when some of the most necessitous families can't afford to give an education to all of their children and have to make a choice, they often choose to educate the boys. Otherwise, regardless of their social class, girls are forced to come home earlier than their brothers, their bodies are policed more, and their choices less respected. In Tunisia, according to the law, women inherit half of what men do. Until the 26th of July 2017, rapists could marry their (underage) survivors to escape a prison sentence (this law has been removed since then, but is revealing of the society's state of mind). Therefore, being a girls rights activist in Tunisia means deconstructing states of minds, empowering girls and making them aware of their rights and abilities, in addition to fighting against the sexism embodied in the laws.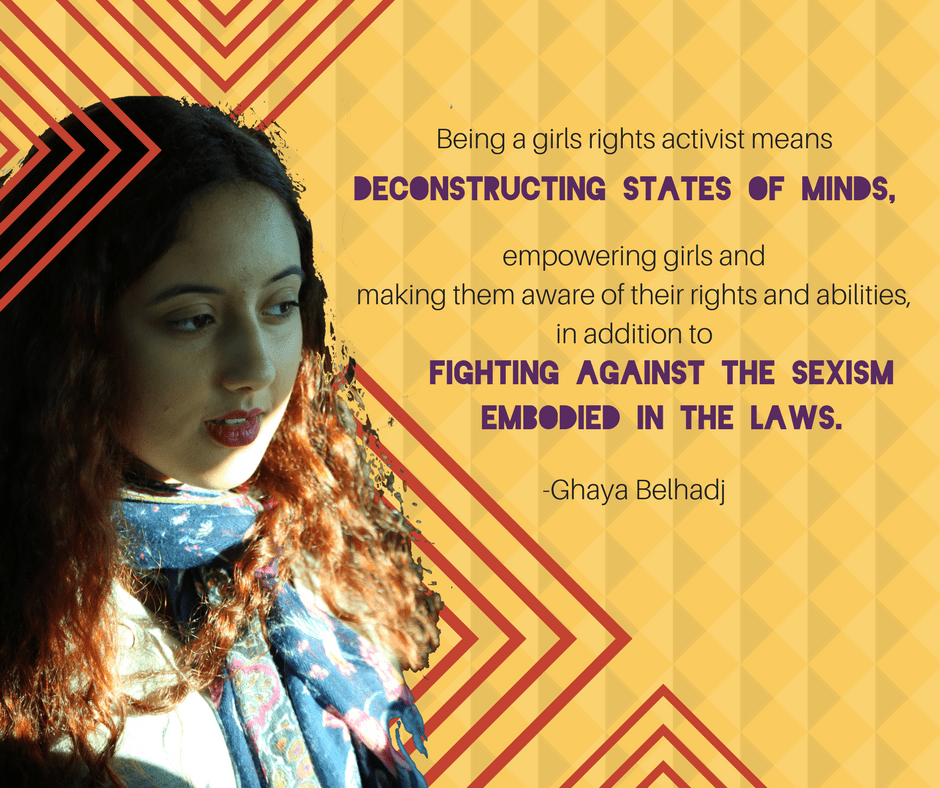 The pressure for girls to get married is a sword hanging on the head of every Mongolian girl. Anu, a girls rights activist explains more: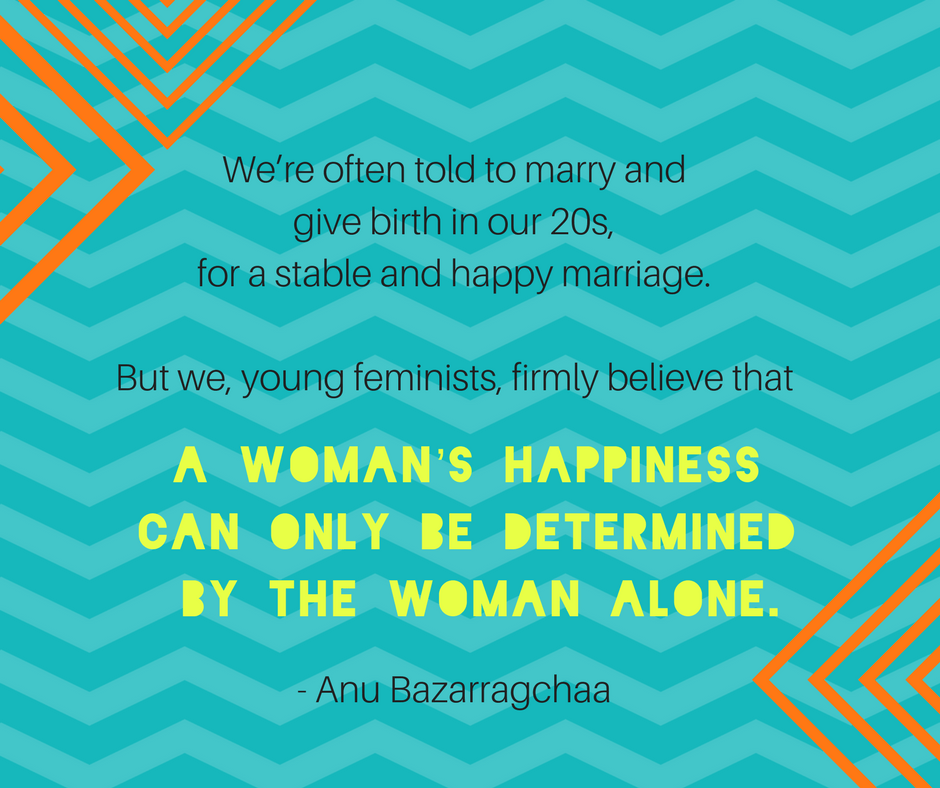 Being raised in a very conservative, post-communist country, women [in Mongolia] are often told to conform from a very young age. Although we have no legal issues, we face a lot of societal pressure to "fulfil our duties as a woman". One of the most important things one can do to inspire and empower others is to be a good role model. We're often told to marry and give birth in our 20s, for a stable and happy marriage. But we, young feminists firmly believe that a woman's happiness can only be determined by the woman alone. We openly voice our opinions, shatter glass ceilings in our careers, reason and break stereotypes as we go. We work hard to set a light of hope in other women's hearts. Recent demographics show that citizens between the age of 14 and 30 make up most of the Mongolian population, with a gender ratio of 49:51. More women need to know and exercise their rights. We work hard to inform, educate and empower women of all ages.
As movement builders, we must continue to learn and seek inspiration from each other. Our movements cannot function in isolation. There is power in collective diversity, and girls form an integral part of it.
FRIDA is currently building its first girl advisory committee to help grow and strengthen its work. We strive to practice our values by inviting members of our community into different parts of our decision-making and trusting all young feminist activists to be experts of their own reality.
Several FRIDA grantee partners are working directly with girls and transforming communities into being more girl-friendly. Please consider making a donation today in support of our participatory approaches and the leadership of girls.

Girls are speaking out. Are you willing to listen? Share this post as much as you can! Post on Facebook. Tweet it out. Happy International Day of the Girl, everyone!