By: Angelika Arutyunova
Last week I stood in front of a diverse group of people who came to hear about the Young Feminist Fund in the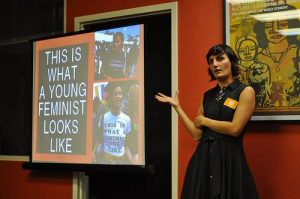 beautiful office of The Women Donors Network. As I stood there passionately talking about FRIDA and as I watched the reactions of the audience to my words and the words of Amina Doherty, Rachel Arinii and theother young feminists (who joined the party by video from London, Burma, India and Rwanda), the realization of this great accomplishment overpowered me. We had done it! FRIDA was finally here! The Young Feminist Fund that only a few years ago was just a big idea, a dream in the minds of many, had finally materialized with a clear vision and mandate. It was real. This realization was further confirmed when Anasuya Sengupta, currently a Regional Program Director for Asia and Oceania at the Global Fund for Women, shared her memories of working on the very initial concept of the Young Feminist Fund several years ago with the Association for Women's Rights in Development (AWID) team. She shared how excited she was about how far the "idea" had come and congratulated us on making FRIDA a reality. Judging from the reactions of the audience I could sense the overwhelming support for FRIDA's vision for a well-fueled, sustainable young feminist movement and now more than ever believe that we can make a valuable contribution to this.
After the presentation and the video, the audience had the opportunity to ask questions and share feedback.  A
number of really thoughtful provocative questions came up around things such as the grantee selection process, the accessibility of FRIDA grants to diverse groups with varied technical capacities, governance, models for capacity building, and more. Having answers to all of these questions made me feel honored to have been part of this incredible process and to have worked with a group of brilliant young leaders who have put so much time, energy and thought into all these details and processes.
I left the Women Donors Network's office that evening with a strong feeling that we have the ability to collectively mobilize the resources required to provide flexible financial and non-financial support to grassroots groups of young women and transgender persons around the world.  I recognize that FRIDA has an important role to play in transforming power dynamics around grantmaking and in shifting perceptions around "grantmakers" and "grant recipients" and looking back at the photographs of the party confirms that. It confirms that the beauty of FRIDA is acknowledging that everyone has a significant role to play in mobilizing and sharing resources. It is seeing that we all have resources that we can offer. I was incredibly moved by the
number of people who came up to me at the end of the evening with offers of time and much needed skills to make FRIDA a successful initiative. I was also humbled by people who said that they had come to the event not expecting to be able to contribute financially but who after learning more about FRIDA were compelled to donate saying things like: "even if I can give little, I want to be a part of this exciting vision." It is my hope that the confidence and excitement shared by these new donors will inspire you and others to join this community by considering making a contribution to FRIDA.
Supporting FRIDA means supporting a great initiative with a strong commitment to social justice and advancing women's rights globally, and it is about supporting dynamic youth leadership and their visions for social change.  I sincerely believe that now is the time to support this generation of leaders who have a clear vision for change they want to see and are making bold strides to make this vision a reality.
We'd like to extend huge THANK YOU's to all of the individuals and organizations that contributed to making our first event a success and we look forward to sharing with you all of our exciting news and updates! Also special thanks to Violeta Krasnic from the Global Fund for Women for her excellent photographs. Check out more photos from the event here: FRIDA | San Francisco Event .