A group of young feminists in New York City, committed to supporting young feminist and social justice activism, got together to form the New York City Young Feminist Giving Circle (NYfem). The group is mobilizing funds for young feminist groups around the world, and generously decided to donate their first grant to FRIDA!
To understand what a 'giving circle' is and learn more about their work, we spoke with NYfem's Caitlin Ho and Jessica McCarthy.
FRIDA: So, what exactly is a 'giving circle' and why did you decide to come together and create one?
Jessica: We weren't really sure of what a giving circle was either, we had to do some research on giving circles. A group can come together and contribute resources — funds and skills, for example — towards a larger goal. There are many different models of funding, but this can be an alternative and really give groups the agency to decide where the money is going. Groups of any size can come together to form a circle- even small amounts can make a real difference!
Caitlyn: We noticed that there isn't enough funding for young feminists or work by young feminists- not enough resources, time, money, or attention for their leadership! We work to mobilise resources particularly to young people and to young feminists."
FRIDA: Donor spaces and funding structures have been called 'stuffy' and have a reputation for being difficult to navigate- especially when you're a young organisation or group. What is your experience as a young donor in these spaces, and where does the giving circle fit in?
Jessica: Young donors are putting funds and resources towards causes that mean something to them, rather than just the institutions. They will give to those that do things that align with or are how they want to work. Young donors want to be a part of the community, they want to know information and understand- they want to be a part of something bigger and not just part of institutions. The giving circle fits in with that a lot- the coming together as a group and doing different things together: offering 'thought leadership' skills and wanting to be a part of a community is important.
Caitlin: At our first circle meeting– Devi, the co-director of FRIDA was there– we talked about what is 'money', what is 'giving', and what is the value of resources in our lives. We've had this conversation a few times — two of the questions we asked was, 'What is the best gift you've received from someone?' and 'What is the best gift you've ever made?' Some talked about being a young feminist activist and receiving a donation for their work and what that meant for them, and some shared about when they first gave a gift. We carve out a space to talk about money and relationships and resources in our lives, and how we– as a group– want to think about a particular way to relate to resources.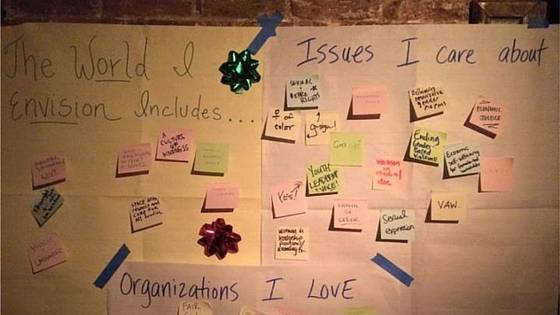 FRIDA: You've already touched a little on young feminist organising and how it connects to your work – why do you think it's so important? And do you see similarities in how the circle connects to FRIDA's work or mission?
Jessica: I've long had a crush on FRIDA and organisations like Mama Cash and other women's giving organisations– there are tons of PDF documents and academic research on what feminist giving looks like. For me, it's about intention and thinking about how funding works: that women's human rights issues and women's groups don't get as much funding, or are not registered and find it difficult to access funds. I think it's also about believing in the next generation and supporting that work. It's a human rights-based giving model, but we've added the element of decades of women's rights activism to it and are learning from each other.
Caitlin: Ditto! In thinking about how we relate to FRIDA– they were so open to us and presented this idea, 'hey, we're noticing that there are young women all around the world thinking about how do we raise funds for groups that doing incredible work'– we know that funding pot is small but how do we expand that and how do we enable younger folks to participate in this outside the formal space, how can our work together unlock new resources- not just monetarily but also through enthusiasm? If FRIDA is only able to fund a certain number of groups or has limited resources, we can ask 'would you like to fund them?' and helping to make the pot bigger; but also showing philanthropy that there's so many ways to do giving that is also community building.
Jessica: FRIDA supports and funds groups that are not registered and even then they can only give to a certain amount of people. The giving circle allows you to give anywhere you want to give- places where you normally wouldn't be able to and connect with groups that most need the support!
FRIDA: It's been an exciting year for you- what were some of the best moments for your circle in 2014?
Jessica: We're still in our infancy and we're still working it out but the launch event was a great moment. I didn't expect it to work, but a lot of people came and participated in a huge way and expressed a need for this kind of group. They expressed a need for not just a funding space but emphasised the community aspect of it, which was unexpected, but also very cool and gratifying. Partnering with North Star and having a way to collect money was meaningful- just getting it online and letting people know where to donate and the matching gifts. The executive committee getting together every month is also one.
Caitlin: Underlying it all- it was really fun! Some of us have either fundraising or giving experiences, and philanthropy spaces are usually very stuffy…but we want to create these spaces that are like being in someone's living room and talk about how to do social justice giving. Every time we meet it feels so much easier than I think it will be- I am really proud of the group we have and how we relate to each other!
FRIDA: That's amazing, congratulations! What are you hoping to achieve in the near future?
Jessica: Until the end of the year, we'll be thinking about reaching our financial goals and then working with FRIDA to select the right recipient, but we will open it up to the circle and people in our network as well. We'll continue fundraising and more community building events- we have a Frida Kahlo inspired exhibition coming up! We also want to widen the circle- we have an executive committee at the moment, but we want to widen and grow the circle in a more formal way while also engaging people in a way that isn't overwhelming!
FRIDA: Do you have any advice or thoughts for others who might want to start their own giving circle?
Jessica: Be open to meeting new people and forming in an organic way- I really didn't know a lot of the folks in the giving circle when I started, even though we had mutual friends- things just sort of fell into place for us. Having some sort of structure is necessary so that we can get things done- official rules, by lines, for example. Have conversations that are hard: what this means to us and what we've committed to, and bringing people together and living by the guiding principles as a group. Be open to partnerships- most of the grantmaking world doesn't work together very well and for me that's not what I want in this group. There's enough to go around and I think it's important to be open to possibility and to build a community that's not necessarily about finances.
Caitlin: I think it's important that we're making sure we have space to talk about content and the logistics- the nitty-gritty parts of the meeting where we're checking in with each other and how to do community building: it's a wonderful way to build community and work together. We hold ourselves accountable in a way that is both clear and yet isn't stifling. Having a sense of shared leadership is also important: we don't have a designated lead, it rotates and that's a nice way of sharing leadership that I don't see in the giving world. It is quite prescribed sometimes! We also have really great food and wine- that's always great! A theme helps- it isn't mandatory but it's fun to create an identity for your giving circle.
Just get started- you can figure it out as you go along! Get creative and get 'matching gifts'- lots of companies can help with that. Take the first step and connect to others- we're happy to talk as well and connect with other circles. Share your story- I don't think you need to know everything about what a giving circle is or anything; you can grow from that step-by-step and figure out what's next. Just get started and you'll be surprised by what can happen when you share this interest with other people- they may join as members or support you or pass it on- and you'll feel that there's a community of people who are interested and want to know more!
If you wish to donate to the NYC feminist giving circle, click here!
Are you interested in starting a giving circle for young feminists? Get in touch with us! Email: info@youngfeministfund.org
This interview was originally published in FRIDA's Annual Report 2014-15. Click here to download and read the full report.