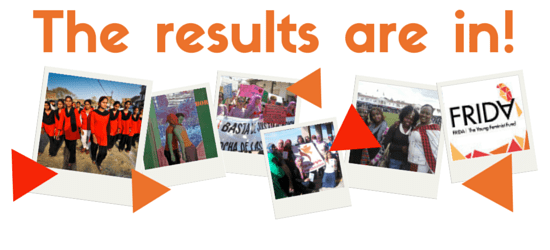 In 2014, we received over 700 applications. Our Global Advisory Committee approved 338 applications that fit our criteria. From there, applicants voted for what they thought were the best proposals in their region.
Based on the proposals that received top votes, FRIDA invited 25 new groups to join its grantee partner community! Click on the images below to read the group descriptions by region. 

In addition, we have renewed 22 of our current partners, bringing the total to 48 groups supported by FRIDA!
We are incredibly inspired by the work of these groups – and we think you will be too! Here's a few highlights of our new partners:
They are led by members of diverse communities including refugee women, indigenous women, trans*youth, and adolescent girls.
Like every year, sexual and reproductive health and rights are some of the most common issues, from access to abortion, free expression of gender identity and sexual orientation, and ending female genital mutilation.
They are using creative strategies – from yarn-bombing to self defense workshops, musical bands to feminist cafes.
We are incredibly thankful for everyone who helped make this year's grant cycle possible: advisors, volunteers, translators, references, donors, and of course, all the young feminist organizers who applied and motivate our work.
We hope you enjoy reading about the groups! Get engaged by sharing your favourite profiles with your friends, drop us a message with your comments, and donate now to support next year's grant cycle!
In Solidarity,
— Devi, Ruby, and Jovana with FRIDA's Advisory Committee
Click on the links below to read about the new and renewal grantee partners based in each region!