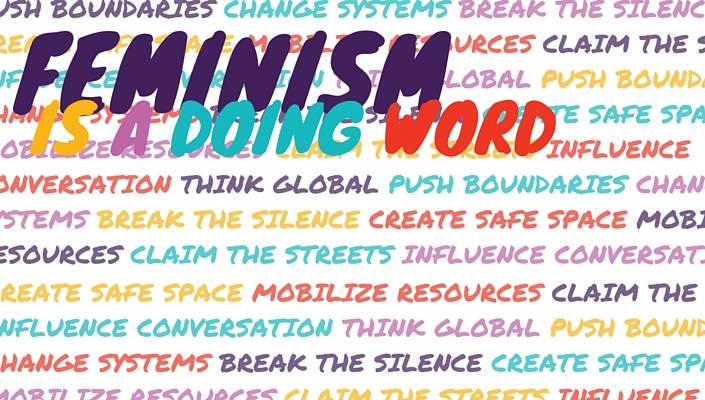 We get one day a year to celebrate, but resisting patriarchy is a 24/7 project. It takes courage, action, and commitment to continue the struggle for justice. Feminism – its a doing word.
To mark this year's International Women's Day, we are highlighting 8 verbs that young feminist activists must perform every day of the year in order to achieve a more just and peaceful world.
Please join us in celebrating their work by sharing on social media one of the actions (or more) that means the most to you in your own activism!

Hashtag Generation in Sri Lanka is producing a video series of women who are breaking stereotypes. Watch the first video featuring one of the few female tuk tuk drivers in the country. Like their facebook page to catch the premier of the rest of the videos in the series.

WEDO and FRIDA's climate justice fellow, Majandra, explains, "We are increasingly recognizing and exposing that climate change is not about carbon emissions alone, but about an economic and political system that churns out emissions to keep its cogs turning and its growth unabated." Click here to read her article in the Huffington Post on how young feminists are contributing to the global climate justice movement. The image above says "Neither the earth nor women are territories for conquest" (Source: mal-educadx).

Shut Your Sexist Mouth Up from Russia is collating pictures of survivors of violence, giving them a space, where they can choose to be anonymous, to retell their experience. Follow their project on Instagram.

Sistah2Sistah in Trinidad and Tobago, is hosting a 'Sistah Circle' as a means to create a sacred and safe space for women to gather, build friendships, bond and share. They invite you to join! (Image credit to the artist Michelle Isava).

Barbora, a long time friend and supporter, decided to dedicate her birthday to the young feminist movement. Instead of receiving presents, she is crowdfunding gifts to FRIDA and handmaking her own origami thank you cards (as pictured). Click here to support her awesome initiative! And please get in touch if you want to start or share your own creative fundraising campaign.

Tiiiit! Inc. in Macedonia, will be chanting, marching and protesting in the streets from March 11-13 to reclaim public space as part of their feminist festival. Click here to read more! (Macedonian only)

Catch members of FRIDA community at the 60th Commission for Status of Women at the United Nations headquarters in NYC this year. The above image was clicked at the young feminist caucus at the last CSW while preparing the #whatyouthwant statement. Click here to see the list of events that FRIDA is organizing and participating in this year and join our FB group to stay updated.

Our work is globally connected and collective. Staying true to our participatory nature, thirteen young feminist activists from FRIDA's Staff and Advisory Committee reflect on the current pulse of young feminist organizing and the trends they are seeing in their local contexts. Hot off the press – read their OpEd on Open Democracy!
Thanks to Betty Barkha, Fiji, Sarah Soysa, Sri Lanka, Alina Saba, Nepal, Marinella Matejcic Croatia, Magda Pohec, Poland, Lucía Martelotte, Argentina, Alexandra Martins, María Eugenia Olmos, Argentina, Ana Maria Gonzalez Costa Rica, Ledys San Juan, Colombia, Ariana Silva Brazil, Leticia Alves Maione, Brazil, Ruby Johnson, Australia, and Deepa Ranganathan, India for collaborating on this reflection.