Being bold and taking risks
Betsy Hoody is a resource mobilisation advocate for feminist movements whose activism sprouted in Minnesota through her involvement in sport. For Betsy, it was the risk-taking, boldness and commitment that contributed to the recipe of FRIDA's success as a start-up organisation.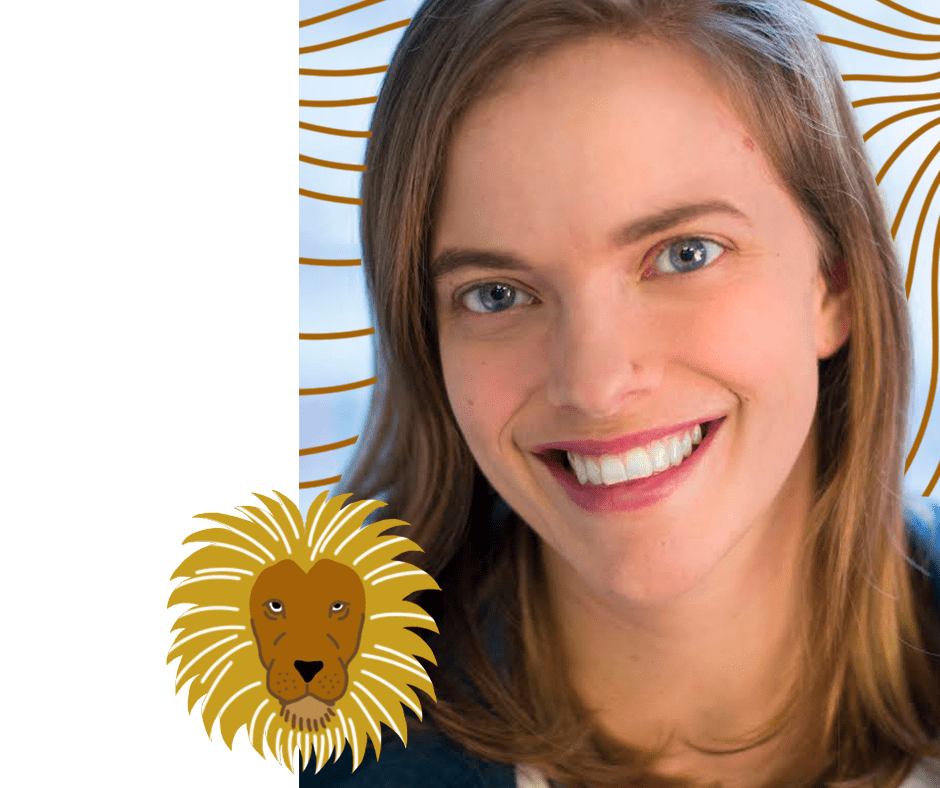 "I think my story with FRIDA really begins with when I was at the Global Fund for Women."
Betsy was twenty-three at the time, and connecting with a few other women. "We were so passionate about supporting other young women in their work that we were spending time outside of work analysing funding allocations to young feminist groups globally, and sharing that information with Association for Women's Rights in Development (AWID) who were thinking of starting the fund. We were, ourselves, so interested in how to find our own voices in the movement, and use that for supporting other women who were doing the same."
Betsy grew up in small town Minnesota in the United States. Her first gender-awakening was in fifth grade, when she started playing ice hockey as part of the first girls' ice hockey team in her town. "It was a really big deal that we started playing. It caused a bunch of fights between grown men about the ice time – the amount of ice time that boys and girls could have to practise. We had to really fight, with some of our parents who were allies and some of our brothers…As I came to college and started to work much more on gender-based violence, and deeper, harder issues, that experience has stuck with me in part because I feel like so much of what we are fighting for is resources. Us taking space and time for ourselves is not, in fact, taking away from someone else. It was the first time that I used my voice in my town and in my community for something that I cared about and wanted."
By the time of the AWID Forum in Cape Town in 2008, strong conversations were being had about deliberately including young feminist voices in the movement. It was Betsy's first time attending. "They distributed pink scarves at the Forum to young feminists and their allies as an effort to engage young feminists in conversations. That was really important, because I didn't know a lot of people in the movement yet, and the Forum was completely overwhelming! It was a great experience, with all these incredible women, but they all seemed to know each other, and I thought, what is happening!" It was here, though, that Betsy met Amina during a meeting held at the Forum on funding young feminist organising, which "sparked a friendship" and brought Betsy to work directly with the team developing the idea of what would become FRIDA The Young Feminist Fund.
During this story session, Betsy was also asked to bring an artefact to the session–a picture, an object, a smell, a visual memory that connects to the story of FRIDA's founding.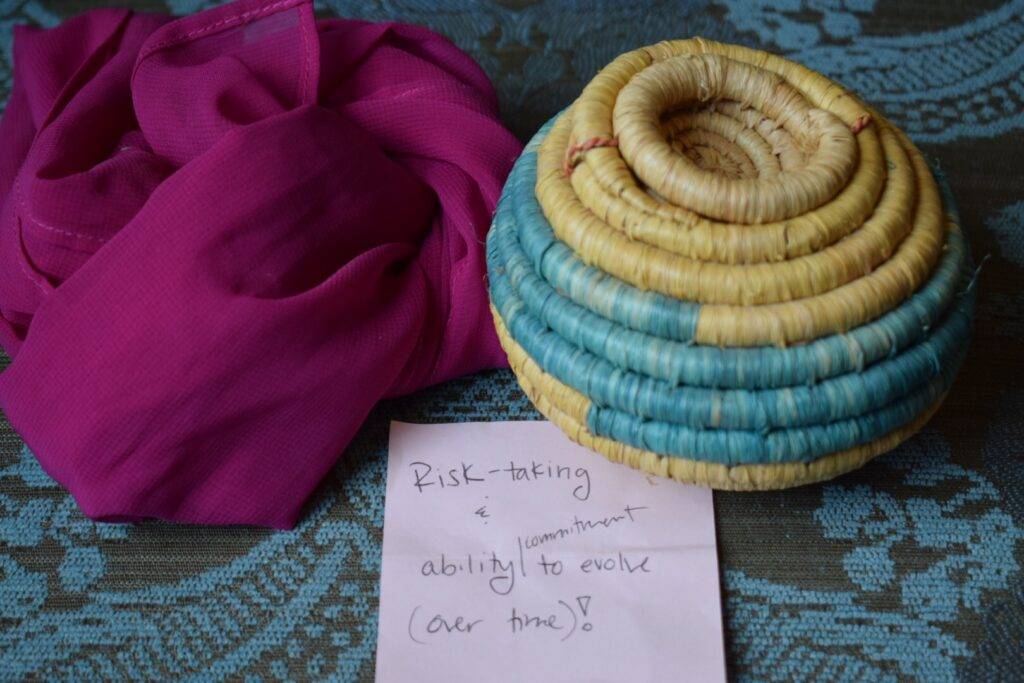 The pink scarf in the picture above is the scarf that was worn by young feminists at the 2008 AWID Forum in Cape Town. They were intended to make young feminists more visible at the Forum and to invite multigenerational conversations at the Forum. The basket in the picture refers to the one that was used during the 2010 advisory committee meeting in Beirut, where every advisor received one of these baskets from the facilitator, Jessica Horn. "At the end of the meeting, we did an exercise where we responded to prompts on post-its, which we saved in our baskets. I don't remember the prompts anymore, but I smiled when I saw that mine mentioned FRIDA's ability and commitment to evolving, which I see as one of FRIDA's greatest strengths to this day," she said.
Bringing a young feminist fund to the global women's rights movement was really important at the time it was initiated, precisely for the reason that spaces such as the AWID Forum were overwhelming for young feminists. "At the time there was also a narrative when we started – which now wouldn't be a question – that there weren't that many young feminists organising, that we won't get that many groups to apply, and that they're all being covered already by other women's funds. The survey that was done really documented that there was a need, but I think the proof we got in the early days was from our first call for applications."
"We joked about it, and when we were talking about it to potential funders, we would say, this is an experiment. We really don't know how many applications we will get. We may get ten applications, we may get a thousand, and we'll see what we learn from there. So we did the call, and we got a thousand applications! We never actually thought that would happen [she laughs]. It was one of those beautiful moments of realising that we never would have known that if we hadn't just done it, and if we didn't have different people taking chances with resources to allow us to do that. That challenged the idea that young feminists aren't there, hooray."
From the beginning, there was a desire to experiment with the possibilities of what FRIDA could be, and take risks. This was particularly the case when the founders began to design the participatory grant-making model that FRIDA uses until today. This boldness was in many ways nurtured by the experiences of founders who had asked similar questions before, in their own organisations. "We questioned, what will groups choose if they're allowed to vote on who gets funding? I remember when we were thinking about whether to do this global participatory process – can we let young women decide? What if they don't select trans groups? Or prioritise this? – Carla had so many stories, saying, these were the conversations that we had, these were the same things that we were worried about, or this was the same skepticism that we had, but this is what we did and this is what we learned. And it was so important to hear that. It took away the doubt. Listening to someone who had already done it was so valuable and inspiring."
"For FRIDA overall, I carry with me that energy still and the idea that it's possible to create something new and different even when it seems really difficult to do so. When I hear about new ideas or new ways of doing things, I am open to it, because I go back to that meeting in Beirut, where I never would have imagined the amazing things that were about to happen."