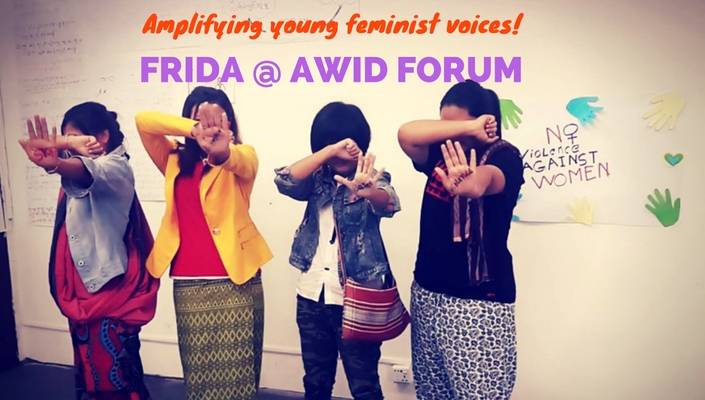 We are very excited to announce that the FRIDA community will play an active role at the 13th AWID Forum in September 2016 in Bahia, Brazil. This international forum is a key space for young feminist activists to share innovation and energy from all corners of the world. It is a safe space to connect, understand the issues affecting young feminists across boundaries, gain exposure for their important work and play an active role in cross-movement building.
We see convening spaces as the AWID Forum as key to movement building – creating a space for alliance building, reflection and dialogue. They are spaces where young feminists can share organizing actions, deepen their understanding of how change happens in their diverse focus areas, as well as network beyond their borders and harness their collective power.
We are excited to share more information on what FRIDA would be doing at the 13th AWID Forum scheduled to take place in Bahia, Brazil from September 8-11, 2016:
Who is coming?
We are happy to confirm the participation of 35 young feminist activists from around the world. This includes: 24 grantee partners, 7 staff members, 3 advisors, and 1 board member from 35 countries across 5 regions of the Global South.
What are we organizing?
Before the Forum
Black Feminist Forum (BFF): On September 5th & 6th, some members of the FRIDA community will participate in the BFF: a convening for Black and Afrodescendant feminists from different regions, identities and sectors to discuss and share the intersections of their activism and struggle. You can read more about the BFF Hub here.
FRIDA Community Day: On September 6, FRIDA will host a Global Convening so that members of our community can connect across movements and geographies. We will create a safe space to better understand what grantee partners are doing, the contexts of their work and how can we collectively work towards our shared vision.
On September 7, FRIDA will be participating in different events:
Feminist Internet Exchange: Organized by the Association for Progressive Communications (APC), this space will put feminism at the heart of engagement with technology, by bringing together activists, researchers, & techies working on advancing a feminist internet. More here.
Donor Pre-Day: Before the Forum, a diverse donor community will come together for a day to collectively advance women's human rights and gender justice.
Young Feminist Activism Day: This will be a space for young feminist activist from different movements and regions to build new and stronger alliances and partnerships, to network, to outreach and discuss approaches, strategies and struggles. More here.
If you are planning to attend any of these events, please let us know by emailing us at events@youngfeministfund.org
During the Forum
FRIDA is involved in many of the different spaces and a bunch of sessions at the Forum.
FRIDA will participate in multiple ways including by sharing our Fieldscan on the State of Young Feminist Organizing, research collaboratively done with YFA-AWID. We are also co-organizing an intergenerational Dialogue with Madre (read all about the participant-led sessions at the Forum here). In collaboration with WEDO, FRIDA will be part of a climate justice space for young feminist organizing.
FRIDA is organizing a panel with Red Umbrella Fund, Mama Cash, INWF!
FRIDA will also be engaging with various stages of the Resource Mobilization HUB. Members of our team will advise as "fundraising experts" who will carry badges throughout the Forum, helping out girls, young women and trans youth in their fundraising efforts. FRIDA is also involved in the engagement labs. FRIDA will launch its Resource Mobilization Toolkit for Girls and Young Women in order to support young feminist activists with their questions, fears and worries about fundraising. FRIDA is also organizing a donor dinner on grantmaking China that will connect local and regional donors and grantee partners!
FEMINIST TECH HUB
As part of the Feminist Tech Hub, the Mexican feminist organization Palabra Radio in collaboration with FRIDA will broadcast a radio program during the days of the Forum and create a podcast to amplify women and trans* people's voices.
Even if you are not able to come to the Forum, this is a great opportunity to be present through your 'voice'. You can be part of it by recording and sending to us you personal testimony or testimonies of women, trans* people or youth from your community. The testimonies should be about 3 minutes long and can be about any of the following topics:
→ Territory and environment
→ Body, diversity, sexual and reproductive rights
→ Technology, art, and politics
You can also send us poetry (audio) and music from your region! And remember that the music recorded must have a Creative Commons license. You can use your mobile phone to record and send your audios.
You can send us your audio files in 3 different ways:
Send an email with the attachment to palabraradio@riseup.net
Upload the audio file in

www.archive.org

and send us the link to the same email
Upload your file on

https://share.riseup.net/

(your file is encrypted and secure) and share with us the url so we can download it.
ARTIVISM SPACE
In collaboration with Astraea, FRIDA is co-organizing a collaborative session on LBT rights and artivism. This artivist space aims to showcase art in diverse formats from global LGBTQI artists responding to criminalization and militarization. There will be a space to showcase music, poetry and films by AWID participants and an ongoing installation featuring Astraea Foundation and FRIDA grantee partners.
After the Forum
Collective Artivism with The Fearless collective
As a part of the global art tour, The Fearless Collective and one of FRIDA's Brazillian grantee partners will be working closely to create a fierce and fearless art mural in Salvador da Bahia! More details on this will be up soon. Watch this space. 
Until then, see you in Bahia!
For more information on FRIDA at the AWID Forum, contact Kat Baird at advocacy@youngfeministfund.org