Forced marriage is, unfortunately, a grave reality in many communities around the world. It has become a social phenomenon and a common practise in several developing countries, and is often a result of cultural, religious and even economic reasons that disproportionately affects girls and women.
As forced marriages are often unofficial and undocumented, specific and reliable statistics on forced marriage are difficult to come by. But it is heartening to see groups and collectives relentlessly working to end this human rights violation. In the 2015/16 grant-making cycle alone, FRIDA received forty-one applications from groups seeking funding to address forced marriage in their communities.
As part of a new ongoing series, we are proud to share with you this report on what five of our grantee groups have been able to achieve in their work to eliminate the practice of forced marriage.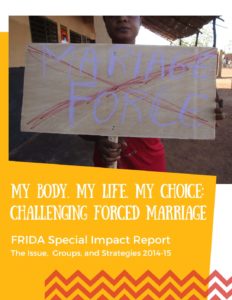 Click here to download and read the report.
From theater in
Romania
to radio in
Nepal
, these groups have helped young women and girls break a silence in their communities to share their feelings, concerns, and dreams about their own life choices. Meanwhile in
Burkina Faso
,
Malawi
, and
Pakistan
, groups are supporting married girls to remain or return to school, while working with local leaders to enact fines and support advocacy on ending forced and early marriage.
We share this report with much pride and gratefulness with you because we know that the hard work of
young feminist groups cannot be strengthened without the consistent support of passionate donors.
We encourage you to consider giving to the young feminist movement.
Donate to FRIDA
today!