FRIDA | The Young Feminist Fund is celebrating 10 years of resourcing young feminist activism in the Global South. Founded and led by young feminists, the organization provides the funding and accompaniment to support amplify the activism of girls, young women, and trans, intersex and non-binary youth against all kinds of violence, oppression and inequality. FRIDA's grantee partners are unique and diverse young feminist-led groups building alternatives all around. So far, FRIDA has awarded around $7,500,000 in direct grants with the support of our advisory, a group of young feminists from all over the world. Currently, the fund supports more than 250 initiatives in 115 countries in the Global South.
The supported groups use creative and innovative strategies, such as artivism, direct action and social media, to ensure the human rights of girls, young women and young LGBTQIA+ people from different groups, including sex workers, farmers, ethnic, national and caste minorities, refugees, people living with disabilities, people living with HIV and AIDS, and others. Grants are given to movements and grassroots initiatives led by women, trans and non-binary feminists under the age of 30.
FRIDA is the result of a collective dream of multi generational feminists from all over the world that envisioned a fund that at its core believed young feminists are the experts of their own reality. Thus, FRIDA puts flexible, sustainable core funds directly in their hands through participatory grantmaking. FRIDA's participatory grantmaking model has inspired other organizations and, once a group becomes a partner, it has access to capacity strengthening accompaniment and to special grants developed based on the necessities groups identify. Being a member of the FRIDA community means being part of a global network of inspiring activists, which also enhances the feminist fights on local, regional and international levels.
Time to celebrate and co-dream with a feminist future
Last Monday, November 30th 2020, the organization held its first intergenerational dialogue that took place virtually. Twenty-five panelists, former and current members of the FRIDA community, participated in it, joining the call from all over the world. Lydia Alpizar, the Executive Director at AWID that supported FRIDA's kickstart, remembered the philanthropic context in which the fund was created:
"Everybody talked about how important supporting young feminism is and how important young feminists are for the movements, but we really needed to make a big effort to change not only the narrative but actually to put the money where our mouths are and in the hands of young feminists. And it takes so much work, and so much money".
If you are interested in watching the entire FRIDA's intergenerational dialogue, click here.
Amina Doherty, FRIDA's first coordinator, reflected about the most valuable learnings from the past 10 years:
"We must ask for what we really need, not downgrade our dreams to make it work for funders. I remember being in conversations at the very beginning and people asking why we needed a young feminist fund, if there were women's funds and they were already funding youth. We were very clear that this was something that we needed because we wanted to shift power. That's not a conversation that you think about when you are strategizing early on. We were very clear that having a space, a mechanism that was for and by young feminists would lead us on our path to being able to transform power".  
At the end of the meeting, Maria Alejandra Rodriguez Acha, FRIDA's current Co-Executive Director who mediated the dialogue, commented on the role that the organization plays in the funders' ecosystem.
"At FRIDA, we don't shy away from challenging conversations because that's what we are here to do. We are here to be that uncomfortable voice when we need to be and we are also here to engage in those honest conversations about what are the things that we are still learning to do. We are here to ask ourselves how to continuously hold accountable to the movements we support and to acknowledge the power dynamics as we do that".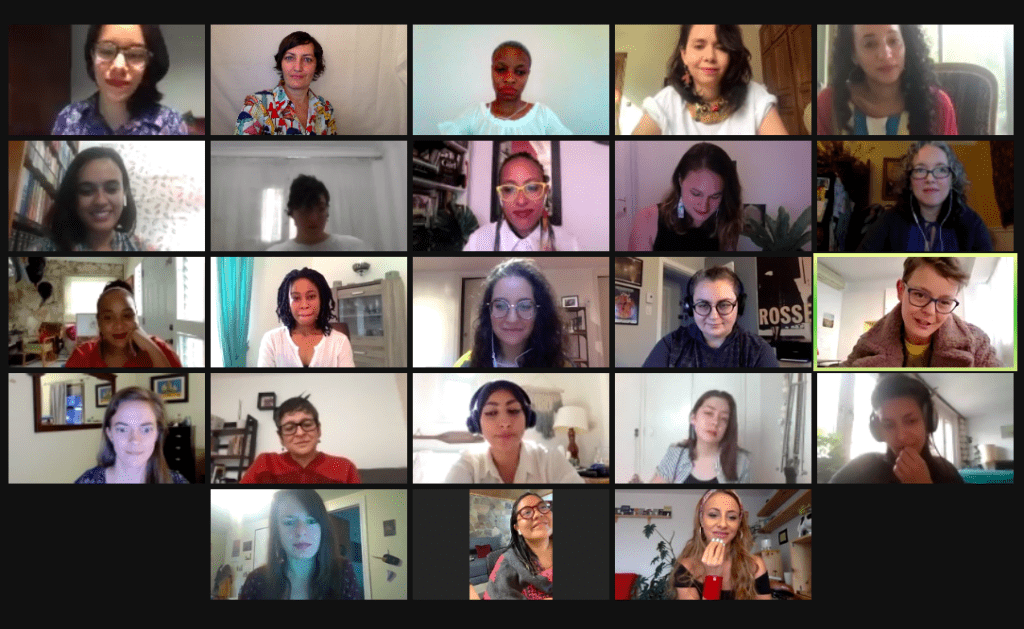 With money comes power, and funders play an important role by transferring these resources from those who have them to those who don't. However, traditional philanthropy ends up by stripping supported groups of their agency by putting funding decisions on the hands of anyone but the very groups they are trying to resource. As an activist fund, FRIDA seeks to inspire and influence other donors to provide more funds to young feminist activists and also to change the way they give. Along the way, the organization has documented its experiences, as well as those of grantee partners, and has shared its learnings and reflections with the philanthropic community in each opportunity. 
Stay tuned as FRIDA launches its new strategic plan, which will map out the constellations of young feminist organizing the organization will be delving in the years to come.