Girls are on the front lines of organizing for a better present and future for all of us. Their voices are powerful catalysts of change, and their actions are the foundations upon which we all can build a more just and equitable world. However, their voices are often ignored, their contributions are often undervalued and their wants and needs are often under-resourced.
On this International Day of the Girl, FRIDA celebrates the strength, vision, and innovation of girls. We mark this day, not just as a reminder of the worth of girls, but also as a call to action to acknowledge, celebrate, support, and amplify their leadership, as they inspire change, defy stereotypes, and shape the future.
FRIDA is proud to stand with and for girls through mobilizing core, flexible, and long-term resources to girl-led collectives and uplifting girl leadership within our Advisory Committee. Advisors play a key role in the different areas of our work. Their role ranges from facilitating FRIDA's annual participatory grantmaking process by conducting outreach, screening applications, reviewing final results, and supporting with due diligence to supporting grantee partner capacity strengthening. FRIDA advisors also help to set regional strategic priorities within FRIDA, informing strategic and programmatic decisions in various areas of our organizational mission and informing FRIDA's strategic direction.
On this International Day of the Girl, we speak to one of the girl advisors, Karlygach Madynova, about the past, present, and future of her feminist journey. Hailing from Kyrgyzstan, Karlygach is a young feminist based out of Hungary. She is currently involved in promoting sexual education and SRHR through peer-to-peer facilitation among youth and teenagers as a part of the Dance4life project, an international youth-led initiative that works on one of the fastest-growing health risks – unsafe sex – by using the power of dance and music and empowering young people.
---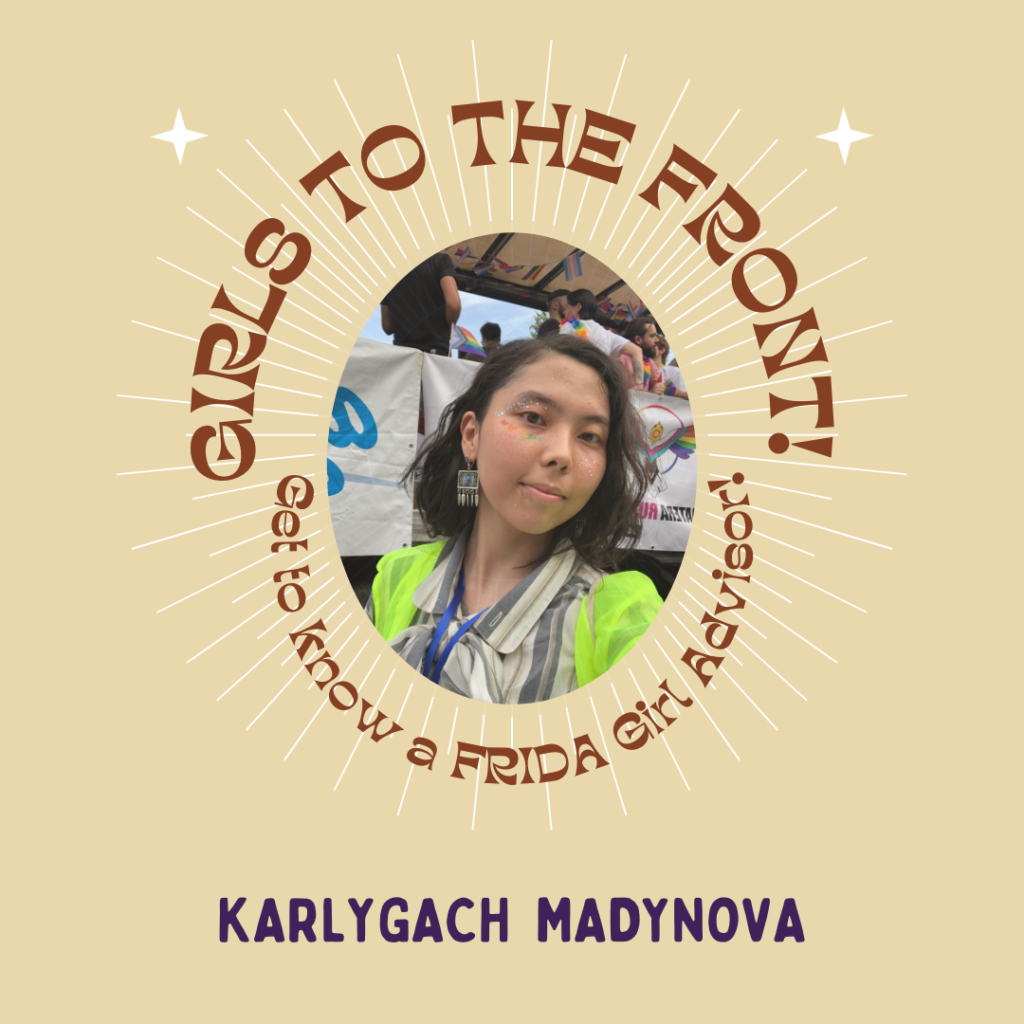 ---
Can you share your personal experience and journey as a young feminist? What important moments or events that have contributed to your growth as a young feminist?
I remember the moment I discovered the definition of the word feminism. A word coming from a foreign language, often used in a negative context – "Oh those feminists!", and being a representation of "the West", resonated with me so much. No one ever explained it to me and without being introduced to the movement I somehow already knew what it was about and how I wanted to become a feminist. A bit later, when I was 15 years old I randomly became a volunteer in a march organized by the Bishkek Feminists Initiative (BFI) on 8 March 2019. It was a turning point in my feminist journey. The number of emotions that I experienced that day – solidarity, a big sense of community, empathy, pride, and happiness. Before that, I was just a girl who would read about feminism, but at this specific moment seeing so many women and girls holding their creative banners and shouting out bold statements in unison, I was tearing up from all of this solidarity. It was a day, after which I would proudly say that I am a feminist and the day when I decided to commit to my feminist activism.
What have you discovered about engaging with feminist activism as a girl activist in your community? Additionally, please share the challenges you have been dealing with recently as a girl activist.
The first discovery I've made is that being a girl activist is hard. It's hard, it can be exhausting, frustrating, and sometimes discouraging. You are just a girl and often people don't want to take you seriously. I remember those "Who are you? What do you even do?" stares at me almost whenever I would go to schools to have a training session about SRHR, or when I would advocate for building toilets inside of a school when I was in high school. Now thinking about it, I wish it was the opposite.
In the Kyrgyzstani society, a saying states, "Kızga kırk uydon tıyu," ("Кызга кырк үйдөн тыюу) meaning that young girls from forty houses should be looked after to prevent them from doing something inappropriate. This term applies to the entire society, including neighbors, relatives, elders, and men. However, it often puts young girls in a vulnerable situation and as a result, has negative effects, such as restricting girls from their basic rights and freedom. For example, unwanted comments on her attire can limit a girl's right to expression.
Years ago I thought about changing this statement and replacing 'looking after' with 'supporting'. It's easy to change the statement, but changing people's minds and oppressive systems will take much more time. And I am here to slowly and steadily contribute to this and bring little changes to my community.
What inspires and navigates your efforts as a girl activist to combat oppressive systems and achieve gender equality?
Remembering that I am not alone, embracing sisterhood, being supportive and getting support, and building a community of folks around me who share the same vision and goals
How would you describe your role as a girl advisor on FRIDA's Global Advisory Committee?
Being a girl advisor at FRIDA gives me a strong sense of solidarity and belongingness to a community of feminist change-makers from around the globe. I am proud to be able to bring my knowledge and experience of young feminist activism and share problems and the context of our region to help shape strategies for young feminist participation. I am happy to be part of the FRIDA's Global Advisory Committee as a girl advisor.
Written by Sandile Ndelu
CoAd Co-Manager (Advocacy)