By Nassreena Sampaco-Baddiri on 07 March 2013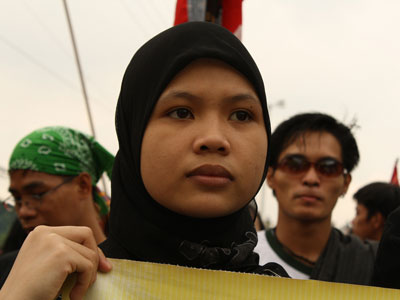 A Muslim woman joins a protest in Manila, Philippines. Photo by: 
moroccanmary
 /
CC BY-NC-SA
At the heart of Manila's main thoroughfare, right at the People Power monument, a large group of Muslim women gathered one Sunday (Oct. 14, 2012), in pink hijabs no less, to send an important message to the rest of the Filipino nation as the historic framework agreement on the Bangsamoro was about to be signed: "Religious understanding now, Bangsamoro for peace, yes to national unity."
To me, the message is clear: Amid cultural and religious diversity, respect and understanding are key to peace and progress. This has been a global challenge, from Pakistan to Gaza, from Myanmar to South Sudan.
In the Philippines, colonial perceptions against Muslim Filipino minorities, collectively known as the Bangsamoro, prevail, even decades and generations after independence. This perpetuates a sense of social exclusion, as the Bangsamoro or Moros continue to grapple with social injustices and socio-economic marginalization.
The roots of the socio-cultural divide in Filipino society are not unique; they go deep into the colonial and post-colonial history of the Philippines, where Moros have been branded as the "other" in the colonial game of divide and conquer. At the same time, while global events such as the "war on terror" reinforce negative public perceptions of Muslims, there is no meaningful understanding of Islam as a religion of peace. This largely reflects the global perception of Islam as a mystery that has yet to unravel, particularly in nations with Muslim secessionist movements such as the Philippines, Thailand and Myanmar.
Invariably, Muslim women bear the brunt of this social divide — either in situations of conflict or in diaspora. In conflict situations in Mindanao, a large percentage of internally displaced persons are women with families, including young children and the elderly to care for. Muslim women in diaspora have shared experiences of various forms of discrimination just from the fact that they wear the hijab or the veil. In 2012, an education institution in Zamboanga city imposed a ban on the wearing of veils, sparking protests. The ban was eventually lifted after substantial dialogue with women's advocacy groups and the National Commission on Muslim Filipinos but left an indelible impression.
The peace process is definitely crucial not just in resolving the Mindanao conflict but, equally significant, in Filipino nation building. International aid agencies have largely kept a strong presence in Mindanao — in order to provide aid to conflict-affected populations through the U.N. Office for the Coordination of Humanitarian Affairs, Office of the U.N. High Commissioner for Refugees and World Food Program; ensure support for the peace process as in the case of the International Monitoring Group; or provide immediate peace dividends, as with aid initiatives launched by the European Union this year which includes food-for-work and cash-for-work programs. The Australian Agency for International Development has committed a large portion of aid in Mindanao to basic education, specifically in making public education culturally sensitive to Muslim children given that conflict-affected areas in Mindanao have the lowest cohort survival rate for the whole country.
Certainly, Filipino women are playing a critical role in the peace process. Maisara Damdamun-Latiph, co-chair of the Khadija Center and assistant secretary for the Department of Education in the Autonomous Region of Muslim Mindanao, has reiterated that women are the first educators of Filipino children, and the future of peace begins with the teaching of values of peace and tolerance in the home. Recognizing the essential role of women, the U.S. Agency for International Development has been working with local communities in promoting the role of women in peace building through training programs where a third of participants are women peace advocates.
In this regard, women, both Muslim and Christian, are driving the progress of the Mindanao peace process. At the helm of the peace process are women leaders who have demonstrated strong leadership in the pursuit of genuine peace in Mindanao. Ging Deles and Yasmin Busran-Lao have long been peace and women's advocates in civil society movements before being part of government. Miriam Coronel-Ferrer, a university professor and chairwoman of the government panel for the peace process, has written extensively on the Mindanao conflict and has approached the peace process in a proactive way that places emphasis on people's participation. Raisa Jajurie, a peace panel member for the Moro Islamic Liberation Front, and Laisa Alamia-Masuhud are co-founders of Nisa Ul-Haqq Fi Bangsamoro, an organization that pursues the implementation of the U.N. Security Council resolution on women, peace and security. Oxfam has funded programs of Nisa Ul-Haqq Fi Bangsamoro, chaired by Busran-Lao, principally for its advocacy on gender justice for Muslim women.
Civil society women leaders have likewise stood at the forefront of bridging the Muslim-Christian Filipino divide through meaningful ways. Karen Tanada of the Gaston Ortigas Peace Institute has worked tirelessly to bring together Christian and Muslim women peace advocates through interactive fora. Marites Guingona-Africa of the Peacemakers Circle has been known for interfaith community workshops that encourage Muslim-Christian relationships anchored on trust and harmony. Bai Rohaniza Sumndad of the Asia-America Initiative has brought peace initiatives to various educational institutions in Metro Manila to shore up support for the peace process. Aisha Flores of the Muslim Sisters Bridging Society focuses on the socio-economic challenges of Muslim women in Metro Manila. According to Jane Dimacisil, program manager of the Khadija Center and psycho-social trainer for Muslim Sisters Bridging Society, more attention must be given to psycho-social well-being given its impact on conflict resolution. Delving deeper into the issues, Frida's Young Feminist Fund supports Khadija Center's research program on the lived realities of Muslim Filipino women in diaspora.
In the Philippines, these women and others are taking the lead to find innovative ways for social healing, interfaith dialogue and reconciliation to take place. They're not alone in their fight, as their peers work tirelessly around the globe to advance women's issues. Happy International Women's Day!
 Cross-posted from: https://www.devex.com/en/news/in-the-philippines-women-stand-up-for-peace/80454
Nassreena Sampaco-Baddiri
Nassreena Sampaco-Baddiri is chair of the Khadija Center for Muslim Women Studies, a research and policy advocacy center aimed at empowering Muslim women in the Philippines. Nassreena is a Devex Manila 40 Under 40 global development leader and a FRIDA grantee partners.